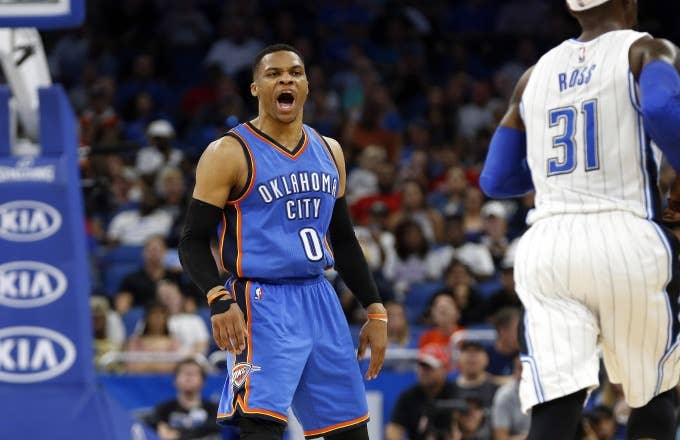 Russell Westbrook keeps finding new ways to impress us.
On Wednesday night, just one week after making NBA history by becoming the first player to ever record a "perfect" triple-double, the Thunder star—er, make that superstar, Mark Cuban—made NBA history again by recording the highest-scoring triple-double ever against the Magic. Westbrook scored 57 points, grabbed 13 rebounds, and dished out 11 assists during Oklahoma City's 114-106 overtime win against the Magic. It broke a record previously set by James Harden and Wilt Chamberlain, who both recorded 53-point efforts during triple-double games.
Westbrook spoke about his epic performance after the game, and even he couldn't seem to believe what he had done. He smiled from ear-to-ear during his post-game interview as he talked about the success he's had all season long.
"That is definitely a blessing," he said. "I definitely don't take this game for granted, and I try to come out each night and try to compete at a high level. That is definitely something that is a blessing and definitely something that I can be proud of."
Westbrook's teammates were unable to find the words to describe what he's been able to do. Victor Oladipo, who joined the Thunder last summer after being traded by the Magic, talked about what it's been like to play alongside Westbrook this season and was speechless.
"Words can't really describe it," he said. "It's just an honor to play alongside him as he kinda etches his name in history."
And Westbrook's game against Orlando was so good that even his opponents were in awe of him. Magic center Nikola Vucevic said that his team tried their best to stop Westbrook but that there was just nothing they could do to slow him down.
"There's nothing else you can do," he said. "He had like 50, 15, and 15. He's a hell of a player, and he's been doing it for 70 games now, carrying that team every night. I think the numbers he's putting up are amazing."
The Magic fans seemed to agree with Vucevic as they chanted "MVP!" for Westbrook, even though Orlando led for most of the game before losing in OT:
Westbrook's triple-double against the Magic was his 38th triple-double of the season. And while the Thunder still have eight games left in the regular season, ESPN is reporting that Westbrook has a 99.9 percent chance to finish averaging a triple-double. It would make him the first player in more than 50 years to accomplish the feat.
Somehow, despite all of this, Westbrook still isn't the frontrunner to win the NBA MVP award. He and Harden have been jockeying for MVP position in recent weeks, and LeBron James and Kawhi Leonard are still in the running, too. But if Westbrook doesn't end up winning MVP, it won't be because he didn't do enough to earn it. He just keeps having one great game after another.