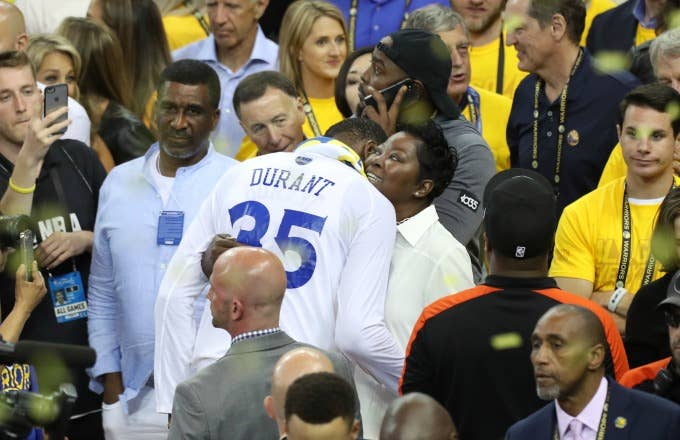 The Warriors stunned the Cavaliers in Game 3 of the 2017 NBA Finals on Wednesday night—and it would appear as though there was no one happier about it than Kevin Durant's mother Wanda.
Durant's mom had the pleasure of watching her son knock down one of the biggest shots of his life with about 50 seconds left in the game. With the Warriors trailing by two points, Durant pulled up for a three-pointer and calmly knocked it down to give his team a one-point lead that it would never relinquish:
Durant's mom was obviously excited after watching it all go down, so as she made her way down a tunnel following the game, she stopped to celebrate with Steph Curry's mom Sonya. She also rubbed a little bit of—er, a lot of—salt in the Cavaliers' wound by yelling about how Cleveland had blown a golden opportunity to make the series 2-1 instead of 3-0 heading into Game 4:
"They tried to give it to them, but they wouldn't take it," she said. "That's what happened. That's what happened. That's what happened. They wouldn't take it."
Of course, there were some people who had some things to say after seeing the clip of Durant's mom:
Why is curry fam and Durant mom ALWAYS on camera. Make me hate golden State even more.
But if we had to guess, she couldn't care less about the critics, just like her son. The Warriors are now just one game away from helping KD secure his first NBA title. Game 4 of the NBA Finals will take place on Friday night.