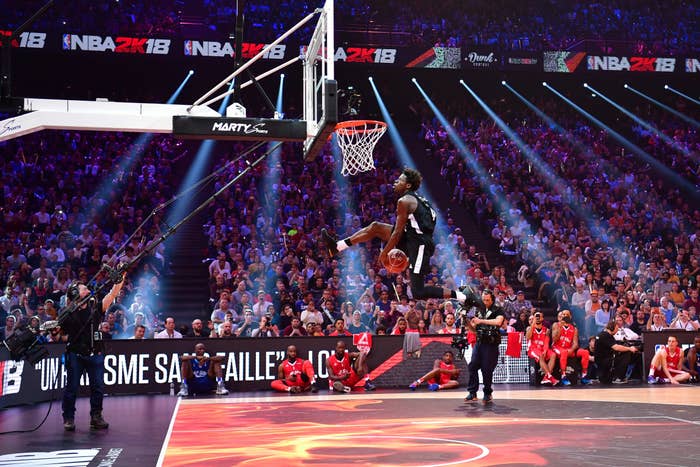 Of all of the institutions pro sports has to offer, the NBA Slam Dunk Contest is one of the most recent phenomenons.
As opposed to events like all-star games or league championships that go back to the early 20th century, the NBA's first Slam Dunk Contest didn't become a permanent fixture until 1984. And believe it or not, the NBA actually owes a debt of gratitude to its old competitor, the ABA, on this one. That league held the first-ever professional slam dunk contest in 1976, with Julius Erving coming home with the victory.
And in the 42 years since Dr. J first took flight at that dunk contest, the NBA's has become the cornerstone of All-Star weekend — perhaps even supplanting the All-Star Game itself. As opposed to the meaningless exhibition game that offers little defense or effort, the NBA Slam Dunk Contest allows the game's best athletes to display the highest levels of athleticism. Seeing players pull off 360 dunks, between-the-legs dunks, and dunks from ridiculous distances seem physically impossible. But the laws of physics take a day off when the NBA Slam Dunk Contest comes to town.
It's amazing that an exhibition contest — not even a game — is capable of producing so many iconic moments. Michael Jordan's leap from the free-throw line remains one of the most memorable sports images of all time. Vince Carter is perhaps best remembered not for his in-game dominance, but for his 360s and elbow dunks at the contest in 2000. And Nate Robinson essentially became a household name just by winning three contests.
So, yes: The NBA's Slam Dunk Contest is one of sports' greatest spectacles. In honor of the upcoming contest, here are ten greatest dunks ever performed in Slam Dunk Contest history.
10. Dwight Howard's "Superman" Dunk, 2008
9. Dee Brown's No-Look Dunk, 1991
8. Zach LaVine's "Space Jam" Dunk, 2015
7. Nate Robinson Jumps Over Dwight Howard, 2009
6. Jason Richardson Goes Between the Legs, 2003
5. Spud Webb Goes 360, 1986
4. Aaron Gordon Goes Under the Legs, Over the Mascot, 2016
3. Vince Carter's Elbow Dunk, 2000
2. Vince Carter's 360 Windmill Dunk, 2000
1. Michael Jordan From the Free-Throw Line, 1987