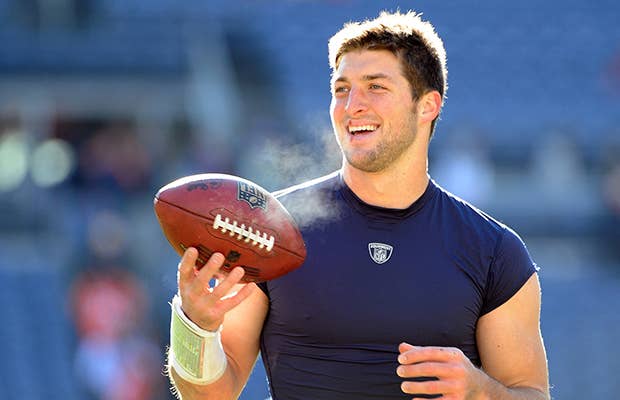 Say what you want about Tim Tebows's poor throwing form, his comically wasteful time with the Jets, and his possible inability to be an NFL quarterback; one thing that can't ignored is his strong (but inaccurate) throwing arm. It was also strong at the baseball plate, too. That's why he almost got drafted by the Los Angeles Angels coming out of high school.
Tebow would focus on football during his senior year, but he was hitting a great .494 as a junior left fielder. The Angels—who were a pretty solid team around that time as they've recently won a World Series—showed some interest. Stephen Hargett, a scout at the time, remembered his potential quite fondly:
He stood out. Right when you walked up to the field, he passed the body test. He was bigger and stronger than everybody. I think of how big he is, with an average junior or senior in high school being 5-foot-10, 160 pounds. This guy is 6-foot-4, 200 pounds…It was just easy for him. You thought, if this guy dedicated everything to baseball like he did to football how good could he be?
Scout Tom Kotchman said the Angels never got Tebow's information card back, so the potential draft never went through. So we're left with a "What if?" He probably may've been a Vladimir Guerrero-lite—going for bad pitches like he goes for bad passes.
Regardless, hopefully the Patriots are able to use him to his full potential. Like maybe for a secret mission to get back that ring from Vladimir Putin. Hey, you never know with Tebow.
RELATED: Keep It 100: Why the NFL Needs Tim Tebow in the League
[via Black Sports Online]