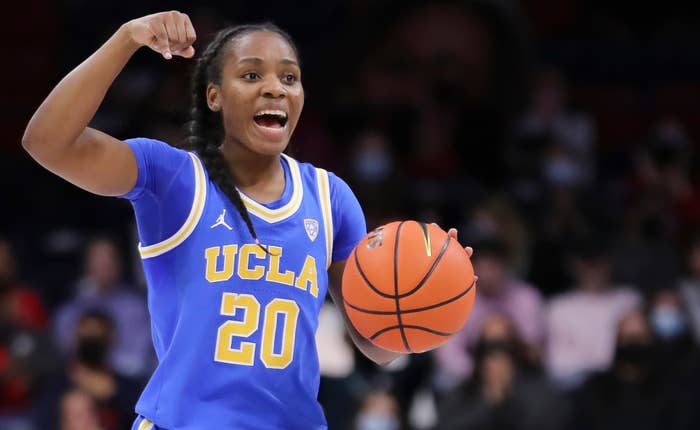 A week after declaring for the 2023 WNBA Draft, UCLA Bruins guard Charisma Osborne will return to school for her fifth season of eligibility.
A projected first-round pick, Osborne announced her change of plans on social media on Wednesday.
"It's always go Bruins," she wrote on Twitter alongside a highlight video which ended with a quick note to fans: "Pauley, I'll see you again soon."
Osborne, who's fresh off completing her senior year with the Bruins, was granted an extra year of collegiate eligibility due to the COVID-impacted 2020-2021 season. A three-time All-Pac 12 selection, Osborne averaged 15.2 points, 5.7 rebounds, and 2.9 assists over her four seasons at UCLA.
Earlier this month, the Bruins' season ended with a loss to No. 1 seed South Carolina in the Sweet 16. With another season to be played, Osborne looks to climb higher on UCLA's all-time scoring list, where she currently ranks No. 9 with 1,798 points over her career.
Charisma isn't the only senior at UCLA who's spurned the WNBA Draft in favor of a fifth year with the Bruins. Camryn Brown, the team's other starting guard, has also decided to return to Westwood next year.
Brown, too, announced her decision on social media. "Y'all thought it was over?" she wrote alongside a picture of her on the court.