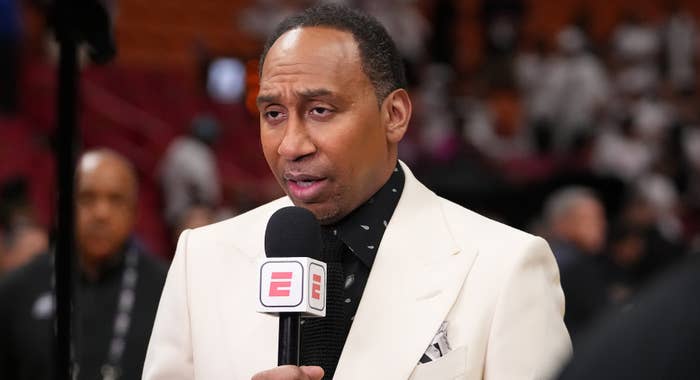 Stephen A. Smith isn't a fan of Terrell Owens, who on Friday called out the ESPN talking head for speaking on the former's falling out with First Take co-host Max Kellerman.
During a recent appearance on the Joe Budden Podcast, Smith detailed why he parted ways with Kellerman.
"I had mad respect for him from the standpoint of white dude, highly intelligent, Ivy League, educated from Columbia," Smith shared. "Smart as a whip. Can talk his ass off. Can talk about anything. I get all that. But you weren't an athlete, and you weren't a journalist. And the absence of the two components left people wondering 'why should we listen to you?'"
In a subsequent tweet, Smith added context to his remarks.
"Same question, Same answer for damn-near two years now: Max & I weren't working in the end," he explained. "I wanted to win. So I didn't want that duo. Does mean he's isn't smart, talented and that he's not a good guy. I have nothing against him. I wish him well. Just needed a change. That's all."
Fans noted that Smith's comments were not painting the full picture of the situation.
From there, a clip featuring T.O. circulated social media, in which the former star wide receiver appeared on First Take and roasted Smith for not being as Black as Kellerman. "Max almost seems Blacker than you, Stephen A, with his commentary" Owens said at the time.
T.O. also quote-tweeted the post, writing, "FACTS," which led Smith to issue a response.
"Now….as for this dude, that's an entirely different story," Smith said. "You know how I feel about your sorry ass @terrellowens and you know why! You should thank your Heavenly Father I haven't zeroed in on you with the trifling shit you tried to pull. Tell folks to ask ESPN what your desperate ass tried to pull. Keep on talking. Eventually, you'll expose yourself."
Check out the back-and-forth, and watch Stephen A. Smith's full interview with Joe Budden below.
Kyrie Irving even chimed in, encouraging these two to get on the phone and hash it out.