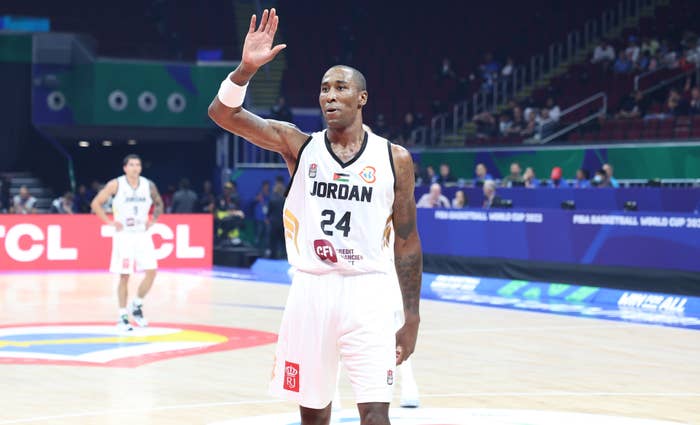 Former NBA player Rondae Hollis-Jefferson is drawing comparisons to the late Kobe Bryant at the 2023 FIBA World Cup in the Philippines.
Hollis-Jefferson, who last played in the NBA in 2021 and is now suited up for the nation of Jordan, almost carried his home country to an upset win over New Zealand on Monday after scoring a tournament-high 39 points. (NZ ended up victorious 95-87.)
Sporting a shaved head and wearing Kobe's No. 24, the 28-year-old hit several clutch jumpers that had basketball fans doing double takes while watching highlights of Hollis-Jefferson doing a worthy Bryant impersonation.
After his dominant performance, Hollis-Jefferson didn't shy away from paying tribute to the Lakers legend, who in January 2020 tragically died alongside his daughter Gianna in a helicopter crash that killed all nine people on board.
As far as being mentioned in the same breath as the Lakers legend, Hollis-Jefferson said, "It means a lot. It's an honor. There's definitely only one Kobe, but to feel that love and energy coming down the stretch, hitting those big shots, God was with me and Kobe was with me for sure."
Hollis-Jefferson also shed light on an interaction he had with Bryant during his final season in 2016. At the time, Rondae was a rookie with the Brooklyn Nets, who'd drafted Hollis-Jefferson in 2015 out of USC. Kobe told the young guard to "fall in love with the elbow jumper."
"He told me one day, 2016 I believe, I was able to give him the farewell gift, and I was just like: 'Hey, do you have any advice for me?'" Hollis-Jefferson shared. "He told me to fall in love with the elbow [jumper], and ever since then, I've been working on my midrange and [getting] better."
Hollis-Jefferson will try to follow up his career-defining performance when Jordan plays the United States in the FIBA World Cup on Aug. 30.