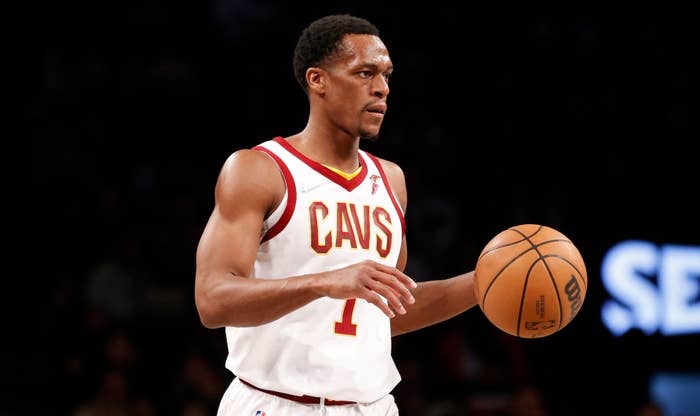 Rajon Rondo has reached a settlement with the woman who accused the free agent point guard and his girlfriend of assault and battery in July of 2020.
TMZ reports Jorshari's legal team filed a notice this week in a Los Angeles court regarding the settlement.
Back in 2020, Rondo was caught on camera seemingly nudging a woman, Toktam Jorshari, before Rondo's girlfriend Latoia Fitzgerald punched her. Jorshari claimed the fight was over a parking spot, and the woman putting her vehicle too close to Rondo's Rolls Royce. Rondo has since faced a $1 million lawsuit in the incident, and his legal team claimed he did nothing wrong by stepping into the middle of the fight.
"No man should ever put their hands on a woman," Jorshari's attorneys said in December 2020, when the lawsuit was filed. "Especially an NBA basketball player with superior height and strength. The video speaks for itself.
Rondo, who played for the Cleveland Cavs last year, remains a free agent heading into the 2022-23 NBA season.
The news arrives on the heels of another legal win for Rondo, whose domestic violence case was dismissed in June. 
On June 16, a judge ordered the dismissal of the emergency protection order that was filed against the Cavaliers point guard in May. TMZ reported the reason for the dismissal is that Rondo and his accuser, Ashley Bachelor, "reached an agreement."
"No further details surrounding the pact were revealed," the outlet wrote.