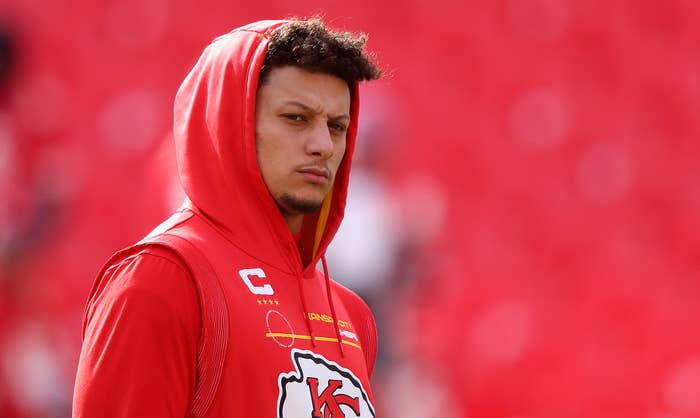 With Kyler Murray facing backlash over the study clause in his new contract, Patrick Mahomes isn't shying away from blasting critics for their unfair treatment of Black quarterbacks.
While speaking with reporters on Friday after the Kansas City Chiefs finished a training camp practice, Mahomes was asked about the criticism surrounding Murray, who's been ripped by the media after it was discovered that the Arizona Cardinals quarterback's contract includes a clause that requires him to study film for four hours per week during the season.
When asked about Murray's situation, Mahomes opened up about the criticism Black quarterbacks face. 
"Obviously, the Black quarterback has had to battle to be in this position that we are to have this many guys in the league playing,'' Mahomes said. "Every day, we're proving that we should have been playing the whole time. We've got guys that can think just as well as they can use their athleticism. It's always weird when you see guys like me, Lamar (Jackson), Kyler kind of get that on them when other guys don't. But at the same time we're going out there to prove ourselves every day to show we can be some of the best quarterbacks in the league.''
Mahomes went on to say that critics merely fuel his competitive fire.
"You always feel like you have more to prove,'' he explained. "They build you up to tear you down. You've got to kind of know that. For me, it's all about how I can make myself better, not what other people say. How can I make myself better so that we go out there and play football games? At the end of the day nothing matters until you're on that football field playing and that's where you get to prove who you are every single day.''
Earlier this week, Murray addressed the criticism about the study clause, as he took issue with those who believe he doesn't take his job seriously. 
"I feel it's necessary, you know, with what's going on regarding me and the things that are being said about me," Murray said. "To think that I can accomplish everything that I have accomplished in my career and not be a student of the game and not have that passion and not take this serious is disrespectful, and it's almost a joke. To me, I'm flattered. I want to say flattered that you all think that at my size, I can go out there and not prepare for the game, and not take it serious. It's disrespectful, I feel like, to my peers, to all the great athletes and great players that are in this league. This game is too hard. To play the position that I play in this league, it's too hard."