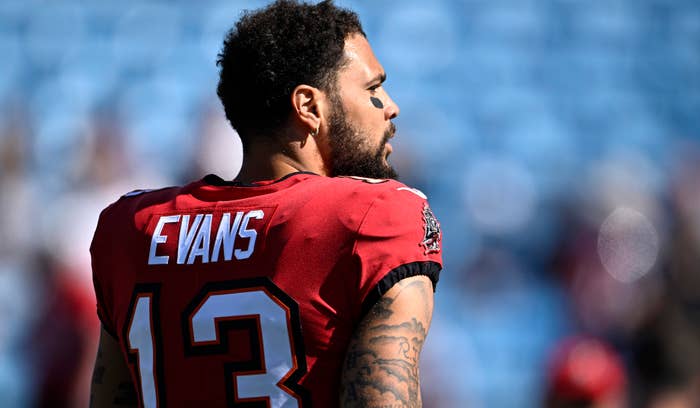 A pair of NFL officials are under investigation after a video surfaced of them appearing to ask Tampa Bay Buccaneers wide receiver Mike Evans for his autograph.
Following Tampa Bay's game against the Carolina Panthers on Sunday, two officials, side judge Jeff Lamberth and line judge Tripp Sutter, were reportedly seen asking for Evans' signature in the tunnel of Bank of America Stadium.
The incident was captured on video by Panthers beat writer Sheena Quick, who uploaded the clip on Twitter.
NFL Network's Tom Pelissero reports that the league is currently investigating the incident.
"The NFL-NFLRA CBA specifically says game officials 'shall not...ask players, coaches or any other team personnel for autographs or memorabilia," Pelissero noted on Twitter.
According to Pro Football Talk, the official rule in the CBA states the following: "Game Officials must even avoid the appearance of profiting or personally benefiting from their association with the NFL, other than from compensation provided under the NFLRA Collective Bargaining Agreement."
Appendix E, Section IV continues, "NFL Game Officials are permitted to receive compensation for speaking engagements or for participating in officiating clinics as long as these activities do not conflict with Article 22 of the Collective Bargaining Agreement. In addition to the prohibitions set forth in Appendix E, Section I A above, Game Officials shall not...sell or trade NFL tickets for anything of greater value than the face value of the tickets; or... sell or trade for anything of value NFL merchandise, autographs or memorabilia; or...ask players, coaches or any other team personnel for autographs or memorabilia."