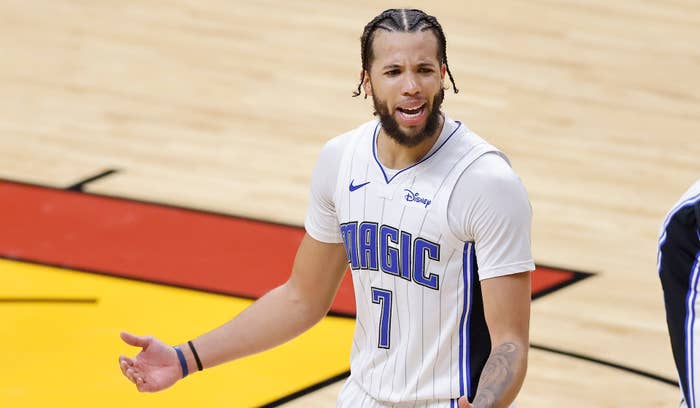 Michael Carter-Williams looked so swole in an Instagram post this week that the NBA sent a league representative to his home to schedule a drug test. At least that's what he claims.
Listed at 6-foot-5 and 190 pounds, the Orlando Magic guard appeared at least 50 pounds heavier in his latest IG post. "Bully ball," MCW captioned a photo of himself getting shots up in the gym.
Even teammate Mo Mamba could tell MCW had put on some weight: "This n***a boutta get us all drug tested," Bamba joked in the comments. Of course, it wasn't a joke, as MCW pointed out in his response: "No lie bro. I just got a call sayin they comin to the crib tomorrow. I swear on everything," Carter-Williams wrote.
On Wednesday, less than 24 hours after posting the intial picture on social media, MCW took to his Instagram to prove that the NBA really did come knocking.
In a video posted to his Instagram Story, Carter-Williams is seen opening his front door and letting in an older, grey-haired man. 
"It was just the pic. I really didn't gain 50 pounds relaxxxxxx! The league sent the feds after me quick," MCW captioned the clip.
While it's unclear if the test is directly linked to the photo, the NBA doesn't mess around when it comes to performance-enhancing drugs. However, the league has become lenient in regards to marijuana. Last December, the NBA implemented a new rule that they would stop testing its players for marijuana for the 2020-21 campaign, continuing a revision to league policy that started during the bubble in Orlando last year.
"Due to the unusual circumstances in conjunction with the pandemic, we have agreed with the NBPA to suspend random testing for marijuana for the 2020-21 season and focus our random testing program on performance-enhancing products and drugs of abuse," NBA spokesman Mike Bass said.