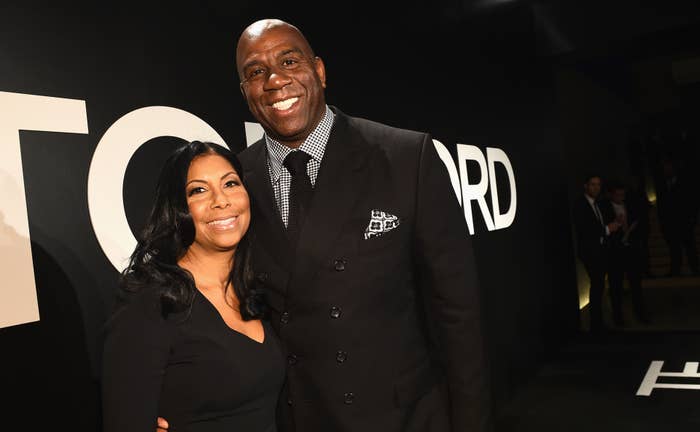 More than 30 years after Magic Johnson shocked the world by announcing his decision to retire from the NBA upon learning he'd been diagnosed with HIV, the Los Angeles Lakers legend was celebrated on Thursday at the Elizabeth Taylor Ball to End AIDS.
In a ceremony held at the Beverly Hills Hotel and hosted by Angela Bassett and Courtney B. Vance, Magic and his wife Cookie were honored with the Elizabeth Taylor Commitment to End AIDS Award.
While reflecting on his journey since Nov. 1991, when he announced he had HIV, Magic told Variety that Cookie's support gave him the strength to share his diagnosis with the world.
"To have Cookie's support, it made it easier for me to tell the world," he shared. "I also had the support of Dr. Buss, the Lakers and also the NBA. Knowing that Cookie and I had our strong relationship, and also our faith too. Because Cookie and I pray. Cookie's a prayer warrior — and I think that helped us too. God really blessed me. The medicine and the support of my beautiful wife. But also those people in the league in terms of Dr. Buss, the Lakers. They supported me then and Commissioner David Stern supported me."
Magic continued by crediting his "positive mindset and attitude" with him being able to beating the odds.
"I've had a positive mindset and attitude, because the only thing in life I wanted really was to be with Cookie forever, and hopefully see that we would have some grandchildren," he said.
Magic and Cookie have spent the former's post-basketball career spreading awareness about the disease with his Magic Johnson Foundation, which has allowed the pair to donate over $15 million to underserved Black and other communities of color.