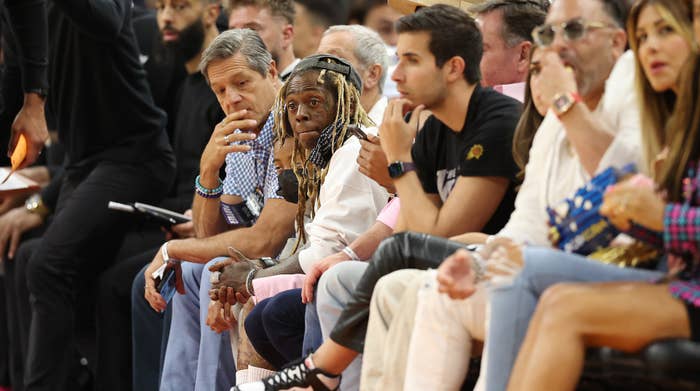 UPDATED 5/19 8:24 a.m. ET: Mack Maine says it's now "all love" between Mark Cuban and Lil Wayne.
In a tweet, Mack said he had a call with Cuban and Weezy. See more below.
UPDATED 5/18, 12:18 a.m. ET: It looks like Lil Wayne caught wind of Mark Cuban trolling the rapper by using his "Uproar" lyric against him.
"Mark Cuban don't make me get u smacked boy U playing w me?? I will piss in ya fkn mouth ho," Wayne wrote in a tweet that's since been deleted.
A minute later, Wayne followed up the message with another that was also apparently directed at the Mavericks owner, writing, "Ya lil bitch it's up."
See original story below.
Dallas Mavericks owner Mark Cuban took to Twitter on Monday to troll Lil Wayne, who sat courtside on Sunday in Phoenix for the Suns' Game 7 blowout loss to Luka Doncic and co.
Wayne, a long-time friend and supporter of Suns point guard Chris Paul, established himself as a Luka hater during Game 4 of the second round series, when he called the Mavs superstar a "ho" on Twitter.
A week later, Cuban's Mavs got the last laugh, as Luka led Dallas to a 120-93 win with 35 points, 10 rebounds, and four assists.
As if that wasn't enough for Wayne to question his Suns fandom, the rapper was dissed by Cuban on Monday, with the Mavs owner referencing a lyric from Tha Carter V cut "Uproar."
"It's a shit show, put you front row," Cuban captioned a pic of Wayne courtside in Phoenix.
It isn't the first time Wayne has been at the center of Phoenix's season-ending loss. On Monday's episode of Undisputed, Skip Bayless shared a scoop he heard from Wayne regarding the sideline confrontation that took place on Sunday between Suns head coach Monty Williams and Deandre Ayton, which the rapper apparently overheard from his courtside seat.
"This, from what I was told, got really ugly," Bayless explained. 
"From what our man Lil Wayne told me…I think he either heard it or could lip-read. Monty got so upset with Ayton that he said, 'You fricking quit on us.' And that led to an exchange where each Monty and Ayton had to be restrained from going at each other."