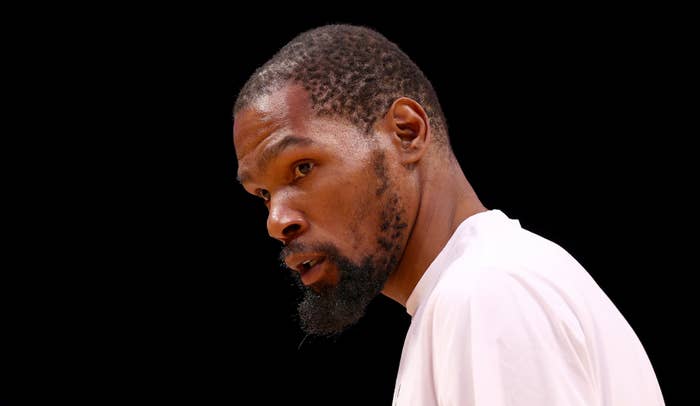 In an interview with Colin Cowherd, Draymond Green discussed playing alongside Kevin Durant and Steph Curry during their NBA Finals runs with the Golden State Warriors.
According to Draymond, Curry received more attention from opposing defenses even when KD was on the roster.
"Kevin Durant was absolutely incredible in those Finals runs," Draymond maintained, before reminding listeners that Curry had to deal with more double-teams.
"Steph Curry got double-teamed probably seven times the amount that KD did in a given series," Green added. "So when you watch those games and you say, 'Ah, [Curry's] numbers could be a little down,' he's facing a double team."
Green went on to say that fans who "don't understand basketball" will say Curry needs to win his first Finals MVP to validate his all-time resume.
"If you don't understand basketball, which most people don't in your space, yeah, you're going to come out and say he needs to validate that by winning Finals MVP," he said.
On Tuesday, a Twitter user asked Durant if Green's take was true, to which KD replied, "From my view of it, this is 100 percent false."
Green caught wind of the back and forth of social media and sent out a tweet telling Durant "to listen to full takes and not snippets" to avoid getting "baited." Durant replied by saying that he did in fact listen to the whole thing but expressed that he still disagreed, writing, "Oh I seen it my brethren, I appreciate the compliments but I disagree with what u said about double teams that's all. I love the show."
Double-teams aside, there's no denying that Durant was the Warriors' best player during the 2017 and 2018 Finals. KD averaged 35.2 points, 8.2 rebounds, and 5.4 assists per game in 2017, as he captured his first Finals MVP award. Meanwhile, Curry averaged 26.8 points, 8.0 rebounds, and 9.4 assists in Golden State's win over Cleveland.
KD won Finals MVP again in 2018, averaging 28.8 points, 8.8 rebounds, and 7.5 assists per game in the Warriors' sweep of the Cavs. Curry finished the series with per-game averages of 27.5 points, 6.0 rebounds, and 6.8 assists.
With Golden State set to take on Boston in Game 1 of the 2022 NBA Finals on Thursday, Curry will look to win his first Finals MVP.