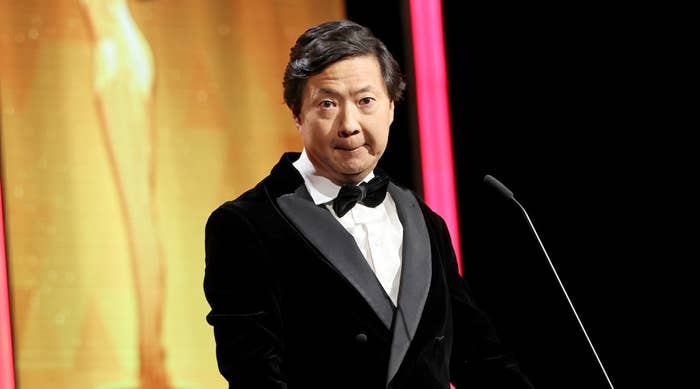 Ken Jeong is going viral for his wild antics on ESPN's College Gameday.
The Hangover actor, who is an alumni of Duke University, appeared as a celebrity guest picker on Saturday's pregame college football show, which was in Durham, North Carolina ahead of the team's matchup with Notre Dame.
Jeong's latest appearance on the College Gameday set saw the actor bark at a baby and dance with Lee Corso, among other things.
Of course, it wasn't Jeong's first appearance on College Gameday, as the comedic actor previously stopped by the set in 2021 ahead of Michigan's game against Michigan State.
While making his selection for the UCLA-Utah game, Jeong went viral after referring to his wife as "Ho," before reminding viewers that it's his wife's maiden name.
"I'm going UCLA because my wife went to UCLA medical school. Shoutout, Tran. You complete me, Ho! That's her last name. Relax, ESPN. How dare you," he said.
Earlier this week, Jeong hopped on Twitter to let fans know that he'd be appearing on Saturday's edition of College Gameday.
"Ya boy is Duke's first-ever guest picker," Jeong said in a video posted to Twitter. "Tune in this Saturday at around 11:30 a.m. to see my picks. Let's go Duke and see ya soon, Lee Corso!"