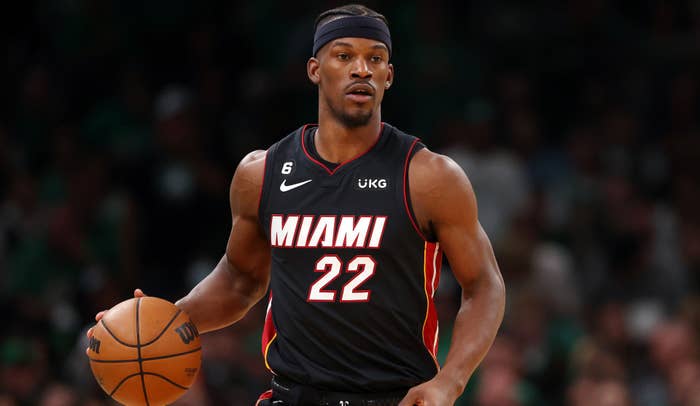 Fresh off leading the eighth-seeded Miami Heat to the NBA Finals, Jimmy Butler is looking to cash in on his "Jimmy Buckets" nickname.
According to trademark attorney Josh Gerben, Butler filed the trademark on May 24, with the intent to launch a "Himmy Buckets" brand that includes coffee, beer, soda, bottled water, and clothing.
For context: Butler has earned the nickname "Jimmy Buckets" after carrying the Heat to two NBA Finals trips in the past four seasons. Given the rising popularity of sports fans referring to a dominant athlete as "him," the moniker has since become "Himmy Buckets."
Back in April, Butler's former Philadelphia 76ers teammate Joel Embiid hopped on Twitter to praise one of Jimmy's dominant performances in Miami's first-round upset of the Milwaukee Bucks by referring to him as "Himmy Butler" in all caps.
Over the past month, Butler has submitted one of the greatest postseason runs in recent NBA history, helping the Heat become the first No. 8 seed to reach the NBA Finals since the 1999 New York Knicks.
Throughout the 2023 NBA Playoffs, Jimmy has averaged 28.5 points, 7.0 rebounds, and 5.7 assists per game, spearheading the Heat to series wins over the No. 1 seed Bucks, No. 5 seed Knicks, and No. 2 seed Celtics. Butler looks to win his first title in his second appearance in the Finals, which start Thursday against the Nuggets.