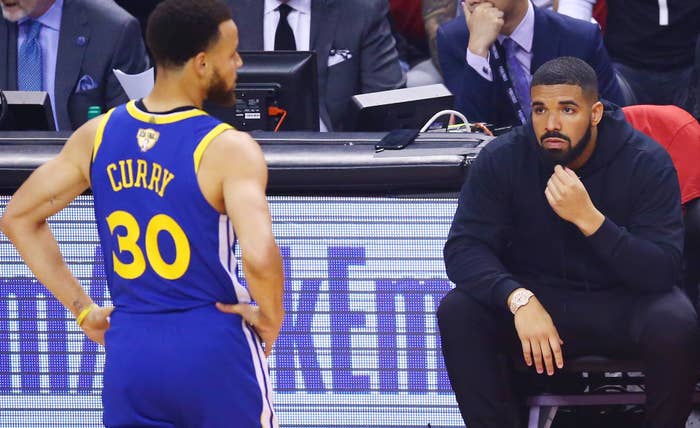 Heading into the NBA playoffs, Drake has high hopes for the Golden State Warriors.
The Toronto rapper took to social media on Thursday to reveal he's betting $200,000 Canadian—which currently works out to about $158,623 American—on the Dubs to win the Western Conference. Drake stands to win about $793,000 USD should Steph Curry lead his team to the NBA Finals.
Curry, who's been out since March 16 with a foot injury, is expected to return to the court for Golden State's opening game against the Denver Nuggets. 
According to FanDuel Sportsbook, the Warriors have the second-best odds (+350) to reach the NBA Finals out of the Western Conference, just behind the Phoenix Suns (-110). 
It isn't the first big bet Drake has made this year. Back in February, Drizzy took home $1.4 million after laying down $1.26M on Super Bowl LVI bets, as he cashed in on Odell Beckham Jr.'s first quarter touchdown and the Los Angeles Rams' win over the Cincinnati Bengals.
On the flip side, Drake lost $100K this month after picking the Duke Blue Devils to beat the North Carolina Tar Heels in their Final Four matchup. UNC won 81-77.