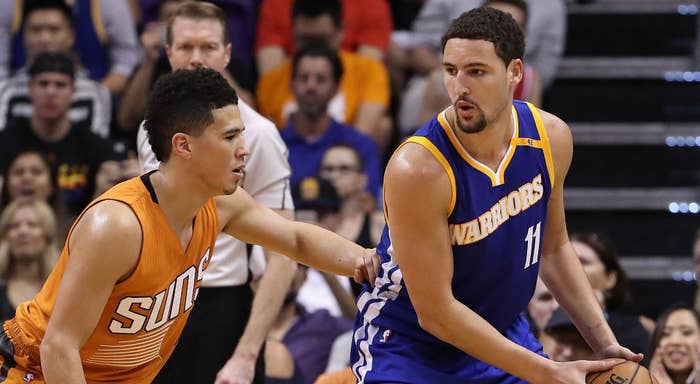 Klay Thompson regrets talking trash to Devin Booker by boasting about his four championships, which the Golden State Warrior did last season during a matchup against the Phoenix Suns superstar.
The four-time champion Warriors guard discussed the incident during an appearance on Paul George's Podcast P, saying he shouldn't have taunted Booker and was "in [his] feelings" when he did so.
"I was in my feelings, and [Booker] was busting my ass that day," Thompson said. "I was not where I needed to be. Stuff doesn't age well, and that didn't age well for me. I don't need to be flexing four rings, bro. Everybody knows that, that's on Wikipedia. My game wasn't where it was at, and we all get insecure at times. I'm man enough to admit we all have our moments of weakness. I'm not really proud of that one."
During a game against the Suns last October, Thompson talked trash to Booker by reminder the youngster that he has four rings. However, Klay maintains that he has nothing but respect for Devin.
"I see Devin Booker, and I should be proud of this young man," he shared. "The work he's put in, he survived a tough regime in Phoenix where everyone was getting traded, he's playing for a new coach every year. But now he's a franchise player 'cause he just kept working. So I admire the guys who have work ethic like that, you know?"
It's worth noting that Booker had no issue with Klay's taunt at the time.
"We're just two competitors," Booker said last October. "I love Klay Thompson. I have for a really long time. But it's not going to excuse from us being competitive and talking to each other. I've always admired his game, how he plays on both ends of the ball. And obviously, the rings speak for themselves."
However, on Tuesday, Booker hopped on Twitter to respond to Klay's comments, while also sending a subtle shot at Paul George for asking the question.
"Is that the answer u was looking for?" Booker asked George.
George retorted while livestreaming, "I asked a question, Klay gave his response. ... Sorry-ass response, I don't know what that was supposed to mean."