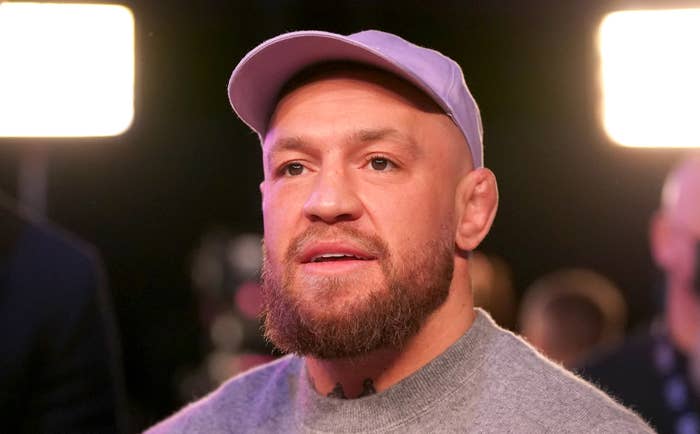 The latest chapter in the ongoing beef between Conor McGregor and Jake Paul unfolded Saturday night, with the UFC superstar trolling the YouTuber-turned-boxer over his choice of sunglasses.
Paul was in attendance at Madison Square Garden on Saturday, as Ireland's Katie Taylor defeated Puerto Rico's Amanda Serrano in the first boxing match headlined by two women at New York City's most famous arena.
Paul, who promotes Serrano, spoke to reporters ringside after the fight, which prompted McGregor to compare Paul's glasses to those worn by former television and radio personality Jimmy Savile.
"Who the fuck is this jackass in the pink Jimmy Savile glasses?" McGregor wrote on Twitter.
It didn't take long before Paul responded, writing, "I'm the one who has done more for fighters than you ever have; the one who has won five fights in the past two years while you have lost five."
Paul added, "The one who isn't owned by Dana White; the one who made the fight you just watched happen; the one who got your hero Katie Taylor paid; that's who."
As reported by MMAFighting.com, Paul further addressed his back-and-forth banter with McGregor during a post-fight press conference.
"I mean, of course Conor's watching to support Katie," Paul said. "We had a little bit of banter back and forth. But of course he always has something to say, but he doesn't really have a place to talk, right?
Paul continued, "He hasn't won a fight in five years. Dana [White] owns him, and I'm the one that got Katie Taylor a big payday and that's his hero."
Only time will tell if the pair will finally settle their dispute in the ring one day.