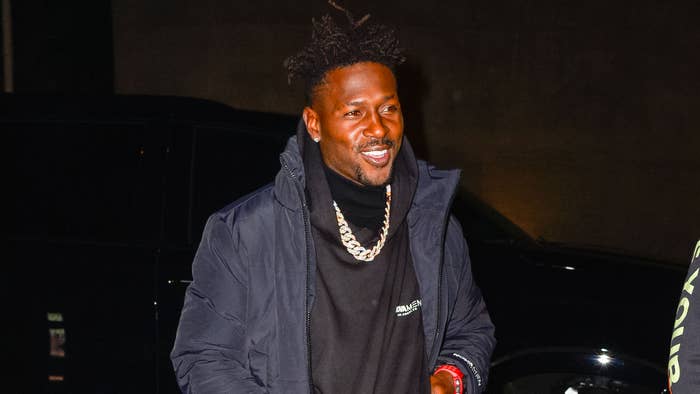 Antonio Brown recently sat down with Complex for a wide-ranging conversation that covered everything from his rap career to his fallout with the Tampa Bay Bucaneers.
Since he was released by the Bucs—who parted ways with the former All-Pro wide receiver after he walked off the field during the team's Week 18 game against the Jets—Brown has spent most of his time making music. However, he maintained that he hasn't stopped thinking about his football career.
"I'm a football player, man. I'm a professional athlete. Let's not get that twisted. That's my main thing," he said, adding that he's already been in contact with some organizations. "A couple teams called," Brown revealed. 
When asked how he feels about how things ended with Tampa, Brown admitted that he could have handled his emotions better, but defended his actions overall.
"It's not a good feeling with the way it ended, but I just feel good that I represented myself the right way," he said. "I could have handled my emotions better from walking off the field and making a distraction, but in that moment, I just didn't want to be a part of it no more. You're sacrificing your health to play with someone, and they don't really respect that, so to me that was a smack in the face."
Brown added, "But I think we all, as people, have got to learn how to control our emotions in hostile environments, via him, via me, via everyone. So I'm just glad I did what my heart said in the moment. I could have handled it better, but I think you've got to stand up for yourself."
AB went on to say that he believes "there are a lot of misconceptions about what happened."
"I'm a target in the media, for whatever that entails," he explained. "Imagine you are at a place and your boss tells you, 'Get the hell out of here.' What are you going to do? You're going to wait until they send you the flight itinerary, or are you going to be gone?"
As for his relationship with former teammate Tom Brady, Brown wouldn't confirm whether they've spoken since his release by the Bucs. "He's trying to win the Super Bowl, last time I heard," AB said. 
Read Antonio Brown's full conversation with Complex here.