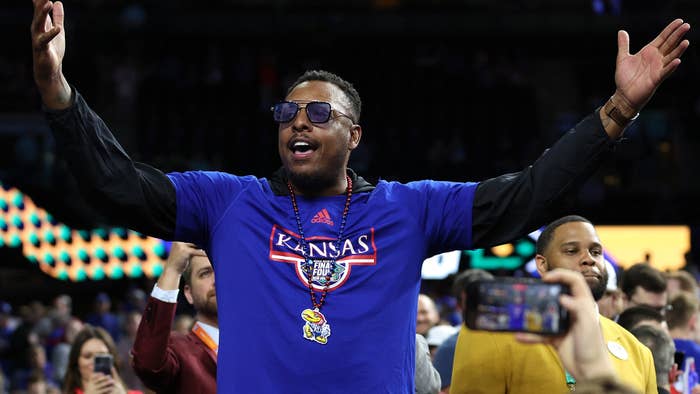 During an appearance on Kevin Garnett's Showtime series KG Certified, a seemingly inebriated Paul Pierce introduced his former teammate to a woman he said he hired to be his girlfriend for the day.
"This is my girlfriend for the day, they got a website where you can hire girlfriends for the day, so I got a girlfriend for the day," Pierce told Garnett after he introduced him to the woman, who was sitting just offscreen.
"Stop, man," replied Garnett with a laugh.
The show was streamed during Game 3 of Miami Heat vs. the Denver Nuggets, and Garnett attempted to get things back on track by highlighting what was happening on the court. Pierce also appeared to kiss his hired date, which made KG even more uncomfortable as he laughed off the situation.
Later, he went to smoke his cigar and someone offscreen threw a lighter at him, which prompted him to threaten to "smack" whoever threw it.
"Relax, man," Garnett said. "It came from here, relax. Watch the game."
Paul Pierce isn't exactly one to censor himself or keep his thoughts private, even when it comes to livestreams and broadcast TV. Earlier this year, in an interview with the I Am Athlete podcast, Pierce opened up about getting fired from ESPN in 2021 after he was seen smoking and drinking alongside exotic dancers on his Instagram Live.
"I got fired for having some entertainment," he said of the incident. "What did I do wrong? ... I'm playing cards, [it's] my boy's birthday, there's girls dancing, and we're blowing some tree. What did I do wrong?"