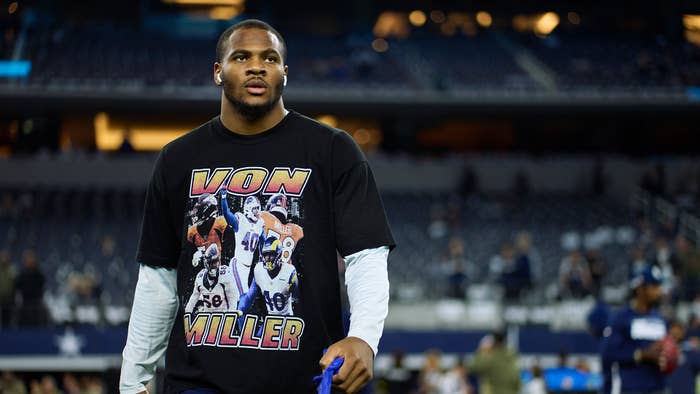 Former NFL player turned analyst Bart Scott is facing criticism from Dallas Cowboys linebacker Micah Parsons after he made a comment many perceived to be a cheap joke about Trevon Diggs suffering from a torn ACL.
"Wtf ?? He ole hating ass old head!! Lame asf!!" he wrote alongside a clip of Scott's commentary on Diggs' injury. "This why I really don't like talking to dudes in the media!! As a former player you are a lame asf bro! Just facts joking bout a man trying to feed his family and building a legacy! ESPN gotta stop letting corn balls on tv!!"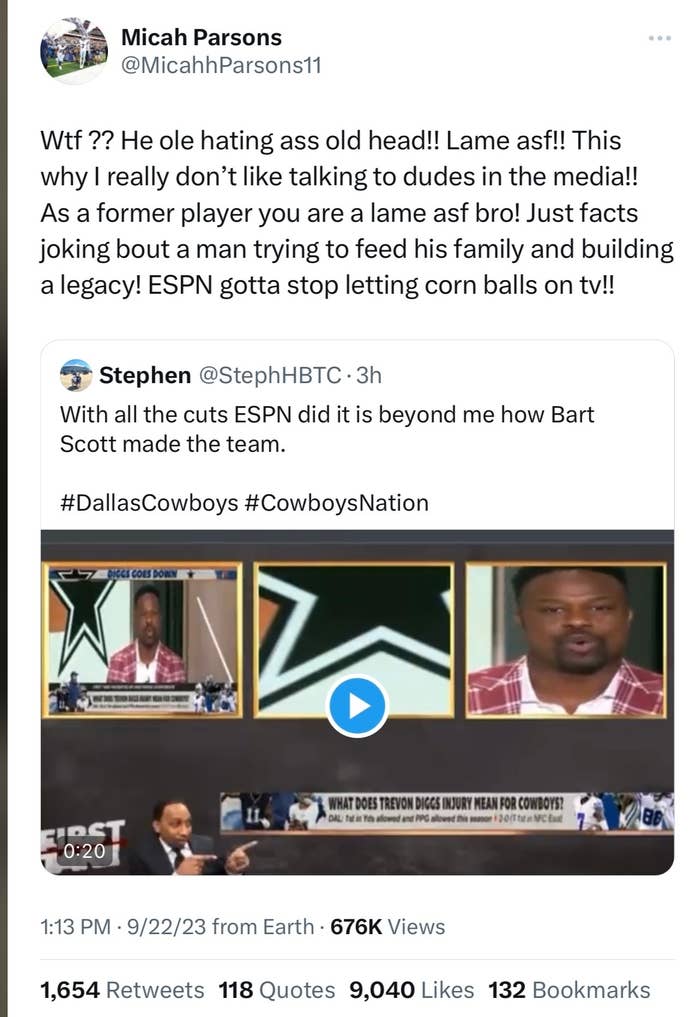 Scott made the comments during a recent episode of ESPN's First Take alongside Stephen A. Smith of and former Pittsburgh Steelers player Ryan Clark. "This is a major, major blow for Dallas, and like Stephen A. always said, 'Just wait, something bad always happens,'" Scott said with a smirk. "No, don't start that, don't start that," replied Clark.
Smith also interjected to express his disapproval of the joke. "Hold up, I wouldn't do that right now, in all seriousness," he said, as seen in the video below. "This is a season-ending injury so I'm certainly not gonna joke about that."
Scott responded to Parsons' criticism in a tweet, although he seemingly tagged the wrong handle. "Been called a lot of stuff in my life lame isn't one of them. Was never joking about a injury," he wrote. "Was speaking of bad luck & how a SB contender loses one of their most important players in there scheme. Get out your feelings and taking the statement out of context. @MicahParson11."

Diggs injured himself during practice on Thursday and will miss the remainder of the 2023 season. NFL Network reports that he suffered from a torn ACL and was spotted using crutches after practice. He went for an MRI to get the injury checked out, and the Cowboys have since confirmed there is no timetable for his return. "Thank you for all the prayers and I appreciate everyone for checking on me!" Diggs wrote on Thursday. "This is just God's Plan. I will be back and better!"
Parsons wasn't the only person who criticized Scott for the comments. Check out some reactions to his joke on First Take below.