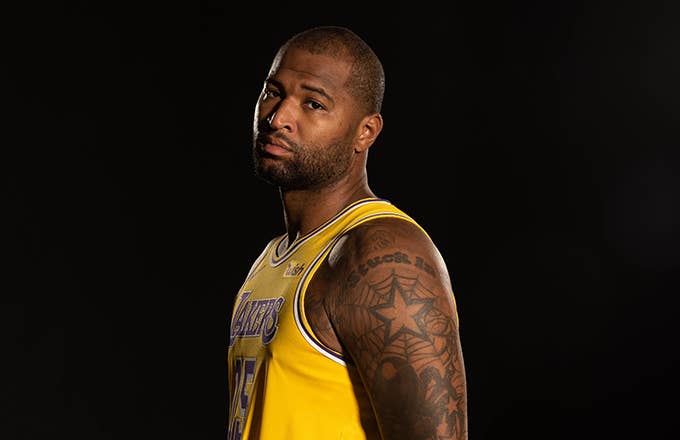 UPDATED 11/22/2019 4:42 p.m. E.T.: The third-degree harrassment charges against DeMarcus Cousins have been dropped, according to ESPN. The case, filed in Alabama, has been dismissed.
Third-degree harassment charges against Lakers center DeMarcus Cousins have been dropped, his attorney Moshae Donald tells ESPN. The case, filed in a Mobile, Alabama court, has been dismissed.
See original story below.
DeMarcus Cousins was accused of making verbal threats against the mother of his child last month, prompting Mobile, Alabama police to issue an arrest warrant on a misdemeanor domestic violence charge. In response to the allegation leveled against Cousins, the Los Angeles Lakers released a statement explaining their investigation into the matter was ongoing. At the Lakers' Media Day on Friday, general manager Rob Pelinka gave another vague update on the situation.
"I think the most important thing to say is the Lakers as an organization take allegations of domestic violence extremely seriously," Pelinka replied when asked about the allegation. "That said, when allegations are made for any NBA player, the league takes over and handles that investigation. We're going to abide by the league's lead on this as that's being investigated, and because it's a legal matter, we can't really speak any further about that right now. He's a member of our roster and a part of the team, and we'll just have to wait for guidance from the league on next steps." 
Audio of the threat Cousins made to his ex-girlfriend surfaced in August.
"I'm gonna ask you this one more time before I take it to another level," he said in the  clip. "Can I have my son here, please?"
When she responded that she didn't want their son to go to his wedding, Cousins said, "I'm gonna make sure I put a bullet in your f*cking head." 
Cousins is expected to miss the entire season after tearing his ACL during an offseason workout last month.