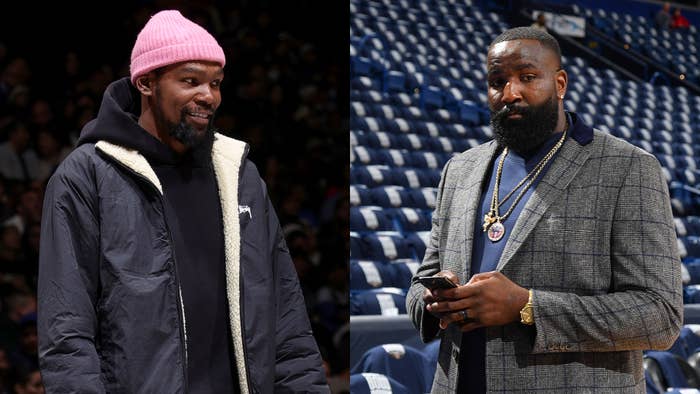 Kevin Durant has some words for Kendrick Perkins after he offered his thoughts on the shocking trade from the Brooklyn Nets to the Phoenix Suns.
In a post shared on both his Instagram and Twitter, former NBA player Etan Thomas suggested that the Nets have failed to hold on to their star players following three high-profile trades. "I'm no GM, but if you have KD, Kyrie, and James Harden, and you end up trading all 3 but don't get back any all stars in return, you have failed as an organization," Thomas wrote. "Brooklyn Nets fans should be livid at Joe Tsai and Sean Marks."
In the comments, Perkins expressed his thoughts. "I respectfully disagree!!!!" he wrote. "Player empowerment? KD and Kyrie made all the decisions and over there."
Durant hopped in to offer a direct reply to Perkins. "N****s like Perk make a living lying," he said. "Have some honor homie."
Durant is headed to the Phoenix Suns, with sources indicating it'll be as part of a deal that sees Cam Johnson, Mikal Bridges, Jae Crowder, four first-round picks, and a 2028 pick swap going to the Nets. He initially requested a trade from the team in June 2022 with Suns and the Miami Heat as his preferred destinations, but he rescinded his request a few months later.Former Nets player Kyrie Irving, who was notably plagued by controversy during his brief time with the franchise, was among the first to react to the news.
"I'm just praying for his happiness and praying for his wellbeing," Irving, who's now with the Dallas Mavericks, said. "We had a lot of conversations throughout the year of what our futures were gonna look like. There was still a level of uncertainty. But we just cared about seeing each other be places that we can thrive, whether that be together or whether that be apart. There has never been one moment where I've felt like he's been angry at me for decisions I've made or I've been angry at him."