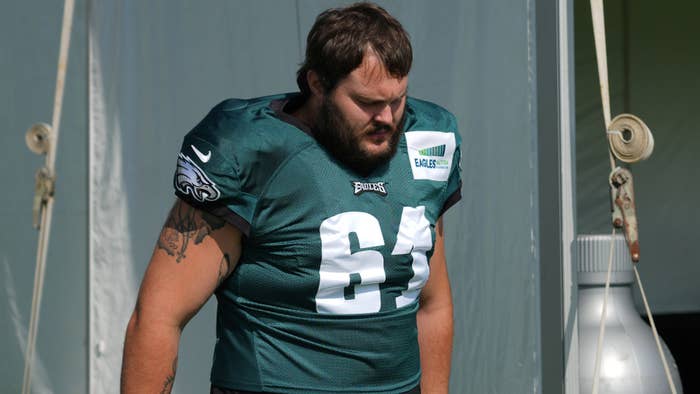 Philadelphia Eagles offensive lineman Joshua Sills has been indicted on charges of rape and kidnapping in Ohio, WCMH reports.
Sills, 25, was indicted by a Guernsey County grand jury for the charges over an alleged incident on December 5, 2019. According to court records, the offensive guard "engaged in sexual activity that was not consensual and held a victim against her will."
Prosecutors said the Guernsey County Sheriff's Office conducted a "detailed investigation" into the case, which lead to the indictment this week. He is expected to appear in Guernsey County Common Pleas court on Feb. 16, just days after the Eagles play in the Super Bowl. The name of the alleged victim has not been released.
Sills has only appeared in one game this season, after being signed by the Eagles as an undrafted free agent in April, 2020. He's listed on the Eagles depth chart as the backup right guard for his rookie season, and has participated in a small number of snaps. Prior to his time in the NFL, he attended Meadowbrook High School in Byesville, Ohio, and played guard for West Virginia University from 2016 to 2019 and Oklahoma State University in 2020-21.
The team has yet to release a statement on the matter, and Sills has not publicly commented on the charges, either. As of right now, the Eagles are set to play against Kansas City on Feb. 12 in Arizona, and it's unclear if Sills will be part of the reserve roster. Sills is originally from Guernsey County.