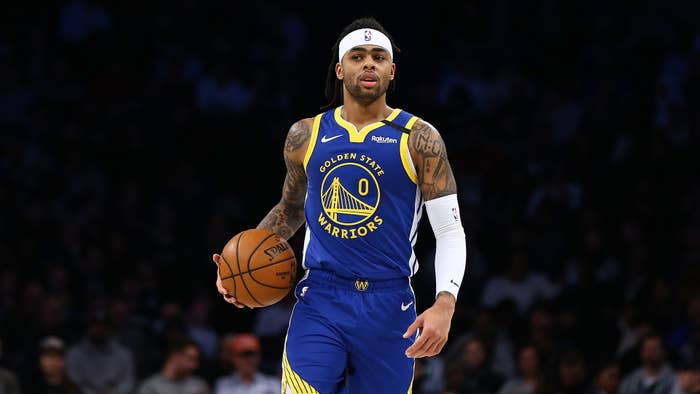 The Golden State Warriors have agreed to trade D'Angelo Russell to the Minnesota Timberwolves for Andrew Wiggins. ESPN's Adrian Wojnarowski first broke news of the deal, which will see the Warriors get Wiggins, a 2021 first-round pick and a 2022 second-round pick. The Warriors are also expected to send Jacob Evans and Omari Spellman to Minnesota.
"Timberwolves 2021 pick protected to No. 3, and becomes unprotected in 2022," Wojnarowski added. "Minnesota kept pushing for Russell, who it has wanted since summer free agency and finally got the point guard Gersson Rosas imagined pairing with KAT." Prior to this news, it was reported that the New York Knicks were also pursuing Russell.
After two seasons with the Los Angeles Lakers, Russell was traded to the Brooklyn Nets in 2017. At the end of the 2018-19 season, he was sent to the Warriors in a sign-and-trade package for Kevin Durant. 
In response to the news of the trade, Wiggins posted a clip of Drake shouting, "Play that shit from the yay area." It's unclear if Wiggins is aware that the clip shared is from when Drake trolled the Warriors when the Raptors went up 3-1 in the 2019 NBA Finals. 
Needless to say, NBA Twitter had plenty to say about the trade, most of which centered on how the under-achieving Wiggins will fare in Golden State.