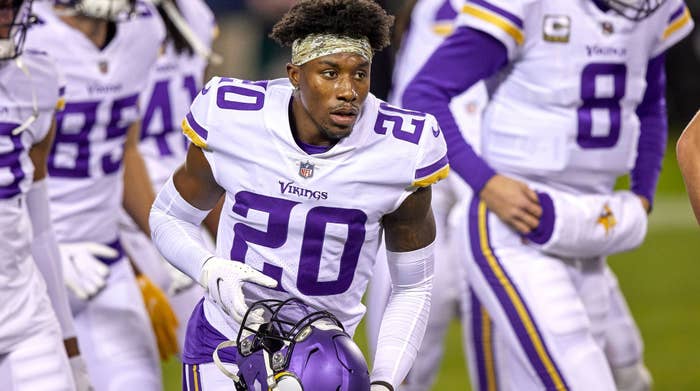 Jeff Gladney, a cornerback for the Arizona Cardinals, was found dead early Monday following a car crash, per the team's website. He was 25-years-old. Per TMZ, Gladney's girlfriend, Mercedes Andrea Palacios, also died in the crash.
The NFL player and former first-round draft pick—who had been taking part in the Cardinals' voluntary OTAs last week—was believed to have been driving in a white car before clipping another vehicle, per TMZ. Nobody was injured in the second vehicle, the Dallas County Sheriff's Dept, told the outlet. Gladney, who is suspected to have been speeding, hit a beam and flipped into a grassy area. 
After his time at Texas Christian University, the Texas native joined the Minnesota Vikings as the 32nd overall pick in 2020, and played 16 games. He didn't play in the 2021 season following an assault charge, but signed with the Cardinals in March after being found not guilty. 
"We are devastated to learn of Jeff Gladney's passing," the Cardinals tweeted Monday. "Our hearts go out to his family, friends and all who are mourning this tremendous loss."
Teammates and friends have since shared an outpouring of grief on social media following news of Gladney's death, including fellow TCU grad and Philadelphia Eagles wide receiver Jalen Reagor, who shared a photo and his last words to Gladney on Twitter this week.
"Lost my Brother, my best friend, my right hand man… ain't too much more I can take man damn," Reagor wrote. "R.I.P Jeff Gladney, brother watch over me please."
Teammate J.J. Watt wrote that he found out about the "horrifying news" after the incident, calling it "just tragic."