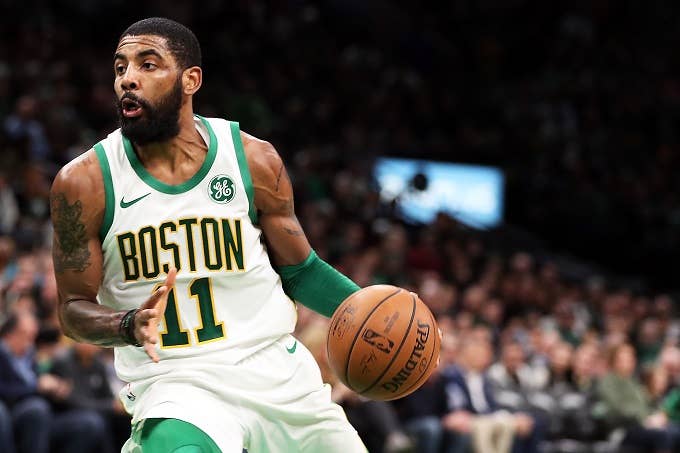 LeBron James and Kyrie Irving didn't always see eye-to-eye during their time on the Cavaliers. LeBron was a dominant figure and Irving was young and reckless, which clashed with James' leadership style. But now that Irving has a team of his own, it's forced him to rethink his relastionship with James. After the Celtics beat the Raptors on Thursday, Irving told reporters that he called LeBron to apologize for being so brash in his early years.
"It was a big deal for me because I had to call Bron and tell him like 'I apologize for being that young player that wanted everything at his fingertips,'" he said. "I wanted to be the guy who led us to championships. I wanted to be the leader. I wanted to be all that."
Irving noted that LeBron was uniquely suited for leading a team to the promised land, something you might expect from someone who has been to the NBA Finals for eight consective years. 
"The responsibility of being the best player in the world and leading a team is something that's not meant for many people," Irving said. "Bron was one of those guys who came to Cleveland and tried to really show us what it was like to win a championship."
The veteran 26-year-old said that he found himself in a similar place to LeBron in those Cleveland years and he had to reach out. 
"Sometimes getting the most out of the group is not the easiest thing in the world," he said. "The best person to call was him. He's been in the situation. He's been there with me."
Now that he's cleared the air with LeBron, Kyrie seems ready to put everything he's learned into play with the Celtics, who are currently six games back in the Eastern Conference.
"How do I get the best out of this group, the success they had last year [while] helping them realize what it takes to win a championship?" he said to reporters. 
To add an extra dose of NBA small world syndrome, LeBron was apparently out to dinner with another member of that Cavaliers squad that evening.