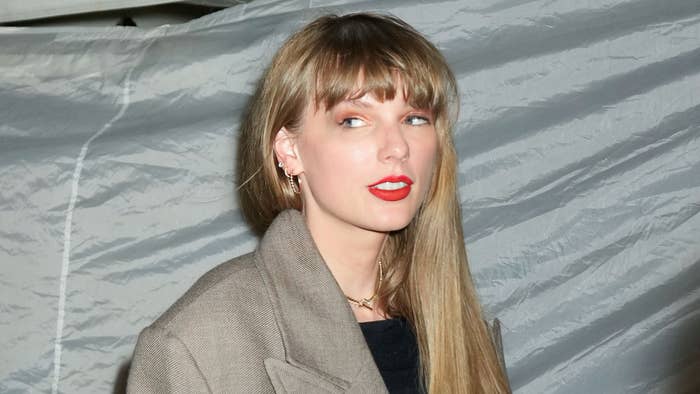 Philadelphia-area Taylor Swift fans will need to tune in elsewhere if they want to hear her music over the airwaves this weekend.
Local Top 40 radio station Q102 is pulling the plug on the Pennsylvania native's music ahead of the Philadelphia Eagles and Kansas City Chiefs game at Arrowhead Stadium on Monday, Nov. 20.
In recent months, the pop singer had been making appearances at a number of Chiefs games, whom her boyfriend Travis Kelce plays tight end for. Although Swift had been somewhat of a good luck charm for the team, the radio station apparently believes the Eagles might need to keep their head in the game before Monday's showdown.
"Q102 loves Taylor Swift and the whole Travis [Kelce] and Taylor thing as much as the rest of the world, but this weekend we've gotta focus," said Q102 afternoon DJ, Buster, on Fox 29's Good Day Philadelphia where he and his co-host Bex made the announcement. "So we've been forced to punt Taylor Swift from the playlist."
"No Taylor Swift will be heard on Q102 all weekend long," said co-host Bex, adding that the radio station will hold a ceremonial last play for Swift at 5 p.m. on Friday. According to the radio station's website, the final Swift song they played before kicking her off the frequency was her 2014 hit "Shake it Off." It's unclear if they played the recently released "Taylor's Version" of the track.
Last week, Swift and Kelce, who had been rumored to be romantically involved since September, were seen in an embrace and kissing shortly after a performance of her Eras Tour concert in Buenos Aires, Argentina.
The likelihood of Swift being at the game on Monday is up for debate. According to her website, she's set to perform in Rio De Janeiro, Brazil on Sunday night. It's possible that Swift could jet back to the U.S. in time for the game since she won't need to be back in Brazil until Friday, Nov. 24 for a string of concerts in São Paulo.
Swift did not appear respond to the radio station's "ban." However, the singer took a moment to mourn the death of a young Brazilian fan, 23-year-old Ana Clara Benevides, who suffered from a heat stroke before attending a concert in Brazil amid the country's week-long heat wave.
"I can't believe I'm writing these words but it is with a shattered heart that I say we lost a fan earlier tonight before my show," Swift wrote on her Instagram Story. "I can't even tell you how devastated I am by this. There's very little information I have other than the fact that she was so incredibly beautiful and far too young ... I want to say now I feel this loss deeply and my broken heart goes out to her family and friends. This is the last thing I ever thought would happen when we decided to bring this tour to Brazil."