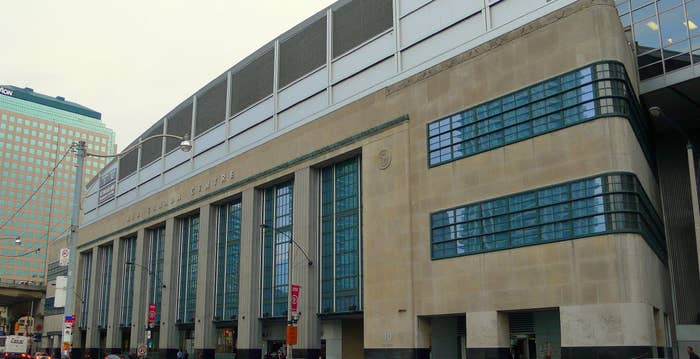 One of Toronto's premier entertainment venues is getting a major overhaul. According to multiplesources, the Air Canada Centre will soon become Scotiabank Arena. The rebrand is a result of a record-breaking agreement between the building's owner, Maple Leaf Sports & Entertainment, and the Bank of Nova Scotia: the nation's largest institution of its kind. The massive deal will cost Scotiabank a whopping $800 million and will take effect in July of next year. Details about the arrangement are still coming in, but as of writing, it appears that the contract will last for the next two decades.
Originally built in 1997, the Air Canada Centre was soon purchased by MLSE and quickly became home to the city's NBA and NHL squads. Along with hosting the Raptors and Maple Leafs, the complex has also consistently presented big-ticket performances from music and comedy megastars. In a press release sent out Tuesday afternoon, MLSE chairman, Larry Tanenbaum, thanked those involved with the blockbuster deal and expressed excitement regarding the city's future. "We are grateful to Scotiabank for their continued support and this expanded partnership as we look ahead to what we expect to be 20 of the most exciting years in Toronto sports and entertainment history."
Meanwhile, Scotiabank representatives made their motives for purchasing the ACC's naming rights incredibly clear. Speaking in an interview with the Canadian Press, company CMO, John Doig, claimed that the move was all about hockey. "The reality is hockey is super-important to us. Over the past 10 years, we've invested a lot of time and effort becoming relevant to consumers who like hockey and are engaged in hockey whether it be at the NHL level all the way down to the grassroots level across the country."
Following the surprising news, loyal Torontonians quickly turned to social media and trashed the upcoming rebrand. Luckily for everyone upset about the change, ACC attendees will have almost an entire year to soak in the venue's current aesthetic before Scotiabank takes over the space. In the meantime, you can take a look at some of the best Twitter reactions below.