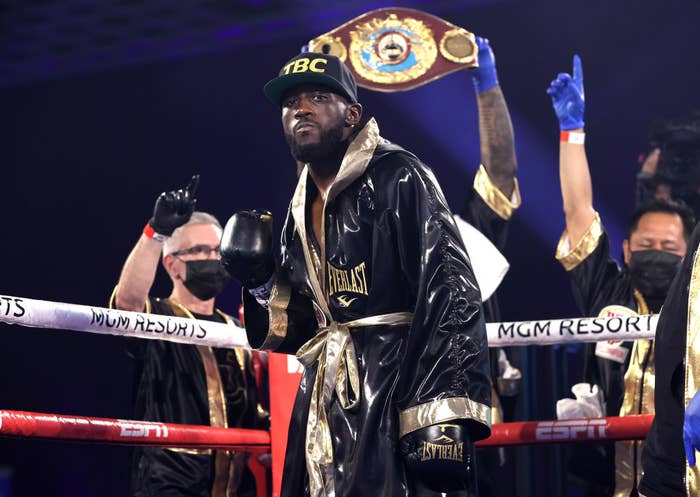 Nobody near or even approaching Terence Crawford's level of boxing brilliance has to answer as many questions about their credentials as he does. Even though he's easily among the best pugilists in the world, Crawford yet again has been peppered with inquiries about his position on the pound-for-pound rankings and his historical standing in the tradition-rich welterweight division heading into his next fight. 
Sure, he hasn't faced the cream of the welterweight division since he made the jump three years ago thanks to the putrid politics of boxing. But Crawford genuinely believes an emphatic performance against his friend and former two-time welterweight champion Shawn Porter will shut up any remaining haters.
"Beating a guy like Shawn Porter would boost my résumé and my legacy to the next level," says Crawford. And that, in his mind, should be enough to earn the spot he believes he deserves on the pound-for-pound rankings. "I'm not going to be biased, I'm going to be realistic," he says. "It depends on how I beat Shawn Porter and what fashion."
The WBO welterweight champion of the world faces his stiffest challenge yet at 147 pounds when Crawford (37-0, 28 KOs) meets Porter (31-3-1, 17 KOs) in a showdown Saturday (ESPN+ PPV, 9 p.m. ET) that will go a long way toward quieting critics who still balk at Bud's résumé. 
Leapfrogging Canelo Alveraz, the undisputed champion at 168 pounds, in the minds of boxing observers is hard to fathom considering Alvarez owns boxing's best résumé and just made history a few weekends ago. But if Crawford impresses in this highly anticipated fight, at the very least it becomes a more reasonable debate. Because beating the gritty, gutty Porter—who has wins over Yordenis Ugas and Danny Garcia, among others, and came damn close to beating Errol Spence Jr. two years ago—would arguably represent the flashiest feather in Crawford's cap.
"These two fighters, Terence and Shawn, are the elite of the welterweight division," says Top Rank chairman Bob Arum, Crawford's promoter. "Because I've been around boxing for so long it really reminds me of the great years in the 80s when Ray Leonard and Tommy Hearns and Roberto Duran were going at it, fighting each other. The welterweight division has always been a top division because there's so much action the fighters bring and Terence and Shawn remind me of that era."
Before it all goes down at Michelob ULTRA Arena at Mandalay Bay in Las Vegas, we caught up with Crawford via Zoom last week to ask him about his spot on the pound-for-pound rankings, if he still considers himself underrated, his pursuit of undisputed status in a second division, and his general thoughts on the world of boxing.
(This interview has been edited and condensed for clarity.)
Last time I talked to you, I asked if you felt like you're underrated. You told me, "At times I do think I'm underrated." Do you still feel that way? 

Yeah, you know, I don't think people give me enough credit that I rightfully deserve. I think people look at the people that I fight and at the time that I fight them and try to discredit me for the caliber of opponents that I fight and the point of time that I fight them at. I'm fighting these guys at the prime of their career, the peak of their career, where they got the most confidence, most of them don't have a loss, or whatever the case may be. I just think people look at what I do to them, how I do it to them, how their career leads after I fight them, and they say, 'Oh, this guy was washed and this and that," when that wasn't the case before I fought them. 
You talk about not getting proper credit, Shawn is a good, good name at 147. In terms of legacy, how important is a win over Shawn for you? 

It's a very important fight, like I always say. Each fight after one another is probably more important than the previous one. I'm just looking at this fight with Shawn Porter, and him being one of the best welterweights in the world, who has fought all the other welterweights in the world, could be undefeated, if you ask me. Beating a guy like Shawn Porter would boost my résumé and my legacy to the next level. 
Shawn said at the introductory press conference about you: "Nobody that has been in the ring with him knows him as I know him." Why is that not going to matter on the 20th?

It's not. He can say he knows me. He can say he knows what to do to make me mad and make me smile and whatnot, but in reality, that don't win fights. You still gotta go out there and perform, you still gotta go out there and land his shots and do what you say you're capable of doing. And if not, then you lose. 
You brought up your pound-for-pound status heading into this fight. Everyone's all about Canelo these days, but you think a win over Porter should definitely put you at No. 1 in the mythical rankings?

It depends on how I beat Shawn Porter. Canelo just became undisputed in a year's time and that's impressive. The caliber of fighters he just beat back-to-back-back is very impressive. I'm not going to be biased, I'm going to be realistic. It depends on how I beat Shawn Porter and what fashion.
That's fair. I think a spectacular ending would definitely boost some people's opinions. You are arguably the best closer in boxing. That mentality, where does it come from and how have you fine-tuned that over the years?

I was just born with that in me. I don't want to give you a second chance to get back at me so if I get you where I need you at, then it's over with, in my eyes. Ain't no coming back or second chances.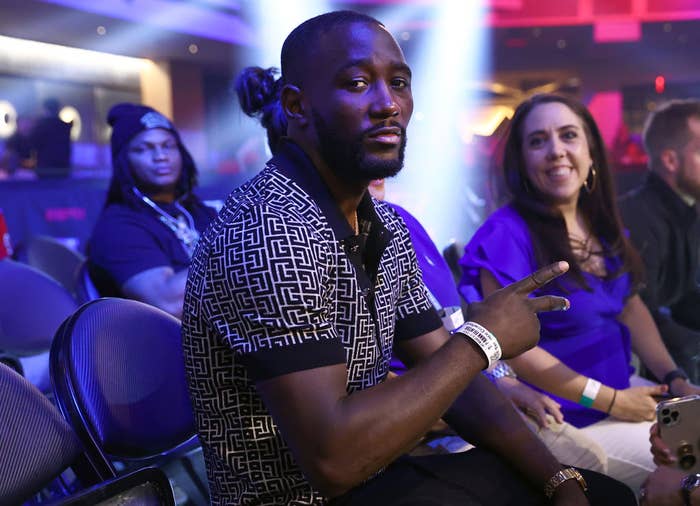 Going back to Canelo for a quick second, you're a former undisputed champion at 140. How cool is it to see a couple of other boxers accomplish the feat this year like Josh Taylor and Canelo?

It's beautiful. I feel like I started that trend. I was the main guy that said he wanted to be the only champion in the division. I want to have all the belts. I don't want it to be no one else that can say that they're champion in my weight division. I set my sights on undisputed and once I became undisputed I feel like that gave all the other boxers the eager[ness] to become undisputed. Seeing Terence Crawford become undisputed then the other boxers were like, "Oh man, I want to have all the belts, too." I think that's what it's all about: the best fighting the best and everybody competing against one another. There's only one champion in each division. 
Do you think it's feasible to have an undisputed champion at 147 in the near future? 

Yeah, for sure. I think that's what we're working towards. 
The pessimist, the skeptic in me says it ain't happening considering how fucked up boxing is. What gives you the confidence or optimism to say that because I can throw cold water on that real quick?

Personally, I've been in a direction of becoming undisputed since I came into the division. As I recall, I'm the only one who's been calling out all the champions before I was even in 147. When I was in 140, I was calling out all the champions. When I became champion after defeating Jeff Horn, I was calling out all the champions so each time that I step foot in the ring I'm calling out the other champions. There's not much more that I can do. 
When you're in the ring, when do you know you've earned an opponent's respect? 

I think it's all body language. Body language tells it all. You can get somebody's respect, but at the same time that don't mean they're going to play into what you want them to do. Some people you can earn their respect but they're still going to bring it. 
Are you starting to plan out 2022 at all yet? 

Not at all. My main thing is to focus on the task at hand, and that's Shawn Porter. Everything else is irrelevant. 
This could be your last fight with Top Rank Promotions. It's been widely reported your future is kind of up in the air. Is that at all going to be swirling in your mind during fight week and leading up to the showdown with Shawn?

No. Not at all. My main focus is Shawn Porter. Everything else can wait. 
Let's quickly pepper you with some questions because it's always fun talking boxing with you. What's your fight of the year?

I don't know. There's been a lot of great fights this year. I don't know, I gotta sit down and think about it and look at some of the great fights that happened this year.
For my money, Estrada-Chocolatito II was the best fight of the year. I know everyone's going to say Fury-Wilder III, but people are sleeping on Estrada-Chocolatito II.

You know, those little guys don't get the credit. The bigger you are the more attention you get. 
What's one matchup you really want to see in boxing? 

There's a lot of good fights. [Vasiliy] Lomachenko-Shakur [Stevenson]. That's a great fight. Teofimo [Lopez] versus Tank [Gervonta Davis]. Ryan Garcia versus Devin Haney. There's a lot of great fights.