Why Teófimo López Wants To Fight Lomachenko, Haney, Garcia, or Tank—at 140 Pounds
The top lightweight in the world is frustrated he hasn't faced some of the best at 135. The unified champ says they can soon chase him at junior welterweight.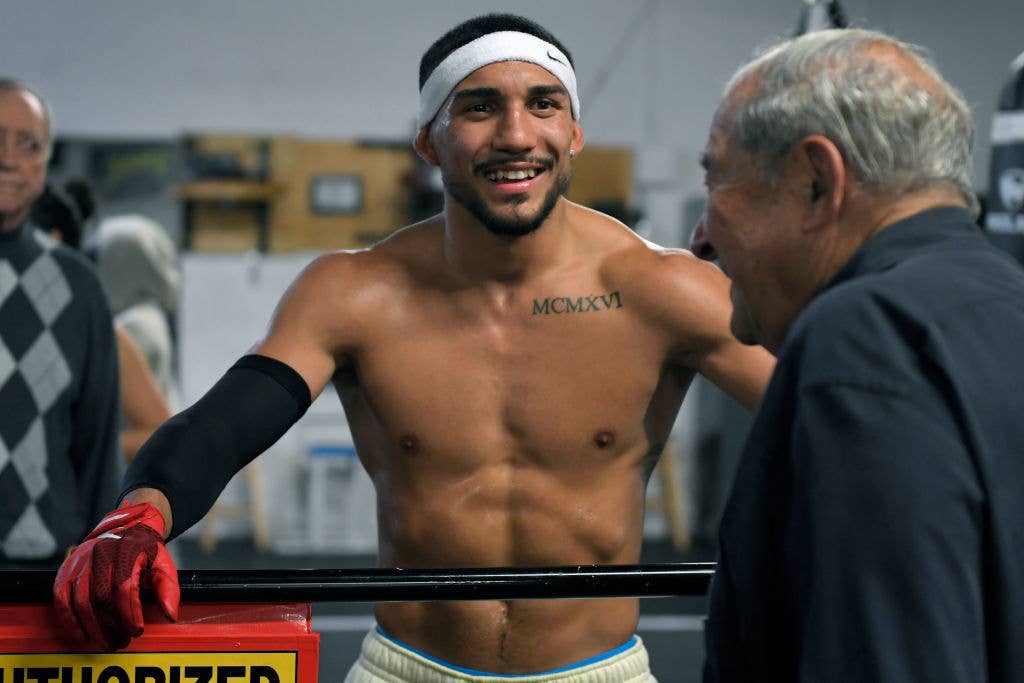 Getty
LAS VEGAS, NEVADA - NOVEMBER 04: Teofimo Lopez (L) speaks with Top Rank Founder and CEO Bob Arum during a media workout at the City Athletic Boxing Gym on November 04, 2021 in Las Vegas, Nevada. Lopez is scheduled to defend his WBA/WBO/IBF lightweight titles against George Kambosos Jr. at the Hulu Theater at Madison Square Garden on November 27 in New York City. (Photo by David Becker/Getty Images)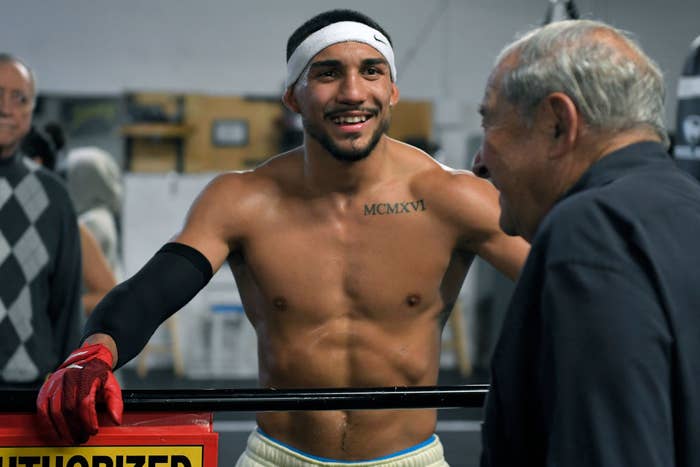 Truthfully, the top lightweight in the world long ago outgrew one of the deepest divisions in boxing, where a ton of awesome fights could've, and should've, been made by now.
Just don't blame Teófimo López, the unified lightweight champion who rose to stardom after an impressive victory over pound-for-pound great Vasiliy Lomachenko last October, for depriving boxing fans of a marquee matchup between him and WBC lightweight champ Devin Haney. Or López vs. box office star Gervonta Davis. Or Lopez vs. the talented but troubled Ryan Garcia. 
Blame boxing's putrid politics, or a few specific characters all you want. But López maintains he's the one who is being ducked, and it's increasingly looking like a fight between him and any of the other top lightweights sadly won't go down at 135 pounds. 
"They all had the chance to step up to the plate, and not one of them stepped up to the plate," says López (16-0, 12 KOs). "So I've been sitting here for a whole year and no one has presented me with anything. One-forty is what I'm looking forward to doing, and if anyone has a problem with that, OK."  
When you own three of the division's four belts—the IBF, WBA, and WBO lightweight titles—and have the best résumé out of all the young stars at 135 pounds, you can talk tough without any blowback. López wishes his return to the ring was with one of the aforementioned bold-faced names. He would relish another challenge to further cement his status as the best fighter under 25. Instead, López's long-awaited return is against undefeated Australian challenger George Kambosos, Jr. (19-0, 10 KOs) in a fight that could easily serve as "The Takeover's" springboard to 140 pounds. 
If Haney, Davis, and Garcia really want a shot at López, a native of Brooklyn, that's where they'll have to meet him in the future. Same goes for Lomachenko, as many fans of the sport clamor for a rematch between the soft-spoken Ukrainian southpaw and braggadocious native New Yorker.  
"The only way if people want to see a rematch, he's gotta meet me at 140," says Lopez. "I beat him fairly. So if you guys want to see it, you have to give me something. So meet me at 140."  
But he's gotta take care of Kambosos first (Saturday, 9 p.m. ET, DAZN). And after a long road to get to fight night—which included numerous venue changes, promotional shenanigans, and cases of COVID that delayed this bout for months—López couldn't be more hyped to be back fighting at Madison Square Garden. Six of his 16 professional fights have come at MSG, and all have ended via KO. Six days after he welcomed his son into the world, we caught up with the 24-year-old López via Zoom to talk about Saturday's showdown, what it was like taking a body shot from Hafthor Bjornsson of Game of Thrones fame, why he feels the top fighters at 135 have ducked him, and why a rematch with Lomachenko has to happen at 140 pounds. 
(This interview has been edited and condensed for clarity.)
Still sticking with your Round 1 knockout prediction for Saturday?

I just feel like I'm on a whole 'nother level. I don't think anybody at this point can last with me. And it's been showing in my training. If it's been showing in my sparring, I don't see it changing come fight night with 8-ounce gloves. You know me with 8 oz. gloves. 
Kambosos says he wants a war with you. Why is that a bad idea?

Everyone wants a war with Teófimo until they get punched by me. Then they step back and say, "Whoa. OK, I gotta change my plan." Lomachenko had to feel that. Especially toward the late rounds, toward the championship rounds, once he started getting active. I said, "OK, now we have a fight." It's just things like that. Kambosos can say whatever he wants. If that's the fight that he wants, we're prepared for everything—from inside work, from in the pocket, to outside, to sides, and also boxing. In case this guy is too aggressive, and chasing me, we've got something for that, too. 



"I just wish that the fighters could understand that you cannot make $100 million if you're not fighting the top guys in your division. The only way you do that is by taking a chance. I had to take that, so if I had to take that, why shouldn't they?"
This has been a long road to fight night. Do you feel a sense of relief? Is the frustration gone? Give me a sense of how crazy this episode was.

It's a miracle right now. The Miracle on 33rd. [Laughs.] But it's realizing that, hey, the sport didn't get better. It got worse, business-wise. I don't think it gets better than where it is right now. It's just learning those things, especially at this young age that I'm at. I still have a lot of potential, so it's all about how I move from it and just staying positive through it all. That was a big, big factor in all this, throughout the pandemic, COVID, postponement after postponement. How do I keep myself in good spirits? I figured that out throughout this whole time and I'm thankful for that. It's a huge relief to finally be fighting in a couple of days at the Garden. What better way than to bring all my belts back? Back home. New York. Brooklyn. Madison Square Garden. New York, New York. We're just going to put on a show for everybody. Seven-one-eight, all my people that love and support me always.  
Is this your final fight at 135?

It could be. I feel like at this point my body is ready to go up to 140. It's been ready for a long time. The reason I'm still at 135 is because of my mental. My mental state is like, "No, we can keep going. You got this. Let's try and shut everybody up." But I realize I'm the king of the crop. So if they want to fight me, meet me at 140. They all had the chance to step up to the plate, and not one of them stepped up to the plate. So I've been sitting here for a whole year and no one has presented me with anything. One-forty is what I'm looking forward to doing, and if anyone has a problem with that, OK.  
Obviously, we ask because the best, some of the most intriguing fights in boxing can arguably be made at lightweight, and we all hope you guys—I'm talking Devin Haney, Gervonta Davis, Ryan Garcia—can eventually fight each other. It's frustrating for us as fans and observers that those fights aren't happening, and maybe won't happen. What's your frustration level?

That I gotta maintain 135 for it. That's the only frustration, because my body's like, "Bro." When people see me, they're like, "Bro, how do you make 35." I'm getting bigger, getting stronger. I'm maturing more as a man. We don't stop growing until, what, 25 or 26? You get what I'm saying? Those are the things that come to play when it comes to these guys not wanting to step up or fight me. It's like, OK, I'm staying at this weight so I can make these fights happen with you guys. Why are we not taking it? 
For my money, the "Email Champion" nickname you gave Devin Haney is one of the funnier lines in boxing in recent memory. Who gets credit for that: you or your father?

Me right here, baby. My father, we take over. We're dynamic. I just want to clear it up: how can a fighter become a world champion without actually fighting in the ring? It's like in the NBA Finals and they win a game without winning the game and they get a trophy. For these [points to his championship belts], I had to fight for these. What the hell did he, Email Champion, fight for? That's why we call him Email Champion, because you got the world championship title via email that was sent to you. When he went to defend it, he fought a guy that was 56th-ranked in boxing. How are you a world champion fighting guys that are not in the top 50? 
I hope you and Devin finally fight. Boxing needs to see it. 

I'm hoping for it. It needs to happen. These guys are just focused more on—I get it—the money part of it. But it's like, how are you going to pass up on this? 
I know you're a young dude still, so I'm assuming we're still going to see you pull off those flips in the ring. If Anthony Dirrell can do it—like he did on the Canelo-Plant undercard—you better be able to still do it. 

Oh, yeah. You guys are always going to get that. I've been doing that since I was 8 years old in the ring. That won't change. That's my bona fide stamp for I just won and I just took over. You definitely will see that. I love to see people doing backflips. That was a huge flex for him, because not only did he do the backflip, he got a beautiful uppercut stoppage. Shoutout to him.  
Last time we spoke, we talked about your love of J. Cole. Have you gotten a chance to meet one of your favorite artists? 

I still have yet to meet one of my favorites. I truly respect him on what he's been trying to do in his career. I feel like how everyone is right now, with music—if we could chat on this for a second—it's not really music anymore. A lot of it is about the bass and beat more so than what is being said in those songs. That's why J. Cole is one of my favorites, because he doesn't necessarily do that. He writes a story behind it, like back in the days. They always had a truth line on everything they rhymed. Also, it's just like J. Cole, how he's trying to educate us, the new generation and for those that are in the industry with him, that's very moving, and I look forward to eventually, God willing, we'll cross paths and sit down. And not take a picture with him. 
I've met so many—I won't call them celebrities—people in my life and I rarely take pictures with anybody because I'd rather sit down with you and pick your brain and then get a flick with you. Because I feel like that's more honorable and knowledgeable. It's growth. Growth over all that stuff. Whenever that time comes, who knows? [Tuesday] is the Knicks-Lakers game. So I'll definitely be there and if he's there, perfect. I'll finally actually get to talk to him, and maybe he can give me pointers on how I should move financially and other things. 
And how has your stardom skyrocketed since defeating Lomachenko? 

A lot of things came at me quick. Not saying that I wasn't prepared for it. It's just I wasn't paying attention to it. There's a difference. Tunnel vision, you're just only focused on that. Throughout this whole time, not fighting for a whole year, eventually you're going to get to a point where it's not really tunnel vision—let me take a step back and you kind of really see what's been going on around you. There were a lot of things I had to cut. I had to cut a lot of ties with a lot of people just because I took a step back just from focusing on the belts to actually focus on my life and things around it. I think, honestly, that was the beauty of it. I got to learn about things and was humbled by it. Definitely my life changed. A lot of people come to me now in different ways, excited, and say that I moved them, inspired them, and that I'm a true fighter. A real fighter. And that's what I love. I even get it from the throwback fighters. Even the old coaches, they're like, "You're from that time, not this time." I'm like, thank you, because I truly believe that. 
All I'm trying to do is push that forward and let's make these fights happen. It's so easy to talk about it. But it takes two to tango. I just wish that the fighters could understand that you cannot make $100 million if you're not fighting the top guys in your division. The only way you do that is by taking a chance. I had to take that, so if I had to take that, why shouldn't they? I didn't have to fight Lomachenko. I was less experienced, I wasn't in the age group yet to prepare for that, and had a minimum amount of fights and look what happened. I took a chance. And I was undefeated, which a lot of people don't want to do. 
Well, it's awesome to have you back fighting. I don't know who you're fighting after Kambosos. Hopefully it's Haney or one of the other guys at 135. I think you're probably done with Loma the way you're talking. 

If the Loma fight ever comes about, if they want to make the fight happen, they gotta do it at 140. 
That may be too heavy for him.

Hey, if that's what they're trying to chase. When I fought Lomachenko, I made the weight, but I felt too light. I felt like he was the heavier guy. My body's already at the point where it's like, "Let's go to 140. Why the hell are we still here?" It is what it is. I had to make a lot of sacrifices, but I'm thankful for everything. The only way if people want to see a rematch, he's gotta meet me at 140. I beat him fairly. So if you guys want to see it, you have to give me something. So meet me at 140.  
Most of us think he's better served at 130. But what do we know? 

I believe Loma is better off at 130. However, I do believe he'll beat all the guys at [1]35. 
Honestly, how painful was that body punch from The Mountain? 

I was meditating that night because I was bruising a little bit. Like, oh, man, let me try and heal this. But that was a hard punch. Honestly, the hardest body punch that I've ever received in my life. Because I had to scream that one out. Like, I had to scream, because that's the only way to release that [pain]. If not, I probably would've had to take a knee. We did, like, five shots each. We started out with 25 percent of power and worked our way up. He hit me with 100 percent the first time, but he hit me more toward my hip, so I said, "No, no, no. Let's do it again." And I was like, "I'm going to get you twice because you're getting me again." That was when you guys got to see that video. He hit me real good, real solid. And I got my two shots back after that, and that was it. I guess it goes to show how strong I am. I was nervous right before he threw the punch. I was like, "Damn, I think I messed up." 
What was your feedback on your punch? What did he tell you?

He said it was a good shot. Definitely hurt him a lot. You could see it, too. He definitely wants to work with me and my father in the near future. We told him we would love to help you in any way, because he's all about learning. That's really what he's about. He's real passionate about the sport of boxing. He respects it. So he wants to learn so much from it. Very humble dude, family guy. But that punch, whew. I don't think anybody else could've taken that punch. I was nervous before the punch. I was like, "Damn, I think I messed up."