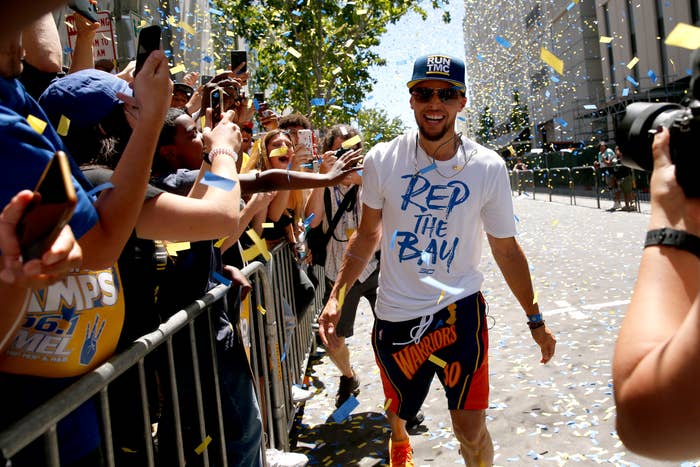 You can't tell Steph Curry nothing until late August or early September. That's when the NBA champion, who just raised the Larry O'Brien Trophy for a third time last month, will finally come down from the high of reigning over the league.
In the meantime, the two-time NBA MVP will spend the next six weeks getting his body right, improving his game, and hoping his new YouTube series makes some noise.
5 Minutes From Home features Curry in a new role, that of interviewer, as he chops it up with various individuals he finds fascinating. The concept is simple: Curry and his guest climb into a tricked-out van after a Warriors game and talk on the way home before grabbing some food. He interviewed creators, artists, politicians, investors, and even some high school kids. "They're all unique in their own sense," says Curry. "I guess it gave some versatility and depth to the show."
Officially, the show debuted well before the NBA Finals, and now returns after a brief hiatus with a new episode featuring special guest Nipsey Hussle. Curry and the hip-hop star traded tales about fatherhood, investment strategies, and giving back to their communities.
Curry admitted he wasn't 100 percent at first sure how smooth he'd be asking the questions; usually he's the one answering them at press conferences. But he got a few pointers from his famous pops—color commentator and retired NBA player Dell Cury—and turned out to be more natural than expected. "I think I learned with casual conversations it's crazy what comes up when it's unscripted," says Curry. "I think the finished product came out well."
We caught up with Curry two weeks after the Warriors paraded down the streets of Oakland to talk about the new series, his summer plans, and why—when you add up all the Warriors went through this past season and through the playoffs—title No. 3 was the hardest to secure.
(This interview has been edited and condensed for clarity.)
Why did you feel this year, this season was the right time to debut the series?
We've been talking about this idea for a little bit, venturing into the media space and trying to make a splash and create some entertaining content. It was just a willingness to open up the vein a little bit to find a way [to show] when I wasn't on the court who I am. The 5 Minutes From Home concept was born and we wanted to highlight some electric-type personalities. We wanted to have different people from different walks of life, chat it up, and learn a little bit about how they got to where they are.
Was it fun being on the other side of the interview, getting to ask the questions for a change?
Honestly, it was pretty natural. It was laid-back and having some chill conversations. It was get in the Sprinter and wind down after the game for me. I didn't realize that cameras were in the Sprinter. It was a natural transition. I don't know if I have a future in hosting, but I thought I did a pretty good job.
Did you study any other talk shows or hosts before this or did you just give it a try?
My pops [Dell Curry] is a color commentator for the Charlotte Hornets so I watch him and his interviews. Just like he taught me the jump shot I guess he taught me a little bit of having a mic in front of me.
Did he have any advice for conducting these interviews?
He tried to get me to avoid the "ahs" and pauses. That was pretty hard to do my first go around. Imma get better at it. I got a lot of compliments on my transitions from bringing up a topic to turning them into a question so I'll take that.
Talk about the Nipsey Hussle episode and what stood out about that conversation.
That was the first time we met and there's a mutual respect, obviously. I think his album had just come out. He's hot right now. To get in front of him and hear his story, why he does what he does, and more so beyond that we got to connect as fathers and get a little bit in depth in his investment strategy and his portfolio and using his musical influence as a way to create business not only for him but for his community as well. That was pretty empowering to know that we had some connection on that front. Happy to see his success.
Is there one common question or theme you're trying to dig into with this series?
A lot of it is just the why and the purpose and their goals. We're all ambitious, we all want to be successful in what we do—I think we all have different motives behind it. So just trying to understand the why and how to of what they do and how they got there to where they are.
And that's always fascinated you?
Oh for sure. You see the end result, but you don't get the chance to dive into how people got to where they are. I don't want to spoil it, but I asked Mayor Libby Shaft if I was talking to my daughter and she told me she wanted to be the mayor of Oakland, what should I tell her? She gave me some really good advice on raising a daughter as well.
You have the food hook at the end of these episodes. I know food's important to the family, especially with your wife, Ayesha, so why did you incorporate food?
Because I was hungry. It was nice for me to build that in for the episode to kill two birds with one stone. When you have guests come into town you have to treat them right, but it also might've been self-serving because it got me some good grub.
Transitioning to some post-championship basketball talk here, the first question is does how long does it take to come down from the high of winning a title?
I don't think you ever really come down from the championship feeling because it takes so much and it's so hard to get there. But I would say around like August or early September I can start to turn the page to start revving the engine to go after another one. Right now, I'm still in the honeymoon phase, but once I start working out in another couple of weeks and get my body right for next year and September rolls around and I start to see training camp on the horizon you can still enjoy what it means to be a champion, but you have to turn the page.
It's been a few weeks now. Does this title feel drastically different than the other ones?
Different just 'cause the journey through the playoffs was different. There was a lot documented about our regular season, how up and down it was, dealing with injuries. Then we get to the playoffs and we don't have home court advantage for the first time and get to a Game 7 on the road in the Western Conference Finals and all that kind of stuff. The first one is all about getting over the hurdle, but this one was the hardest one when it comes to all the different hurdles it takes to come back to the Finals and win another championship.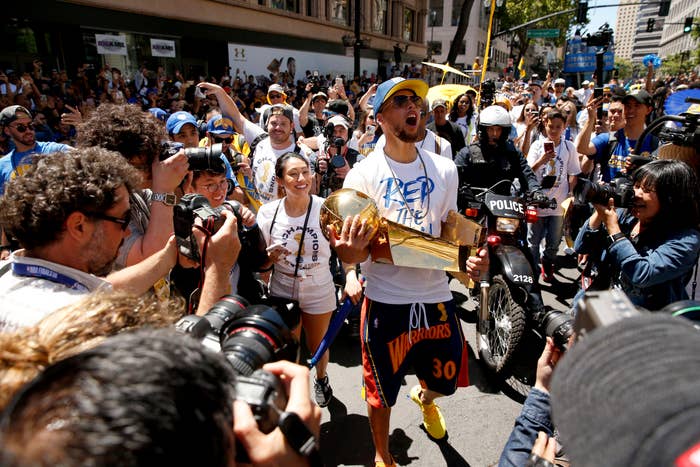 Of all the three, are you most proud of this one?
That's a hard question. It's a tough comparison because that first one you're not really sure you can do it. You've got confidence, but you've never done it before so until you get over the hump there's always a little, tiny bit of doubt that creeps in. Our confidence was out the roof these last three years and it's just a matter of can we get it done.
Since this one had a few bumps and was more trying than the other ones, is there one moment during the run through the playoffs that really sticks out to you?
The second half of Game 7 in Houston because we were down double digits, so to claw our way back and find a way to get it done and get back to the Finals was a big sigh of relief for sure. You're down 3-2, you still have confidence you can get it done, but those two games felt like an eternity. That was an amazing moment for our team, getting an opportunity to play for a championship.
Everyone's always trying to improve their game over the summer. Curious what aspect you'll be working on this summer?
Getting my knee right, getting my ankles right, and I'd say I continue to try and get stronger every year. I'm obviously not the high flyer, above the rim type of guy. But as my career continues, staying strong and finding different ways to maintain your body through 82 games when it comes to being as durable as possible starts from the ground up. I invest a lot of time in that aspect of that game. Skill wise, Imma keep shooting threes, Imma keep running pick and rolls, Imma keep moving without the ball. But when it comes to my body to be there for me when I'm cutting, when I'm moving, when I'm switching on defense it's gotta be there for me so I have to invest in my body.
Do you get wrapped up in free agency the way NBA fans do?
I would say yes because I need to know what the competitive landscape is. I'm not checking Twitter every 10 seconds trying to see if there are moves going on.
You're not checking for Woj bombs?
Exactly. His draft day antics were amazing, by the way.