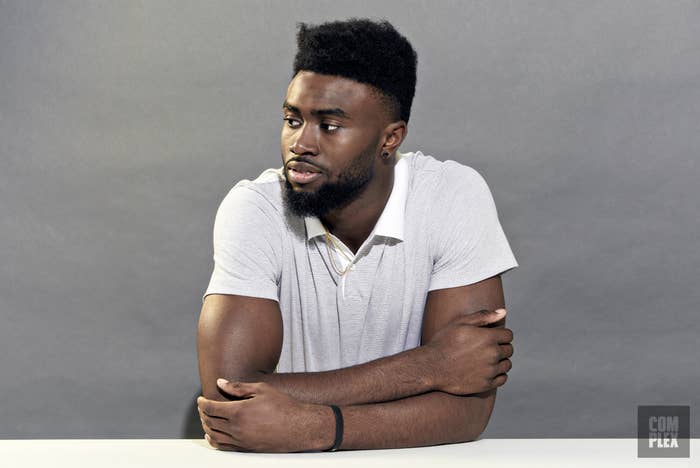 He might get clowned from time to time when he's nose deep in another book, but Jaylen Brown couldn't care less. 
"Reading is looked at like it's corny or lame, but you'd be surprised what you can find in a book," says 2016's No. 3 draft pick. "I've learned a lot by reading. I don't know why it's looked at as not cool, but I don't really care."
When you're talking to Brown, it doesn't take long to realize the 20-year-old is wired very differently from your average player about to begin his second season in the NBA. The cerebral Celtics small forward wants to be a player rep in the union, is always open for a good book recommendation, and thinks the loss of Isaiah Thomas changes the culture of the Celtics in ways the average fan might not realize.  
We learned all this and more when Brown dropped by Complex before the start of training camp to chop it up about anything and everything. We talked about his eventful summer, the coolest numbers he's put into his phone, the upcoming season, NBA hot button issues, Colin Kapernick's chess challenge, the ostracized QB's protest, and, of course, the books everyone out there needs to read.  
(This interview has been edited and condensed for clarity.)  
Your summer was extensive, all over the place. So what was the coolest thing you did?
Very eventful summer. It's hard to pick and choose. But the signature trip was to Africa. I took my mom. She loved it. I went to the Nelson Mandela Museum—that was the signature thing. If I had to highlight one thing, you need to see that. 
What resonated so highly?
I read his book, "A Long Walk to Freedom." Just his story. He spent 27 years in a cubicle and to be in the same space for 27 years and to understand why he was doing what he did was motivating, inspiring. Then he was working with the person who was responsible for putting him there. If somebody were to put me in jail, I'm putting them on the wall, I've got a red dot on them, I'm coming for you. For him to have that maturity, he's a hell of a man. Seeing that just humbles you and gives you a new perspective. 
So other than the trip to South Africa, what else stood out?
Meeting Thierry Henry. I'm a huge soccer fan and he's an Arsenal legend who has been playing soccer longer than I've been born. We had an event together. I got to talk to him a lot. I got to ask him questions and talk to him and just soaking up all the information I could. To be honest, it was like a dream. A lot of times, you don't ever see yourself in the space to be around some of the people you always looked up to. And now they're at the tip of your fingers. Me and him clicked right away. He gave me a book to read that I read over the summer, "Legacy," about the All Blacks in New Zealand. It was a great book and we talked about. I keep up with him still to this day. 
Is it crazy to think you're meeting these people and a couple of years ago you were just a kid in college?
It is. Every day people that you admire know who you are now and respect you. It's kind of mind-boggling and hard to fathom that. It's just a dope feeling to know that you're in the same space as a lot of the same people and they know who you are. It's inspiration to keep you going. 
Is he the coolest person you've put in your phone over the last year?
To me, maybe. Let me think. I don't want to leave anyone out. 
What's one that you can't believe you can pop up and text?
[Henry] for sure. Diddy was one after I got drafted. I had a meeting with him in LA and talking about the means of influence, being on different platforms and being able to engage different audiences and resonate with culture, whatever it is you're doing. We talked about that right after I got drafted because I really wanted to have a meeting with him because I'm a huge fan and his business profile. I've always admired how he approaches business. Tracy McGrady was one of them. Him and Kobe [Bryant] were my two favorite players. He pops out because he just got inducted into the Hall of Fame. Well deserved. So those are two athletes and one business person, in different fields in my contact list and have different avenues that they dominated.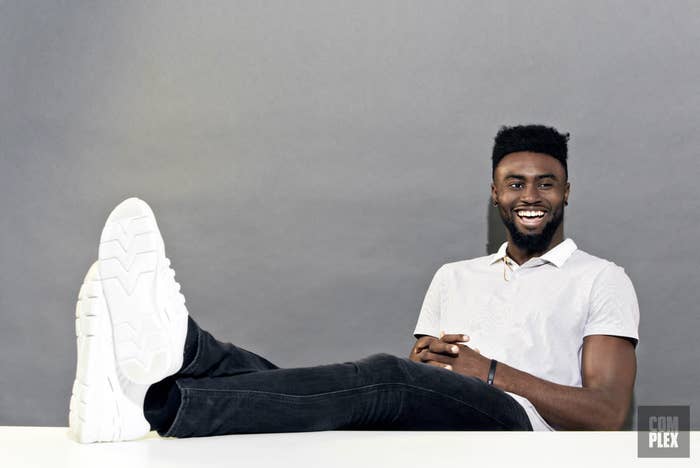 When you're talking to these guys, what are you trying to learn and gain from those conversations?
Anything I can. I have personal questions that I have that I'm going to ask them. I'm just trying to add to my catalogue. There are certain boxes I want to check. I'm asking them questions, picking their brains, some of their shortcomings and things they're proud of. I did that a lot this summer. I got invited to the Player's Technology Summit. That was one of the things that was super dope for me. I was the youngest guy there. I went to Berkley and I interned at VC when I was at Cal and I've been reaching out to people. But never did I think I could be put in the space with CEOs and VPs and they're having conversations with me and they're really interested. It was kind of surreal. It's a blessing and I'm truly humbled by it. 
What Steph Curry and Andre Iguodala are doing in the tech world, is that something you want to follow?
Absolutely. It kind of helped influence my decision to go to Cal. A lot of people didn't know why I went to Cal. The Bay Area, Silicon Valley, I wanted to put myself in that position where I'm not only successful on the court but off the court. Why not, right? Not a dis to Kentucky, Kansas, or North Carolina, but they don't offer that.  
You're not thinking like a normal high schooler.
Nah. 
So where does that come from?
I would say it's something I developed, but mostly coming from my mom. She went to Michigan State University, raised me and my brother on her own. She's always stressed the importance of education and thinking outside the box. I learned to play chess at a young age and I think that's where learning to plan things out and put things in position, that was the best thing for me. 
You meet a ton of high profile people, you get advice from them, and write it down in a journal. Do you have one piece of advice that sticks out?
Plenty. Betting on yourself. When I was at the technology summit, a lot of people gave different panels and talked about different things. The common thread was, in some ways or form, they gambled on themselves. They took a risk. They sacrificed because it would be worth it in the long run. 
Switching to the season coming up, give me a sense of how much you think bringing Kyrie Irving into the fold and losing Isaiah Thomas changes the dynamic of the Celtics?
It changes the whole dynamic, the whole culture. We'll see if it's for good or bad, time will tell. But it's still a little weird to me, to be honest, because when I came in everything they stressed was culture, environment, Celtic basketball. Now, it's like what is the environment, the culture, what is Celtic basketball? I think it's a great opportunity for me, great opportunity for the Celtics, great opportunity for Kyrie. Obviously, I loved Isaiah. He was like a big brother to me. I watched him, admired him, the chip he carried on his shoulder I love him. I still do. I've kept in contact with him. Congratulated him when he got traded to the Cavs. It's tough because it's the business we live in. Do I agree with it? Not necessarily. I think Isaiah definitely tried to plant his flag in Boston. He will definitely be missed—he and Jae [Crowder] both. And Avery [Bradley], too. Those three guys are truly going to be missed. I love them and I thanked all of them for helping me out and said I'd see them down the line. 
What were the emotions when you heard your name mentioned with the trade rumors?
To be honest, I didn't think nothing of it. If I was to be traded, it's not the end of the world. Did I want to get traded? No. Do I like Boston? Yes, of course. I definitely want to establish myself in Boston and continue to build my brand there. But at the same time, that's out of my control. That's above my pay grade at this time. I try not to think about the things I can't control.
What are you going to miss most about IT?
I loved how he carried himself. You don't normally tell guys what you're going to miss about them, it's kind of a weird conversation, but IT says he's 5'8", 5'9", but he's more like 5'7", 5'8", but it don't matter. He's a dog. He's got that chip on his shoulder. He's thinking there's not one person is going to stop me from getting where I need to. The mindset, the focus, and the route. He had one of the hardest routes ever. People writing him off left and right and being an MVP candidate this past year, that was special.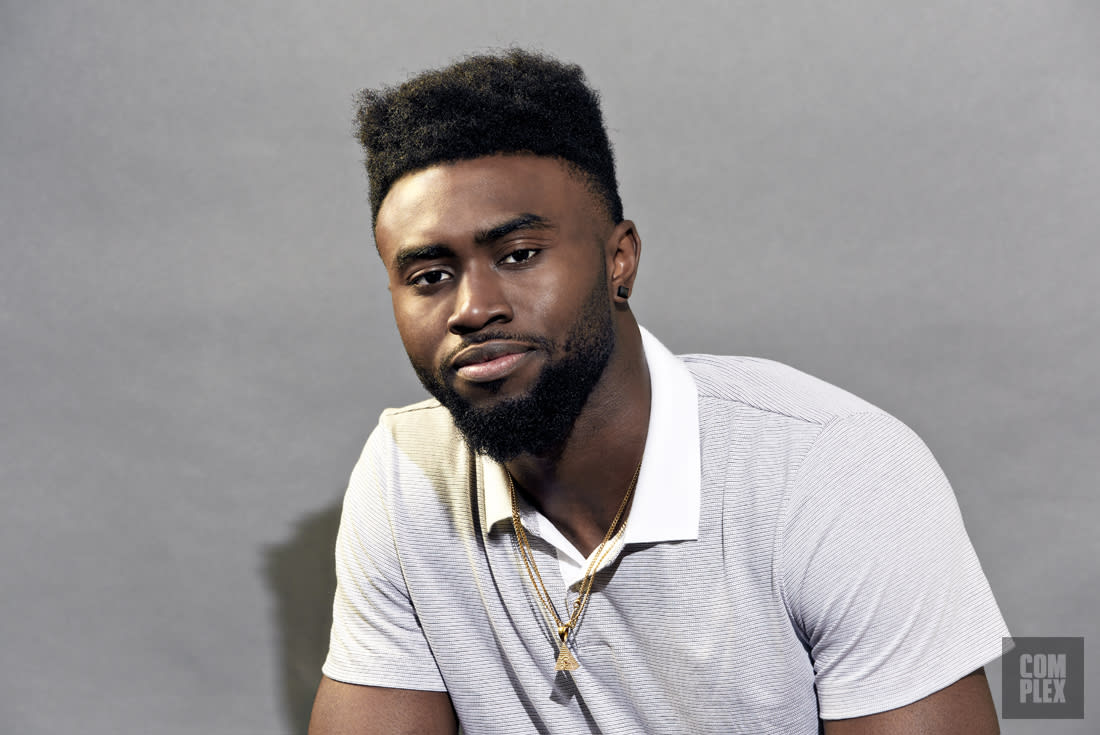 What was your welcome to the NBA moment last year?
Here in New York in the Garden guarding Carmelo [Anthony] in our first preseason game. The coaches didn't give me no scouting report—I think they did this on purpose, they just said you've got Melo. I think they wanted to get my ass whooped a litt bit. Which is good and humbling and you learn from it because it's preseason. But at the same time, I think I learned from it. Even though I showed I wasn't afraid or enamored or shocked, I was. It was like a movie. That was the first time I played at the Garden. The floor was lit perfectly. And Melo's got the ball. He's shooting it. He's hitting you with the jab. I've seen it probably a million times and it's like, damn, I'm in the motherfucking league. I'm guarding Carmelo. You've got to do something. That was my welcome to league moment. 
Did anything surprise you last year?
I think I was prepared. Everything that everybody said, the speed of the game, the athleticism, how hard it's going to be. Everybody made it seem a lot worse than it actually was. 
The season starts early this year with the idea to give you guys more rest. You like the idea of the season starting early?
I do. Saving our legs a little bit with less preseason. I'm ready for the season to start. 
Do you like the idea of Commissioner Adam Silver having the power to punish teams that don't play star players like we saw with the Warriors, Spurs, and Cavs last year?
I don't. I think it should be up to the team. It can be debated on both sides. I know a lot of people pay a lot of money to come see a lot of these players. You're really paying to come see the team. There's no promises or guarantees that a LeBron James or Steph Curry is going to play. It's a team sport. Not an individual. So if LeBron is hurting, or something like that, you can't fine him for choosing not to play this game. I don't think you can fine him or a team. I don't think so, but who am I? 
You want to be a player rep. You're a young guy, typically people with that ambition are older. So what is so appealing about being so involved with the union at such a young age?
First, having somebody from the youth to represent. It's a good bridge. The youth is the future of the league rather than have somebody older on their way out that's going to see things in a way the league is moving forward in. Youth is one of my biggest assets. For me, pretty much, I've always considered myself a leader.
We'll see if it's for good or bad, time will tell. But it's still a little weird to me, to be honest, because when I came in everything they stressed was culture, environment, Celtic basketball. Now, it's like what is the environment, the culture, what is Celtic basketball?
Does anyone on the Celtics give you competition in chess?
Nobody's offered to play me. I don't think nobody else plays. 
You have to teach your teammates to play.
I would love to. 
But nobody's come up yet?
Nobody's interested in chess. 
Have you played Colin Kaepernick yet in chess since he challenged you?
Never played Colin Kaepernick. I said let's do it. I don't think he's ready. I think he's a beginner, but we'll see what he's got. 
Have you followed his plight?
Yeah, I follow it. What I would say is Colin Kaepernick did was make a decision to do something that was right for him and his family and I agree with him. Everybody has a right to express themselves and I feel like Colin Kaepernick used his career and everything he had going for himself to be a martyr and whatever it is he felt was needed to be discussed. I goes to show that some of the things you do or say can affect your career or where you work or your pay. Now people aren't willing to hire him. His ability is there. It's absurd. It's not 30 quarterbacks, 20 quarterbacks that are better. A lot of people don't want to talk about it because it's not a situation that everyone feels comfortable talking about but it's something needs to be addressed nonetheless and Colin was addressing a topic that needs to be addressed. Something needs to be done because the way the country is going, with things happening in Charlottesville and other places, it isn't headed in the right direction. People need to continue having discussions and having the protests and the conscience-raising. Our country isn't being represented very well. 
Do you think based on the example we've seen from NFL players, will we see NBA players more vocal and visible with their protestations and their true feelings?
Yes and no. I think it should be done. I don't know if it will be. But I think it should be done with some plan behind it. I admire what Colin did. But I wish he would have had a plan and said I'm going to take a knee this many times until this happens or changes. Having some type of plan to negotiate or leverage to spark change. He's taking a knee but what are we getting out of it? One thing if NBA players do, I hope they do it in a sense they're actually getting results. I think Colin's done a lot of great stuff and continues to do a lot of great stuff. I'm lucky I can mix in the same circles. He's a very intelligent guy. He has a good heart.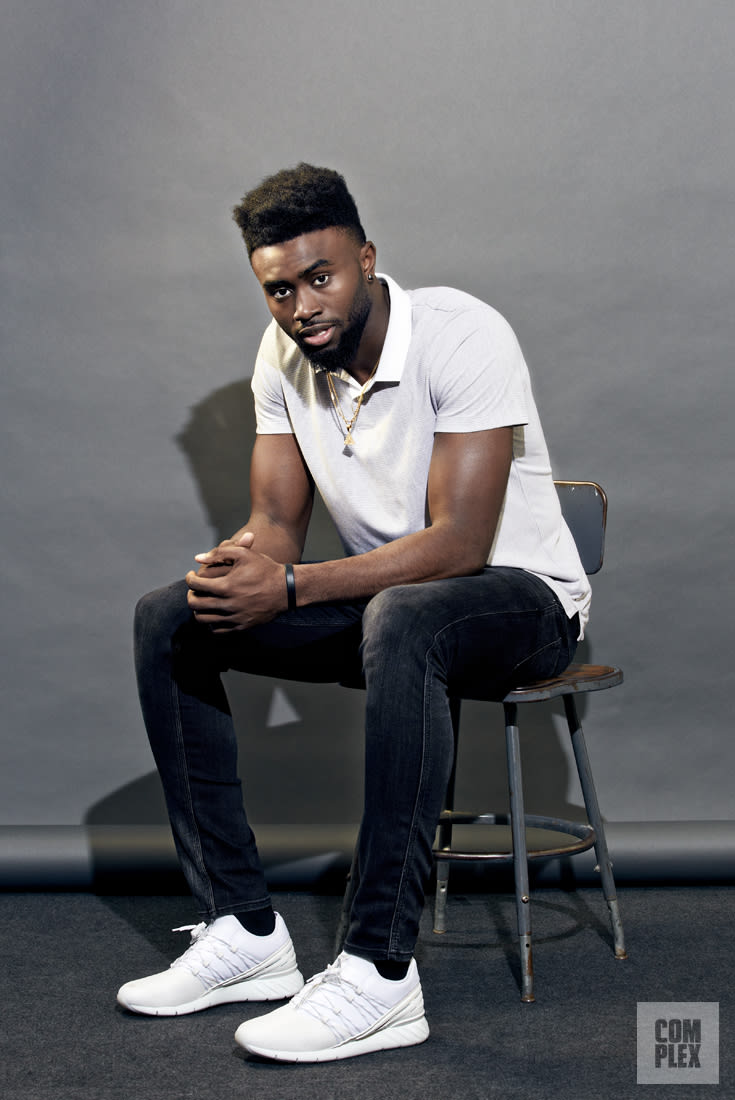 You hosted a "Welcome to the NBA" night for rookies out in Vegas this past summer that was well received. Is that something you want to repeat next year?
It went well. A lot of people thought it was successful and people really enjoyed that idea. I don't know if I'm going to do it next year. The NBAPA reached out to me to do it, and want to steal the idea. If I do it next year it will be a lot more professional. This year, I was bored—I don't like being in Vegas—these young guys are here, might as well do something with NBA partners and other people related to the business and put them in a room and let them congregate so they can build a rolodex. If I had more time, I could have done more. Next year, it's a possibility. It's basically up to me. At the end of the day, it's beneficial. But if the PA takes it up, it's no longer cool.
Did guys give you good feedback?
Yeah, they weren't doing nothing else. They mixed with some people with brands they thought was cool. With young guys, sometimes it's like pulling teeth. They don't necessarily care to open their eyes. I've got some more things planned, I think I've got one for All-Star Weekend. 
What books were you reading this summer?
"Legacy." Damn, I read a lot of books this summer. "Pounding the Stone." I read a small book called "The Compassion Book," "The Five Love Languages." I really like information, reading for information. But every now and then I'll read it if it has a dope story. Reading is looked at like it's corny or lame, but you'd be surprised what you can find in a book. I've learned a lot by reading. I don't know why it's looked at as not cool, but I don't really care. 
What's the next book you want to read?
I'm open for recommendations. If Complex wants to put out that Jaylen Brown needs some recommendations for books, I'm down. I need information, but a good story is a good story. 
If you were to recommend one book for our audience to read, what would that be?
I would say "The Five Love Languages" for healthy relationships. I think that's really good. And the "The Four Agreements: A Practical Guide to Personal Freedom." I read that last year. Another book I read this year was "Grit." Actually, Brad Stevens gave me that one.