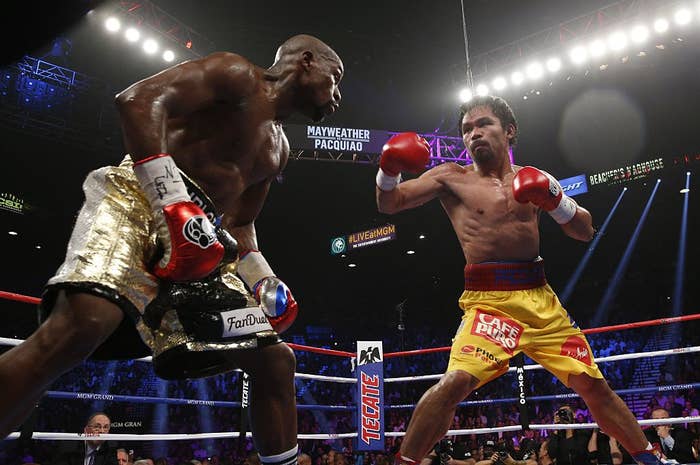 In boxing, it's always about what's next and in the immediate aftermath of Manny Pacquiao's ultra-impressive split decision win over Keith Thurman Saturday, talk quickly turned to the idea of Pacquiao signing on for a rematch with his forever rival, Floyd Mayweather, who just happened to be sitting ringside.
The 40-year-old Pacquiao turned back the clock with a close, but clear and convincing victory over Thurman in their welterweight showdown in Las Vegas and after the legend looked 10 years younger, Pac Man will have plenty of options to choose from for his next fight. But the chorus from commentators, casual boxing fans, and even the two fighters across social media are clamoring for Pacquiao, who looked way better than expected against a younger and well-respected opponent, to square up with the 42-year-old Mayweather one more time.
As a boxing fan and someone who gets to write and cover some of the biggest fights, it's easy to point out there a ton of other legitimate and entertaining matchups to be made, watch, and write about before Mayweather-Pacquiao 2. But since boxing is it's own worst enemy with its cesspool of politics, promotions, and fugazi belts that rarely delivers what fans really want, the idea of a rematch between two olds will dominate headlines and the collective imaginations of casual sports fans who only check in on the sport occasionally. Mayweather-Pacquiao 2 is a hypothetical fight right now since Floyd is officially retired and hasn't given any indication that he wants to fight again—unless the price and the opponent is right. And while we can't ignore the fact that Pacquiao was injured that evening in 2015, let's not forget that pay-per-view fight ended up being a dud. What makes you think it's going to be something special five years later? Especially since Mayweather hasn't actively trained for a legit boxing match since 2015 and has only expressed interest in fighting MMA guys since.
If we're going to get hyped about a hypothetical fight, we'd rather daydream about the matchups that would pit the sports' superstars in historic matchups with way more on the line than just the massive payday Mayweather-Pacquiao 2 would really only end up being about. So here are five fights we need to see in boxing way before two past their prime fighters lace 'em up to steal another $100 from us all.
Errol Spence Jr. vs. Terence Crawford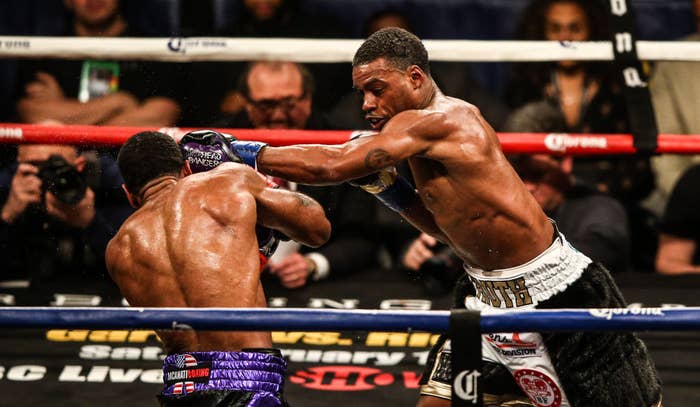 Canelo is the No. 1 draw in boxing and with reports that he's willing and able to move up to light heavyweight to fight the WBO champion Kovalev in an ultra appealing showdown, this is one hypothetical that sounded crazy when the rumors started circulating but is ultra enticing when you really start thinking about it. Even better, it's a fight that can actually be made since the promoters for both fighters have expressed enthusiasm to make it happen. Canelo, mostly fighting at middleweight these days, would have no trouble moving up two weight classes to throwdown with Kovalev. It would be amazing to see Canelo's legendary chin tested by the Krusher's incredible punching power. It would also be awesome to watch Canelo, in the prime of his career, look to pick apart the bigger and older fighter and test himself like few others in the sport would dare. 
Saul "Canelo" Alvarez vs. Gennady Golovkin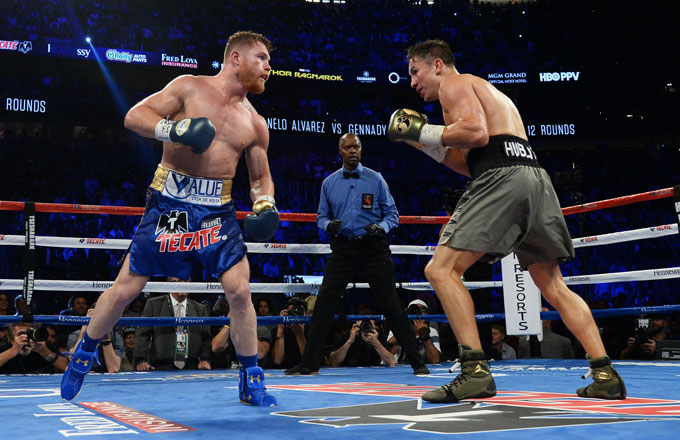 Another matchup between two guys on just about everyone's pound-for-pound lists. Garcia seems like he wants to stick it out as a welterweight despite the fact he might be better suited a couple of weight classes lower and took a pounding in his debut at 147 pounds against Spence this past March. But Garcia is a former champ in four weight classes, including most recently at lightweight. Lomachenko, meanwhile, is arguably the best boxer in the world, and has told everyone (including us) that Garcia is his No. 1 target. It's a makeable match if Garcia is willing to drop down because Lomachenko likely isn't moving up. Nor should he considering his frame is ideally suited for 135 pounds, he's the WBA and WBO lightweight champ, and atop many pound-for-pound lists.  
Deontay Wilder-Tyson Fury 2 winner vs. Oleksandr Usyk