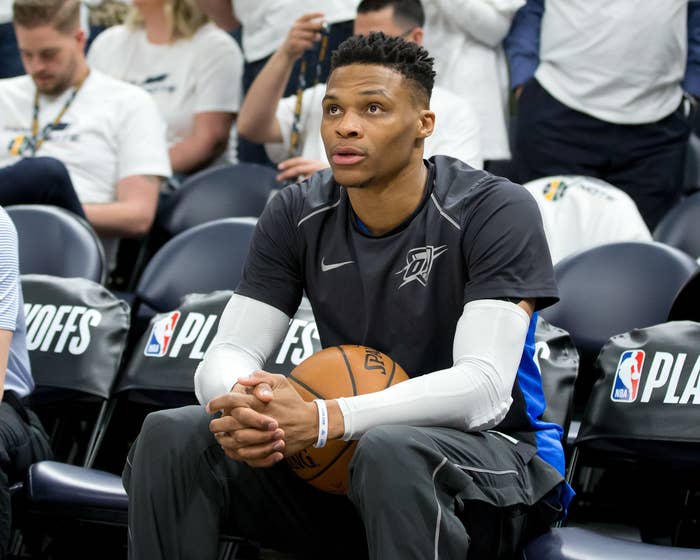 Did the Rockets just get better? Or did they get worse?
Some people will laugh at my waffling and how preposterous the second question may sound in the wake of Thursday's seismic news. Because when a 53-win squad from the season prior shakes up the NBA and trades for former MVP Russell Westbrook, and doesn't completely destroy its roster in the process, how the hell can you call it anything but an upgrade?
Shockingly, the Westbrook era in Oklahoma City is over after the only organization the point guard has known sent him packing to Houston for Chris Paul and two protected future first round draft picks, plus a couple of pick swaps. Russ-watch ended much quicker than expected, less than a week after it started following Paul George's equally shocking departure to the Clippers. Once PG-13 was out the door, we all know the writing was on the wall that Russ' time in OKC was over. The only thing holding up his exit was his massive $171 million contract with four years remaining on it. He reportedly gave his agent and the organization the green light to find him a new landing spot. Miami was a rumored destination. So was Houston. In the end, the Rockets offered up the right combo of picks that Thunder GM Sam Presti couldn't refuse.
The move, of course, reunites Rockets superstar James Harden and Westbrook, who last played together with the Thunder seven years ago. Back then Westbrook was five years away from becoming the league's MVP and a triple-double machine. Harden, on the other hand, was the Thunder's best reserve, coming off the bench to light it up and earn NBA Sixth Man of the Year honors in 2012. They balled together for three seasons, reaching the 2012 NBA Finals, until the Thunder realized they were going to have to pay Harden a lot of money and couldn't afford to keep him, Westbrook, and Kevin Durant. If it worked back then, and the two are reportedly enthusiastic about teaming up again, why can't it work again? Harden is arguably a top five NBA player. Westbrook certainly belongs in the top 15. Historically, pairing talent like that is a recipe for success. In a loaded Western Conference, you need all the firepower you can get to keep up with the Clippers, Lakers, Jazz, Blazers, and Nuggets. You get why Rockets GM Daryl Morey, who has always had an affinity for accumulating stars, pulled the trigger for Russ.
Of course, seven seasons after they last played together, Harden is a very different player. The 2018-19 MVP is a better shooter, scorer, and ball-handler than Westbrook. The Beard has morphed into one of the deadliest and most efficient scorers the NBA has ever seen. Houston is his town. The Rockets are his team. And during his seven years there, he's become incredibly ball-dominant running the offense as the NBA's king of isolation. Westbrook, who is a much better rebounder, distributor, and defender than Harden, can relate. While there are nuances and differences with how he ran OKC's offense compared to Harden running Houston's, will Russ be cool and comfortable without the ball in his hands all the time with his new team? Are there going to be enough shots to go around for two volume shooters? Can Mike D'Antoni keep those two alphas—especially the ultra-intense Westbrook—from grating each other? Will there be blowups when Westbrook takes a terrible shot late in a game that should've been Harden's? Because Russ' 3-point and FT percentages went in the wrong direction last season and only the biggest Russ stan would want him shooting a gotta-have-it bucket over Harden.
Concessions, one would assume, will have to be made for the two to successfully co-exist. Harden and CP3, of course, had redundancies in their respective games, and while it worked to the tune of 118 regular season wins over two campaigns they still reportedly clashed and ultimately couldn't elevate the Rockets to the NBA Finals. Now, let the record show that the disclaimer that if CP3 didn't get injured in the 2018 Western Conference Finals the Rockets may have beaten the Warriors was included here. Harden and Paul, despite the reservations of many when it was first announced in 2017, almost worked spectacularly once. And maybe pairing The Beard with another ball-dominant point guard will work out similarly at least one time since Harden's been through this routine already. Of course it's easy to say the Rockets upgraded and will be better because—duh—Westbrook, 30 and still in his prime, is much better than the 34-year-old Paul, who is no longer an All-Star caliber player. Teaming up two of the last three league MVPs is an NBA general manager's wet dream.
But only the most die-hard Rockets fan wouldn't question how they're going to survive—hell, thrive—with one basketball between the two of them. And I can't get over how this move seems like a desperation overplay to stay competitive in the revamped Western Conference. I think you can easily say Morey overpaid for Westbrook considering the picks he gave up, the dollars Russ is owed, and the obviously questionable fit. Then again, the NBA is so wide open that taking this gamble is probably worth it and in a league where the superteam is dead (for now) and dynamic duos reign supreme, sure, why not do it? If nothing else, the sartorial battles between Westbrook and Harden will be amazing.   
So after weighing both sides, and presenting our arguments, the original question needs to be answered: Did the Rockets just get better? Yeah, I think they did. Adding Westbrook is immeasurably a talent upgrade for a team that finished fourth in the West last season and didn't give up any role players in the deal. In the increasingly high-stakes NBA arms race, that's almost always determined by star power, the Rockets kept pace with the other title contenders Thursday. Just don't be surprised when this extremely expensive and combustible experiment explodes in spectacular fashion and the Rockets, sans draft picks, are struggling again to find the right running mate for Harden.