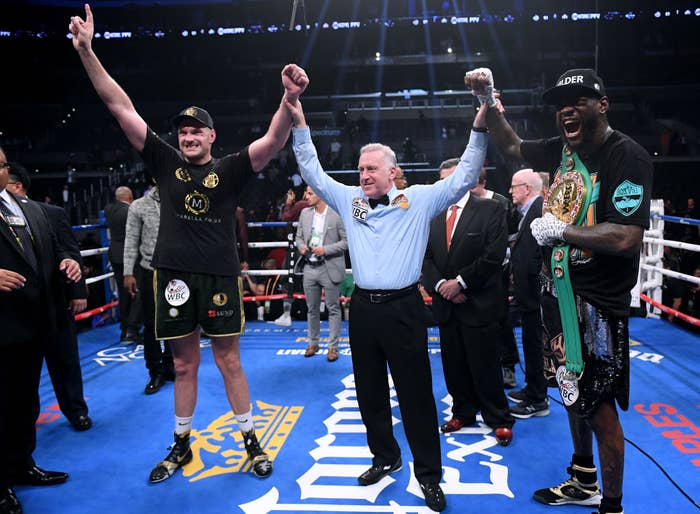 Boxing's going to do what boxing does—leave you incredibly unsatisfied way more than it should. And that's what happened Saturday night in Los Angeles where the heavyweight championship fight between Deontay Wilder and Tyson Fury ended in a controversial split decision draw.
Despite knocking down Fury twice, Wilder didn't have his hand raised for the first time in his professional career.
"I think with the two knockdowns I definitely won the fight," Wilder (40-0-1, 39 KO), the WBC heavyweight champion of the world, said. "We poured our hearts out tonight. We're both warriors, but with those two drops I think I won the fight. I came out slow. I rushed my punches. I didn't sit still. I was too hesitant. I started overthrowing the right hand and I just couldn't adjust."
The judges' scored the fight 115-111 Wilder, 114-112 Fury, and a 113-113 draw. Complex Sports scored the fight 114-112 in favor of Wilder. Predictably, the 17,698 fans at Staples Center loudly booed the final result as it was announced.
Fury (27-0-1, 19 KO), the lineal champ, handed down plenty of punishment over 12 rounds to Wilder and somehow managed to get up after a brutal knockdown in the final frame that would have felled just about every other boxer out there.
"I don't know," Fury said when he was asked how he got up from the knockdown in the 12th. "I got good fighting spirit and never say die."
Fury was the better boxer—as everyone expected he would be—and he felt he did enough to earn the win many predicted the only way he could: by decision.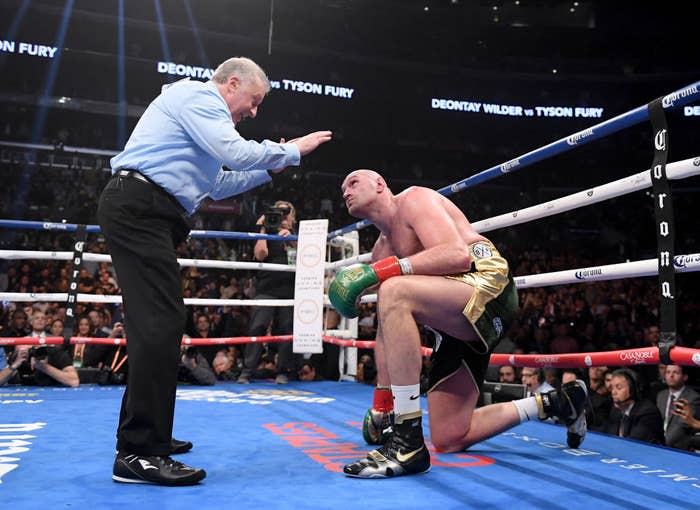 "We're on away soil, I got knocked down twice, but I still believe I won that fight," Fury said. "I'm being a total professional here. I went to Germany to fight [Wladimir] Klitschko and I went to America to fight Deontay Wilder. God bless America. The Gypsy King has returned."
The fight certainly lived up to the hype as arguably the most entertaining heavyweight championship match since Anthony Joshua defeated Vitali Klitschko in 2017. But it leaves boxing fans unsatisfied as yet another big fight ended in a controversial decision that many did not agree with, one way or the other.  
Wilder had chances to put away Fury a few times, but couldn't deliver the hammer like he's known for. He thought the fight was over when he delivered that knockdown in the 12th, only to turn around and see Fury rise from the canvas like The Undertaker gif. 
"I was rushing my punches. That's something I usually don't do," he said. "I couldn't let it go tonight. I was forcing my punches too much instead of sitting back being patient and waiting it. I really wanted to get him out of there give the fans what they want to see."
Wilder earned $4 million for the bout, Fury $3 million, per the California State Athletic Commission. Both will make more based on percentages of the PPV buys. Whether we see a rematch is unknown right now, but it was certainly entertaining enough to warrant another one down the road. 
"I'm happy this fight lived up to the hype," Wilder said. "I think we both did a great promotion. And the fight lived up to it. I don't know how he got up. And I don't know why they didn't start the counter earlier, but we don't make no excuses."
As for the undercards, Jarrett Hurd (22-0, 15 KOs) retained his IBF and WBA junior middleweight belts thanks to a dazzling display of body shots against Jason Welborn (24-7, 7 KO) in the fourth round of their bout. The Brit was floored with a devastating right to the solar plexis and couldn't get up before the referee's 10 count. Hurd proved his surgically repaired left shoulder is just fine.  
"I'm just coming of surgery so I wanted to see how I worked off the jab," Hurd said. "I felt good I was working behind the jab. I got caught on the ropes and got caught with some shots and said, 'That's enough. He got enough TV time.'"  
In the night's second undercard, Luis Ortiz dominated Travis Kauffman, knocking him down in the sixth, eighth, and 10th rounds before a stoppage in the final round. At times it looked like Ortiz, the superior boxer and fighting for the first time since Wilder dropped him this past March, could have ended the fight early. But Kauffman (32-3, 23 KO) hung tough, absorbed a few low blows and vicious left hooks from Ortiz (30-1, 26 KO). While it wasn't an overly impressive performance, Ortiz, despite being 39, showed that he's still a contender in the heavyweight division and could easily earn another title shot down the road. 
"I'll fight the winner of the main event," Ortiz said. "I want that second fight with Wilder. I want to fight anybody."
In the night's first undercard, Joe Joyce (8-0, 1 KO) dispatched Joe Hanks (23-3) in the first round of their heavyweight bout for the vacant WBA Continental belt.