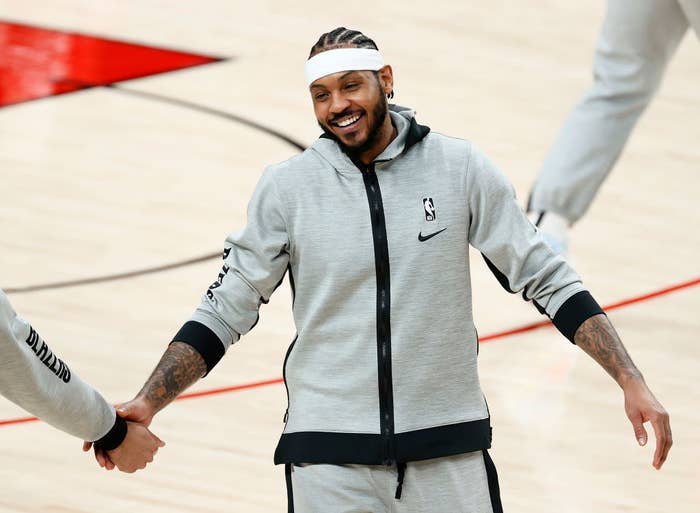 What if Carmelo Anthony hadn't left Brooklyn for Baltimore when he was 8 years old?
It's a heavy question for the future Hall of Famer, new Laker, and author to ponder since it's something he didn't do a deep dive on over the 208 pages of his new memoir, out Tuesday. And if Anthony's being completely honest while he's put on the spot, he doesn't have a great answer.
"Who knows?" he says.  
A childhood split between the hard-knock projects of Red Hook and the Charm City's infamous Murphy Homes indelibly shaped Anthony in ways staying put in one spot wouldn't or couldn't. His path from a kid just trying to navigate his difficult daily surroundings to the Association was filled with demoralizing losses and a boatload of mental and emotional anguish in the face of incredibly long odds to become an NBA player, let alone a legendary one. Anthony took the unusual route—with the help of co-writer D. Watkins—of ending his memoir the moment he's about to shake David Stern's hand at the 2003 NBA Draft. Maybe he's saving all the good stuff from his NBA days for another book. Because every major moment before he put on a Nuggets hat that night in The Theater at Madison Square Garden is dissected and documented in Where Tomorrows Aren't Promised, Anthony's intimate retelling of a journey he hopes informs and inspires.  
"I just wanted to be real creative when I wrote a book," says Anthony. "Everybody's story is the same, everybody goes through the same thing, this, this, and that. I was like what's going to be the difference between me and somebody else's story if it's a different location but same way of living and growing up? I just didn't see my story being any different than others until I really wanted to tell my story and indirectly people were saying, 'No you gotta get this out, you gotta just write this.'"
That meant being vulnerable in ways athletes are often reluctant to be while still playing. Complex Sports caught up with Anthony via the phone the day before his book hits shelves and is available via the interweb from your preferred retailer. We talked about the lessons he wants readers to take away, how difficult it was penning his doubts and emotional dilemmas, and, of course, we had to ask about the new-look Lakers before we let him go. For all the purple and gold haters out there, clowning on the historically old Los Angeles roster constructed in free agency, Anthony's here for it.   
(This interview has been edited and condensed for clarity.)
When you finally got your hands on the physical copy of the book, you posted a video on Instagram and you seemed a little emotional about it. Did you expect that moment to hit so hard?

No. I mean, I didn't know what to expect. You just know the journey and what it takes to accomplish something like that and then you actually get the physical copy of that in your hand, it's like, "Damn, wow, this is it. We're here now." It took a while to get here. When you get the physical copy in your hand it validates all the work that went into the process.
Pain, struggle, depression, and hardships are major themes of this book. How tough was it to be as vulnerable as you were?

Again, it took me to be in a different space now in life to able to be comfortable and open it up and take the gloves off and allow people into that part of me. I had to take my time to really think about that. Do I really want the world to kind of be in that world with me, or bring them into that world with me? I always wanted to keep that sacred, especially when it came to family and friends. That was always internal for us when we get together for cookouts and gatherings and tell old stories and go down memory lane. So I just wanted to keep that very intimate.
Is there one over-arching lesson you want the reader to take away from this book—like vulnerability is ok—or would you prefer they finish with mini-lessons?

I can sit here and give you one or two lessons from the book, but again, I want you to look at this book as if you were reading "48 Laws of Power." You could read "The 48 Laws of Power" and pick a couple of laws outta there that directly goes to you, that you feel connected with. This book has so many gems, so many lessons in there, I just think people are going to pick out their own lessons. That's what I want. For everybody to pick and not have the same message then I feel like I'm doing something at that point.
So what's your favorite gem in the book?

I think it's just when I get to talking about feeling lost a lot of times and questioning a lot of things, like "Why me or why this or why is this happening to me?" I think people will be able to relate to that because everybody always asks that question. I'm giving you insight into why I was asking those questions, but also I'm giving you the outcome of that as well. I'm taking you through that journey.
I'll throw out this "what if" question: How different is your life if you spent your entire childhood in Red Hook as opposed to moving to Baltimore? I realize that's kind of a heavy question.

Oh man, it is a heavy question. Honestly, I don't know because you go places, but can't run from it if I had stayed in Red Hook. Everything would've been right there, in that community, in those projects, so I don't know. It probably would've been worse because I was living in the projects in Red Hook, Brooklyn. I would've been project-living so the mentality would've probably gotten deeper, stronger, probably would've gotten worse. Who knows?
You wrote that your loyalty—you pride yourself on it—was developed/enhanced in Baltimore. How tough has it been navigating the NBA, a business that rarely shows or rewards loyalty? 

I don't feel like there's loyalty in sports. When you talk about loyalty then and what my morals is based off of, I still carry those basics of loyalty today in my life. Sports is just sports. It's a business. There's no loyalty in sports. You're an athlete, that's your profession, you get paid to do that. No one has to be loyal to you. Me just kinda knowing that and having that mentality growing up and learning that, I know what loyalty feels like and I know what it feels like when somebody's disloyal to you or not loyal as you are. I still carry those basics of loyalty with me today. 
Before we get you out of here, have to pepper you with a few Lakers questions. How are you going to look in purple and gold?

[Laughs] That's a good question. I think it'll be fun. I'm really going to enjoy it. I sat and talked about the loyalty and learning the business of basketball so now being in this part of my life and my career it's like I understand it. So I'm going into it with a different mindset and type of understanding with what's at stake. What do we have to do, what do I have to do in order to make this work? I'm looking forward to it, to be honest with you.
For the naysayers, like me, who question how this Lakers roster will work over a long regular-season and into the playoffs, especially because you guys are historically old, why are we fools for doubting?

To be honest, I think it'll be too easy for you guys to be like, "Yeah, they're going to be like this." It's too easy. You guys are baiting people to start a debate. It's all about debate. We get it. We understand it. This is what you guys have to do. We understand that and we laugh at it and take it with a grain of salt and move on because everybody on the outside have their opinions about it and we're the ones who know who we are. We know what we have to do. We know how we going to do it. Those are the things we have to deal with. So it's easy for the outsiders or naysayers to give their overall perspective and it's very opinionated. And ya'll should do that. [Laughs] You should do that because it bring more viewers and bring more eyeballs and bring more conversation and more anticipation. If and when it does happen, winning a championship, that's the fun part.  
Drake rhymed about drinking from "fishbowl wine glasses" at LeBron's house on Certified Lover Boy. Can you confirm that LeBron has fishbowl wine glasses?

[Laughs] I know the glasses Drake is referring to. Those wine glasses, they big, I know the wine glasses he's referring to.
Does Drake actually know his wine? I know you and LeBron and a few others around the league know what the fuck they're talking about when it comes to wine. Does Drake know what the fuck he's talking about when it comes to wine? 

Yeah, Drake drinks wine. I think, like everybody else, they know what they like, they know what their preference is. When you know what your preference is then I consider you knowing.