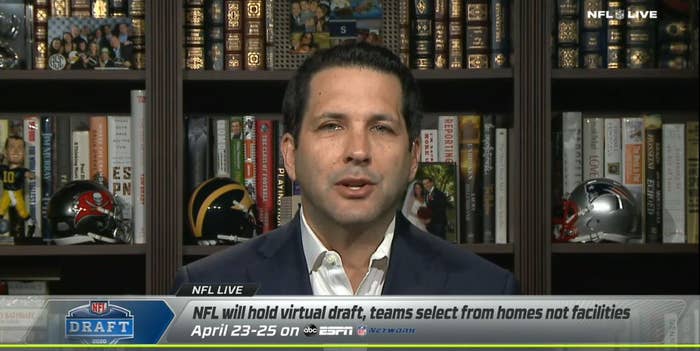 When Adam Schefter moved into his house 13 years ago, the NFL insider never envisioned the bookshelf he and his wife put up would serve as the perfect backdrop for his TV hits.
Surprised to find out he was going to have a regular TV presence—something that was never mentioned when he was initially hired by ESPN in 2009—the Worldwide Leader in Sports soon installed a home studio and pull-down green screen for the rare times Schefter wasn't in the Bristol, Connecticut studio and news was breaking.
He's never used it. And why would he?
Chances are if you've watched ESPN or SportsCenter since sports shutdown a month ago, you've seen Schefter fill us in on the latest NFL news in front of his impressively appointed bookshelf. But if you haven't paid attention, know he's been doing that for over a decade. And with almost every sports reporter and personality now broadcasting in front of their own in-home setups because of the coronavirus outbreak, let the record show they're following the footsteps of the Godfather of the Sports Media Bookshelf Background.
"I want to step it up and say I'm the OG of the coronavirus bookshelf background," Schefter told Complex Sports. "Forget about sports writing. Nobody was doing it from home" before the pandemic.
He's right. And no one can do it better.
"It all started with Adam, no question," says ESPN NBA insider Adrian Wojnarowski. "Every backdrop is a derivative of Adam Schefter's and it's omnipresent—he's always on and he's always breaking news so you can really sit and study it."
With no games to watch and nothing but hard news and debates conducted from the confines of home, the backdrops and bookcases of various reporters and analysts across the sports world has caught our attention. It's also offered glimpses into their unique personalities like never before. So we decided to make a few phone calls, find out the stories behind specific decorations and mementos we've seen, and rank the best bookshelves—and only bookshelves and/or bookcases, not walls or living room backdrops—across the sports media landscape. (Yes, we're bored.) 
---
10. Adrian Wojnarowski, ESPN NBA Insider
For what will likely be the only time in my career, I'm about to drop a bomb about Woj: his bookshelf is fake. 
It's a pull-down screen—just like ESPN MLB insider Jeff Passan's—that's customized to show off things that are near and dear to him. Like his bestselling book "The Miracle of St. Anthony" and few others that you can sometimes see, depending on the frame of the picture. Over his left shoulder is his friend Mark Kriegel's biography of basketball legend Pete Maravich "Pistol: The Life of Pete Maravich" and the late Tyler Trent's book "The Upset: Life (Sports), Death...and the Legacy We Leave in the Middle." Woj befriended the Purdue student before his death last year at age 19.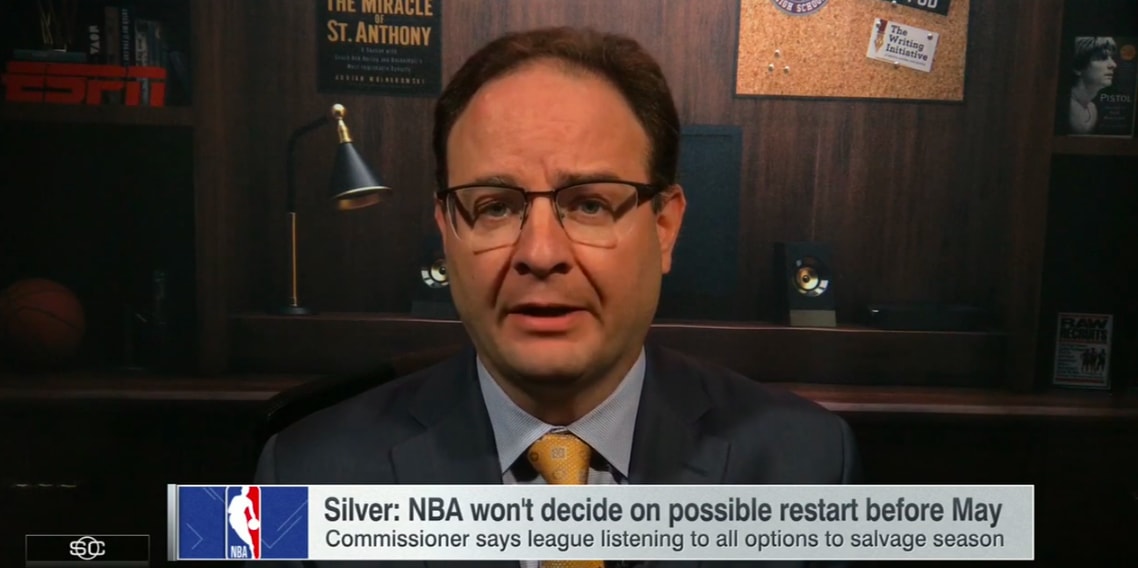 He would love to show off more of his favorite books, "but I do think when you have a screen you're a little more limited in what you really can show and see," says Woj. By far the most important thing he wants people to recognize is the graphic above his left shoulder on the corkboard promoting the Writing Initiative at Bristol Central High School in Connecticut, which Woj attended growing up.
"Having the Writing Initiative up there has been special to me," says Woj. "The work we do and that program I think has been beneficial to the young people there. Somebody did catch it on TV the other day—the assistant principal Ryan Broderick sent an email or text saying he caught it in the corner and freeze-framed it. I was excited about that."
Full transparency: We reached out to Woj first for this story because we thought his bookshelf was the real deal and featured the most dramatic lighting. He agreed to go on the record about his fake background if a few of his colleagues talked about their bookshelves first, including Schefter. Mission accomplished.
"I always wanted to expose what a fraud Woj is," says Schefter.
9. Mina Kimes, ESPN Senior Writer 
It might be a dresser or a credenza behind Kimes, the host of the ESPN Daily podcast, but it's stacked with a bunch of books and she's outfitted the rest of the space with personal belongings so we'll allow it.
Appropriately, the noted Seahawks fan has a Seattle helmet. There's a bobblehead of a Mariners player and possibly a painting of her own—Kimes has been auctioning off some of her artwork during quarantine with proceeds going to the Seattle Hospitality Emergency Fund. We don't know for sure since we didn't get a chance to chat with Kimes. But the best thing, by far, on her bookshelf is the "Dogs Welcome, People Tolerated" sign off to her right. It's a nod to her famous pint-sized pooch Lenny that Kimes fans are very familiar with. 
8. Joe Buck, Fox Sports Anchor
The man pumping out hilarious play-by-plays of quarantine videos has impressively stocked his bookshelves with what looks like various awards and tons of pictures. It's a not so subtle flex, but when you're as accomplished as Buck—he's won seven Emmy Awards, which appear to be curiously absent from his shelves—why not stunt? The top NFL, MLB, and USGA voice at Fox appears to be running out of room to stash the accolades. 
7. Jay Bilas, ESPN College Basketball Analyst
There's an eclectic mix of things on Bilas' shelves that, of course, includes a signed picture of his favorite rapper, Jeezy. "I have a couple," says Bilas.
A replica sign from the classic movie Caddyshack outlining all the things you're not allowed to do in the caddie area is easily the most dominant piece of art sitting on the shelves. But it's not the most interesting. On the shelf above the Caddyshack sign sits something right out of the Tom Hanks' movie Castaway specifically commissioned for the most respected college basketball analyst out there.  
"The Wilson is a basketball my wife painted for me," says Bilas. "She is a professional artist and wanted me to have company when stranded in my studio." 
Something else in front of Wilson caught Woj's eye. 
"The Bill Raftery nameplate from Seton Hall was pretty genius," says Woj.  
6. Ian Rapoport, NFL Network Insider
Our most recent guest on the Load Management podcast, Rapoport makes the cut since his shelves are stacked with a ton of football books, Super Bowl posters, a few helmets, and bunch of personal pictures. It's incredibly on brand for one of the premier insiders in professional football. It's arguably the coziest spot to break news in our top 10.
5. Louis Riddick, ESPN NFL Analyst
Three football helmets—representing his alma mater, Pitt, and two of the five NFL teams he played for—are the most prominent fixtures on Riddick's bookshelves. But the one thing that probably earns the most attention is the extremely old-school game residing over his right shoulder. 
"He has the football game of my youth," says Schefter, "which is cool."
It's Electronic Football and it debuted in the 70s. While the coffee machines of today are way smarter and more sophisticated than the 1-or-2 player handheld game, it's on-brand for a guy like Riddick in his 50s.   
"I texted Louis Riddick because I was very taken with his hand-held electric football game," says Woj. "I used to have it. Although he said to me this isn't the original, it's like the second model. Of course, I had to Google it." 
4. Steve Smith Sr., NFL Network Analyst 
Everything you see behind him carries sigificance.
"It's unique things, kind of like me, that means something," says Smith. 

The signed football from a living legend above his right shoulder immediately catches your eye. It's dedicated to Smith who grew up a 49ers fan in Los Angeles when the Raiders could never make up their mind about where they wanted to play. "To Smitty, love what you do. Joe Montana," it reads. There's a picture from September 28, 2014 when Smith—a team captain for the Ravens that Sunday—cooked up the Panthers, his former squad, catching 7 passes for 139 yards and 2 scores. 
Behind his right shoulder there's a bowling pin, in Ravens and Panthers colors, commemorating the work his charitable organization, the Steve Smith Family Foundation, does with their Strike Out Domestic Violence event. Behind the pin is a picture of his former collegiate and professional teammate Jordan Gross lifting Smith up. It pays homage to their years grinding together at Utah and in Charlotte—"Vegas Bowl, Super Bowl, Pro Bowl—We've seen it all," Gross wrote.  
"What's cool about that is in my whole career in football, when I was in Carolina, other than my rookie year, me and Jordan have been in the same huddle for 15, 16-plus years," says Smith. "We played two years in college and until he retired in Carolina. It was just really unique."
One of the coolest things Smith has is a Father's Day gift from his wife that resides behind his left shoulder. It's a series of professionally bound books that houses every single press clipping from his playing days. She also gets credit for how the bookshelves came together since Smith says she's way more organized that he is. But Smith does have decorating advice for his some of his TV colleagues.   
"The one thing I've noticed about all the guys' backdrops, especially the reporters, they always have a picture of themselves interviewing somebody they think is important," says Smith. "I almost find that funny. We know you're on TV.  I would love to see a reporter with a gold mic or something. Something that really kind of says this is my job. Like I have a football, my first touchdown. I want to see your first rundown, or mic, or earpiece that says something more than just a picture of you interviewing a guy."
3. Maria Taylor, ESPN Anchor
The personality who hosts and covers a ton of different things for ESPN doesn't have an Emmy (for now) to show-off like her Get Up colleague Mike Greenberg. But Taylor's bookshelves sport one of the most unique mementos we've seen so far: a sparkling WWE title belt.
You'll also find two footballs, a Georgia Bulldogs helmet, at least one degree, and a bunch of other personal touches that makes the setup distinctly hers. She may not have a library behind her, but she's not putting up a front.
2. Jeff Darlington, ESPN NFL Insider
The man has a Nintendo on his bookshelf and this spring it's earned him as much attention as his reporting (along with Schefter) that Tom Brady was signing with the Bucs.
"On social media, it's almost half and half in terms of people talking to me about Tom Brady or referencing the Nintendo behind me," says Darlington.
With a brick wall, an official NFL football, and sets of Topps football trading cards, Darlington is showing off an aesthetic unlike any other reporter out there. He will also readily admit you're not seeing a portion of his supped-up home office.
"This is not like some corner of my house that actually exists in my day-to-day life," says Darlington. "Like four feet from this corner of my garage is my washer and dryer."
When Darlington thought it was time to get something up so he could film hits from his house and not look like he was chilling in the living room, he happened to be going through boxes of his childhood belongings. One of them contained the original NES (it still works) and he thought it'd be something cool and different to display. Super Mario Bros. and Super Mario Bros. 3 were two of the games he originally stacked on top of the console. The more popular the Nintendo background became the more he felt like he had to add to the stack. It now features The Legend of Zelda, Tetris, Jordan vs. Bird, Spy Hunter, and Metroid. Egregiously, there's one iconic title missing.
"Tecmo Bowl is extremely meaningful and I don't know what happened to it. I can only assume I let some neighbor borrow it in like 1990 and forgot to get it back," says Darlington. 
1. Adam Schefter, ESPN NFL Insider
Schefter's bookshelf, unlike some of his ESPN colleagues', is real and it's spectacular.
"Let me say this: I don't have many talents, I'm not good at many things, my wife would say I'm useless in many ways," says Schefter. "But I can claim the distinction of being among the very first people, one of the original pioneers, to have a home office, built-in TV studio with a big bookcase."
Besides the books—five of which he's authored—there's a Michigan helmet, representing his alma mater prominently displayed. Schefter rotates the NFL helmets. Currently, it's the Patriots and Bucs since those two squads starred in the biggest story of the off-season. He'll switch 'em up for NFL Draft coverage in a few weeks. Expect to see a Bengals and Redskins helmets since they have the top two picks.
But the thing Schefter is proudest to sport on his shelves are the five M blocks he brought back from a trip to the University of Michigan CS Mott Children's Hospital years ago. Each has a different message stamped on it and every time he returns, doctors, nurses, and hospital employees always thank him for the show of support.
"I just want the hospital to know I'm thinking about them when they see those blocks," says Schefter.