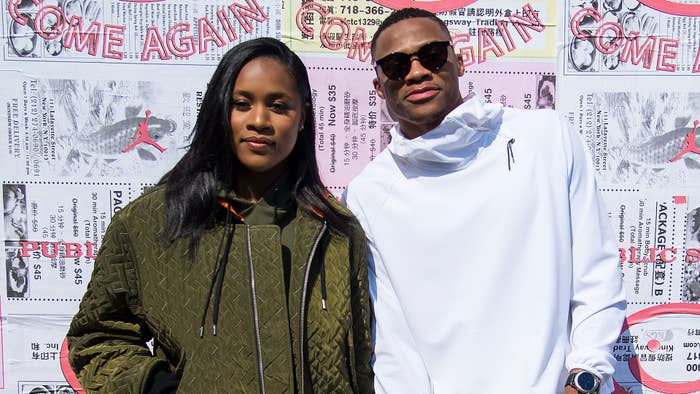 Russell Westbrook's wife Nina is not happy with ESPN's Stephen A. Smith and took to social media to let her thoughts be known.
Nina's response comes on the heels of Smith saying he doesn't "give a damn" that the Washington Wizards player broke the franchise's triple-doubles record. Westbrook scored an impressive 35 points, 21 assists, and 14 rebounds in his team's 132-124 win against the Pacers on Monday.
"And here's the thing about Westbrook's big night: I don't give a damn about any of it," Smith said on Tuesday, per Yahoo Sports. "Because the Wizards aren't very good. They're not going anywhere. You're 17-28 in the Eastern Conference for crying out loud. You're not going anywhere, and this isn't the first time Russell Westbrook has played on a team that has fallen short." 
Smith continued, "If Russell Westbrook was a better 3-point shooter, could you imagine what he would've done? I'm here to tell you he would've won a championship by now." 
"So… how tiring it is to be minding your own business and have notifications pop up on your phone about people being negative and hating on your family," Nina Westbrook wrote on her Instagram Stories in response to Smith's commentary. "There are several things wrong with what @stephenasmith says here." 
She continued her string of posts aimed at Smith by recalling her husband being criticized by a commentator back when he was a UCLA student playing for the Bruins.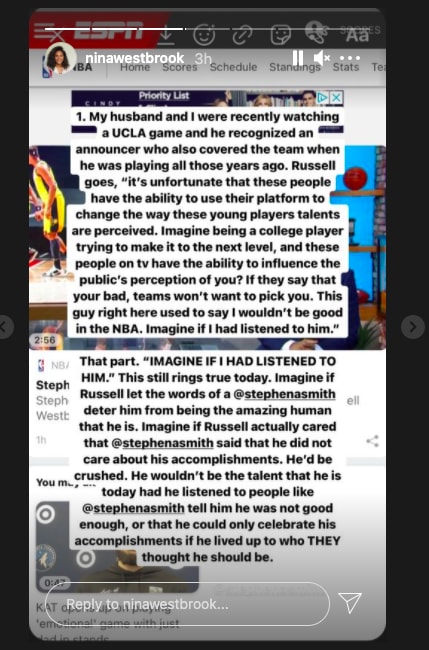 "Ironically, Russell makes history and @stephenasmith comes out of nowhere to share his non-congratulations," she wrote. "When he does bad we hear about it, when he does will we don't hear about it OR @stephenasmith has to make sure that his accomplishments are diminished. Respectfully, I'm not a fan of yours."
Nina went on to write, "Russell is the happiest he's ever been. Not having a championship does not 'hurt him a lot.' You know nothing about him. If you did, you'd know that he is way way way more than a championship. He is a champion of life. A champion of his people. He doesn't care about YOUR championship, and certainly not YOUR opinion."
You can read Nina Westbrook's comments below.
Russell Westbrook on Stephen A. Smith

"One thing I won't allow to happen anymore is let people create narratives & constantly just talking shit for no reason about me because I lay it on the line every night and I use my platform to be able to help people all across the world."

pic.twitter.com/8oJi0E4dwT
Russell also responded to it all after he was asked about Smith's comments.
Russell Westbrook gave a 2-and-a-half minute answer in response to a question about

@stephenasmith

's comments on First Take: "A championship don't change my life. I'm happy. I was a champion once I made it to the NBA. I grew up in the streets. I'm a champion."

Full quote here:

pic.twitter.com/wcceIzqQlg