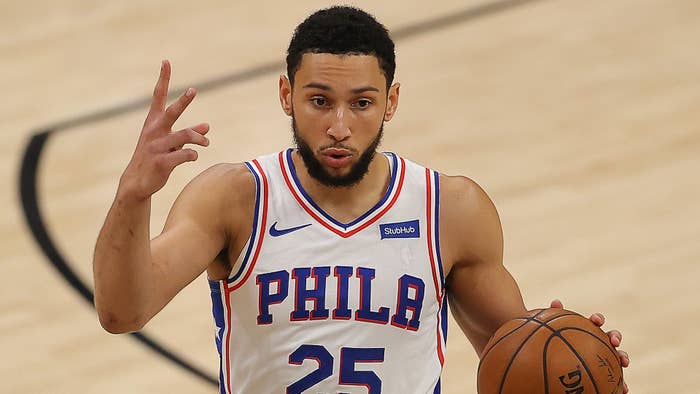 Following weeks of ups and downs, Ben Simmons reported to Philadelphia's Wells Fargo Center on Monday, ESPN's Adrian Wojnarowski reports sources as saying.
According to Woj, the Sixers were not aware that Simmons was coming into Philadelphia on Monday. The All-Star guard is said to have received a COVID-19 test, as is required by the NBA to be cleared to play.
Simmons, who is 25, still has four years and $147 million left on his contract with the Sixers.
Simmons has so far missed three pre-season games, meaning he's lost out on over $1 million as he gets around $360,000 per game, ESPN reports. Back in August, Simmons requested to be traded and his rep Klutch Sports CEO Rich Paul has reportedly been holding discussions with the team ever since. 
Following news of Simmons returning to Philly surfaced, Sixers head coach Doc Rivers said that he thinks that the guard will be reporting to practice later this week.
Also responding to the news, Joel Embiid​​​​​​​ said Simmons' return is "good for the organization." Embiid made the comments after the Sixers beat the Brooklyn Nets on Monday with a final score of 115-104. 
Embiid continued, "That's something that everybody wanted. I've always said that I believe that he gives us the best chance to win. We are a better team, with him than without, that's for sure. I'm happy that things have resolved and we can move on and try to try to be a better team."
In September, Embiid called the Simmons situation "weird, disappointing, borderline kind of disrespectful."
"Our teams have always been built around his needs," Embiid said at the time. "So it's just kind of surprising to see. Even going back to, the reason we signed Al, we got rid of Jimmy, which I still think was a mistake, just to make sure he needed the ball in his hands."