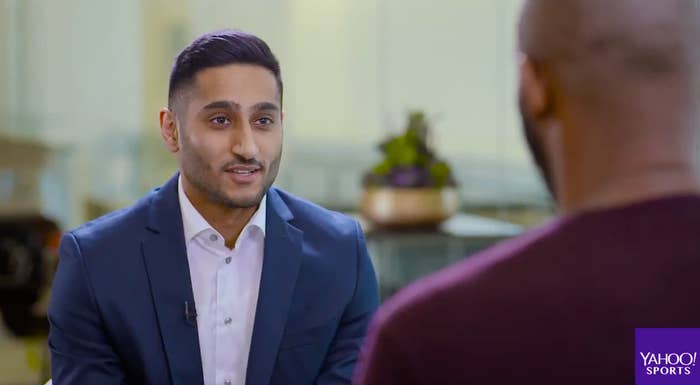 In 2018, the NBA news cycle never rests—so Shams Charania rarely does, either. The news-breaking prodigy stays plugged in, and so does his lone cellular device (though he recently invested in a Mophie battery pack as insurance).
During a family trip to the tropics earlier this summer, Charania spent much of each day sitting outside his room, making calls and sending texts to movers and shakers around the league.
"The view was nice," he says.
Around 3 p.m. local time—9 p.m. EST—he'd let his iPhone cool off for the day. His sleuthing led to reports of Greg Monroe signing with Toronto, Philly rookie Zhaire Smith breaking his foot, and Carmelo Anthony joining the Rockets. As Charania boarded his plane back home to Chicago, he fired off one final tweet: Kawhi Leonard's first statement since his trade to the Raptors.
This is everyday life for the 24-year-old scoop master.
Charania's dedication has helped him emerge as one of the NBA's two preeminent news-breakers, alongside his former mentor Adrian Wojnarowski. Given his ascendance, his own free agency turned into a story when it became public knowledge that his Yahoo contract would expire at the end of August. He wondered why people were interested—he's not comfortable with the suggestion that he's a public figure himself—but even the players were curious where he'd sign.
Potential suitors lined up like NBA teams courting a franchise player. Charania spoke with ESPN, Turner Sports, Facebook, and NBC Sports, in addition to Yahoo, but the competition wasn't particularly close. Early on, his heart was set on a joint agreement with The Athletic, a subscription-based sportswriting platform, and Stadium, which hails itself as the cord-cutter's sports network.
Two forward-thinking media companies that really wanted him, an opportunity to develop his writing and on-camera abilities—it struck him as a perfect fit, so he didn't seriously consider other offers.
"Just seeing their passion and how strongly they pursued me, and then having the opportunity to write for The Athletic and do video for Stadium, that made it pretty much a no-brainer," Charania says.
We told you about Charania, then a senior at Loyola University Chicago, two years ago. It was around that time that NBA fans were starting to say, "Who's Shams Charania?" (His first name rhymes with bombs, not yams.)
He built his rolodex organically, cultivating trust with sources he met in person. That trust has manifested in repeated scoops. He was on the come-up two years ago, but since then he has made a leap akin to that of Anthony Davis, progressing from emerging star to revered heavyweight. Today, Charania has more than 370,000 Twitter followers.
He started accruing NBA contacts at RealGM and went on to work for Yahoo's The Vertical for nearly three years, starting in September 2015. It was with Yahoo, under the mentorship of breaking-news king Wojnarowski, that he became a household name.
"I loved Yahoo," Charania says. "Especially the great Vertical group we had. I'm honored to have been a part of it."
The Vertical team dissolved in 2017, however, and the direction of Yahoo's NBA coverage was no longer clear. Additionally, Charania, a hot commodity, couldn't agree with his employer on the terms of a new contract.
"I tried to do the best I could to play my role, and now I'm excited for the next challenges and opportunities," he says.
Each of his potential suitors coveted his news-breaking abilities and the audience he has cultivated, but none pursued him as fervently as The Athletic and Stadium, both of which view Charania as a foundational piece around which they can build.
The Athletic's chief content officer, Paul Fichtenbaum, had long known he wanted to work with Charania. In 2015, when Charania was plotting his next move after RealGM, he met Fichtenbaum, then the editor of Sports Illustrated, who flew to Chicago to have breakfast with the wunderkind. Fichtenbaum offered him a job at the time, and did so again this summer. Charania says their familiarity played a "major role" in his decision—much like his relationship with Woj led him to The Vertical three years ago.
"Shams is a force on the NBA beat, and, at 24, he's just getting started," Fichtenbaum said in an email. "Not many people have accomplished as much as he has at such a young age. Shams has a motor that doesn't stop and a deep reservoir of contacts earned the hard way. I'm looking forward to watching him use his talent and inventiveness to craft longer feature and enterprise stories."
At The Athletic, Charania is excited to do more long-form writing and interviews, like his sit-down with Kevin Durant in Las Vegas in late July. He wants to prove himself as a writer.
"I'm most proud of how I've worked on balancing my reporting and writing abilities," Charania says of his time at Yahoo. "That definitely became a challenge as I got more into breaking news, but even this year I felt, working with my editors at Yahoo, I've gotten better at balancing myself."
He'll continue breaking news, of course, looking to emulate the blueprint of Ken Rosenthal, who covers baseball for The Athletic. Rosenthal began covering the sport a decade before Charania was born, but there's reason to believe Charania can achieve similar success.
Charania became the face of Yahoo's NBA coverage around after Woj left for ESPN in June of last year. Fans enjoy watching the competitors jockey for scoops, tracking which reporter tweeted the latest news a few seconds before the other.
They've been positioned as rivals—people want to make this a Westbrook-Durant relationship—but Charania emphasizes they've always been on friendly terms. After working together for two and a half years, they still talk, and he still considers Woj a role model who helped him get where he is today.
Front-office insider Bobby Marks and DraftExpress analysts Jonathan Givony and Mike Schmitz went with Woj from The Vertical to ESPN, but Yahoo's NBA coverage maintained a large following. Viewership of The Vertical's 2018 NBA Draft show, for example, peaked at 2.2 million viewers, up from 1.9 million the previous year, despite the notable departures.
"I believe that spoke to how we continued to hold the fort down and the fans' appetite for coverage of such a fun night in the NBA," Charania says.
Charania is excited to have the opportunity to do more broadcasting with Stadium, which is headquartered in his hometown of Chicago. His Stadium office is about 10 feet from the Michael Jordan statue in the United Center.
"He's just so perfect for us," says Jason Coyle, CEO of Stadium. "I mean, he's young, he's authoritative, he's new-school in so many ways—but he's still got one foot in traditional journalism...people are going to see he's a multifaceted, talented guy."
Stadium, which provides 24/7 sports programming, is available online for free. Among its other talent: Jeff Goodman and Brett McMurphy, who recently broke the biggest college football story of the year. Stadium is also working on social-first programming to "bring [Charania] closer to his fans," Coyle says.
"He's going to get a lot of air time, and he's going to be very accessible, answering tweets...we're trying to break down the wall between the audience and talent, and I think we're giving NBA fans a great platform to access a world-class talent," Coyle says.
Though Stadium is free, and so is Charania's valuable Twitter feed, the majority of his writing will reside behind The Athletic's paywall. Unlimited access costs consumers about $4 a month. The Athletic has poached a bevy of prominent writers, including Seth Davis (NCAA hoops), Stewart Mandel (NCAA football), and Pierre LeBrun (NHL).
Charania stands out as The Athletic's biggest "get" since Rosenthal. Charania's commitment and consistency, and perhaps his age, have led to a rabid fan base unusual for reporters. Some NBA observers care about him as much as they do the players themselves. They photoshop his face onto memes, they make fake Twitter accounts with his likeness, they recognize him in public, they want photos—but he defers questions about his newfound fame.
Charania would have joined a pack of renowned NBA insiders at ESPN, and he'd be back to working with much of his old team. He would have been on TV in millions of households if he'd signed with Turner. Facebook and NBC Sports are juggernauts with their own advantages. But the new arrangement provides the opportunity for him to continue doing something he's always done, dating back to when he'd drive 90 minutes each way to cover the Milwaukee Bucks as a 19-year-old: blaze his own path.
"I really saw the hunger, desire, and opportunity for me there," he says of The Athletic and Stadium, like he sees a bit of himself in his new employers.
While these organizations add a proven reporter who's only improving his all-around game, Charania joins two organizations with ambitions of revolutionizing sports media. The ceiling is the roof.
It's rational to question whether he will burn out, whether he's a glutton for punishment. Who wants to work 24/7? But Charania loves what he does. He speaks of perfecting his craft like an obsessed athlete—like a devotee of the Kobe system.
Following basketball religiously has been both his job and passion since he was in high school. So when he's supposed to have his feet up but is instead bouncing from one call to the next, there's nothing he'd rather be doing.
Charania is enjoying the view from the top, having secured his future and locked in an arrangement perfectly tailored to his goals. His iPhone, however, may hold out for a new contract.