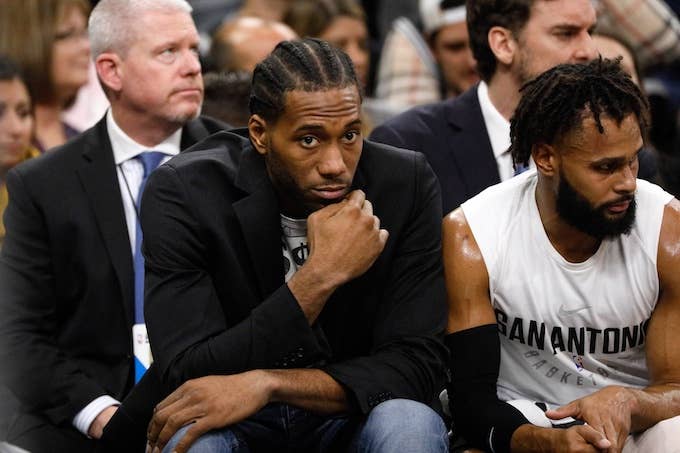 What's going on this year with Kawhi Leonard in San Antonio is bizarre. He's only played nine games in 2017, and none since Jan. 13.
Fans have chalked this up to the Spurs being the Spurs—hyper-vigilant, not rushing him back, making sure their superstar healed up for the playoffs. Earlier this week, however, head coach Gregg Popovich said he would be "surprised if [Leonard] returns this year."
Now, ESPN's Adrian Wojnarowski is reporting Leonard is making the call on his return. According to Woj's report, Kawhi has been medically cleared to return to NBA action, but he has elected to remain on the sidelines. Kawhi reportedly has met with two specialists and has been told he would not injure himself further if he came back to play, but he has chosen not to.
Woj's report states that Leonard's injury situation has "inspired a palpable stress around the organization." This echoes rumors that were floating around earlier this season. Back in January, ESPN's Jalen Rose and Stephen A. Smith implied they believed Leonard's time with the Spurs was over.
"When you go to San Antonio, guess who's the CEO of that organization? Gregg Popovich," Jalen said. "It's going to be his way. So for Kawhi and also the way his injury situation was handled. You see him in the lineup. You see him out of the lineup. Is it his quad? What's going on with his history? Was he misdiagnosed?... When you talk about the next super team, it's probably going to be wherever Kawhi Leonard ends up."
Though San Antonio hasn't had its best player, the Spurs have once again pieced together a solid season. Now 35-24, the Spurs hold the No. 3 seed in the highly competitive West.