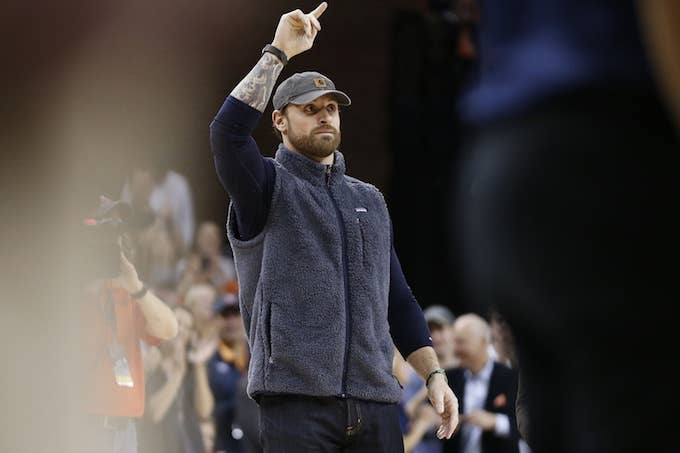 Philadelphia Eagles defensive end Chris Long was one of the team's key veteran leaders last season. He helped Philly win the Super Bowl, his second consecutive title. After he finished up a solid season with the New England Patriots in 2016-17, however, no teams came calling.
It was his best season in three years, but he believes teams went radio silent because had spoken out in support of Colin Kaepernick. On the contrary, when he left St. Louis in 2015 after two injury-riddled seasons, six teams had called.
Long shared that anecdote during a fascinating interview with the HOT97 crew on Ebro in the Morning. Watch the full interview below.
Long, a long-time outspoken Kaepernick supporter, said seeing the former San Francisco 49ers quarterback still without an NFL job deeply bothers him.
"Absolutely, it drives you nuts," Long shared. "What they're able to do is, people that defend [Kaepernick being out of the league] are saying, and this is the hardest thing to prove, that it's a football reason. People will argue Colin can't play anymore. And then you've got people in support of Colin who get all, 'Colin's a top-five quarterback,' which he's not. But he's also not a bum. He's a good player."
Long said he doesn't buy the "Colin can't play" argument even a little bit, considering some of the other back-up quarterbacks who have recently signed contracts.
"It's insane. It's very clear to me," Long said. "If you're going to argue to me that Colin shouldn't have a job because he's not good enough at football, I'm like, 'OK, stop.'"
Long also believes Kaepernick's former teammate, safety Eric Reid, who also publicly took a knee during the National Anthem, should be in the league. Reid, 26, is currently a free agent. 
"You can make the argument that Colin's not a franchise quarterback anymore, and that's fine, but he should have a job," Long said. "And Eric (Reid) should have a job. ... I didn't watch a lot of his tape, but people say he's a good player. Guys that know say he's a good player."
Long is one of the league's most socially active players. In addition to his foundation's work on providing clean water in Tanzania, he's also focused on fixing mass incarceration and legalizing marijuana. Ebro asked what motivates his efforts.
"I don't want to indict every guy in the NFL who doesn't say anything about a tough issue. Guys have money to make, they got jobs, they got livelihoods," Long said. "I just care a little less about mine in relation to being myself, I'm an opinionated person...I have a duty as a player who's been given a lot to play a sport, to try to give back. And football enough doesn't excite me. I gotta do something else with it, too."
Long said he has been outspoken throughout his whole career, but people only became interested in his opinions when he started playing for competitive football teams. In espousing his perspective on numerous social issues, he consistently defended Kaepernick.
"With Kaep, some people will be like, 'Well, I didn't hear anything about you, you didn't say anything when Trayvon (Martin) happened or when Mike Brown happened,'" Long said. "That doesn't matter. People awaken to stuff. When Kaep took a knee, he doesn't need a track record. He's right. He's talking about things that are poignant. I was in St. Louis when the Mike Brown thing happened, and we went to Ferguson, and we were like, 'Something's happening here that is necessary.'"
Long said the murder of Trayvon Martin, which he found "disgusting," spurred his own social awakening. Long said he, like host Peter Rosenberg, often gets called a "snowflake" for defending Kaepernick.
"Snowflake is for bleeding hearts like me and Chris who are crazy enough to actually care about issues that affect people that don't look like us," Rosenberg explained. 
The interview is packed with valuable insights. Watch the whole thing above.