All-Star Weekend is filled with exhibition contests and skills competitions that any degenerate out there can bet on if you're bored enough. And since All-Star Weekend happens to go down during a three-day weekend in the middle of winter around most of the country, chances are you're going to be bored. 
So, if you feel like throwing down money on the Rising Stars game, the 3-Point Contest, or Sunday's All-Star Game, you've got options. Just note that sportsbooks will not post odds for the Dunk Contest because, according to Darren Rovell of The Action Network, "judges of the contest are celebrities and are not covered under the NBA's betting integrity policy." So come up with your own odds for that one.  
All odds via The Action Network. And for those not well-versed in sports gambling, +500 means you would win $500 on a $100 wager. 
Who will win MVP of the Rising Stars Game?
Trae Young: +350
Zion Williamson: +350
Luka Doncic: +400
Ja Morant: +500
Shai Gilgeous-Alexander: +600
RJ Barrett: +800
Jaren Jackson Jr.: +850
Devonte' Graham: +1000
Kendrick Nunn: +1200
Miles Bridges: +1500
Rui Hachimura: +2000
Eric Paschall: +3000
PJ Washington: +5000
Brandon Clarke: +4500
Svi Mykhailiuk: +6000
Josh Okogie: +6000
Moritz Wagner: +8000
Nickeil Alexander- Walker: +8000
¯\_(ツ)_/¯. Two legit All-Stars are participating in this one in Young and Doncic, but their odds are predictably the shortest. That would rule them out in my book since I never bet on favorites. Future superstars have taken home MVP honors in this game like Allen Iverson, Carmelo Anthony, and Kevin Durant. Then again, we've also seen DeJuan Blair and Daniel Gibson win the award.
Who will win the Skills Challenge?
Spencer Dinwiddie: +250
Khris Middleton: +300
Shai Gilgeous-Alexander: +450
Pascal Siakam: +500
Jayson Tatum: +550
Patrick Beverley: +700
Bam Adebayo: +900
Domantas Sabonis: +1000
¯\_(ツ)_/¯. Since this competition is all about a player's ability to dribble, pass, and shoot efficiently in the shortest amount of time, you would think guards, and more specifically point guards, would dominate. Historically, they've won the majority of the Skills Challenges, but we've also seen Kristaps Porzingis and Karl-Anthony Towns take home the title. Tatum is your defending champ. Dinwiddie won the competition in 2018. Beverley took it home in 2015.
Who will win the 3-Point Contest?
Trae Young: +350
Joe Harris: +400
Davis Bertans: +450
Duncan Robinson: +550
Buddy Hield: +550
Devin Booker: +700
Zach LaVine: +900
Devonte' Graham: +1000
¯\_(ツ)_/¯. There's a new wrinkle to the contest this year, that being the presence of two extra balls located six feet behind the line. They're worth 3 points a pop so maybe this contest is geared toward the better deep shooters? Harris is your defending champ. Booker won it in 2018.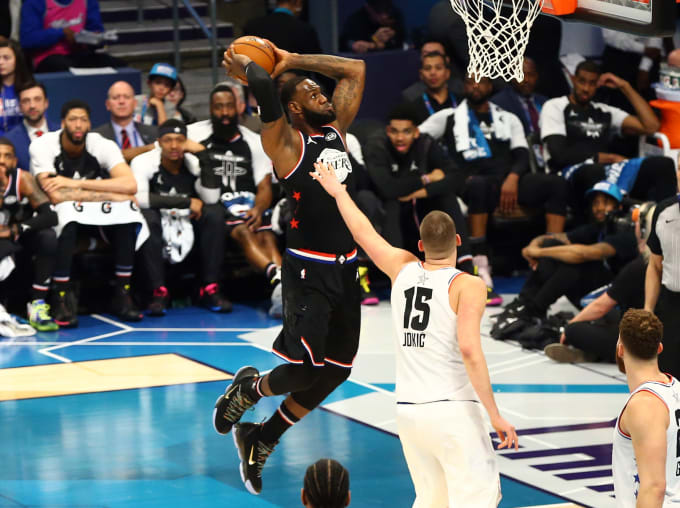 Who will win the All-Star Game?
Team LeBron: -4.5
Team Giannis: +4.5
LeBron's squad has won each of the first two years they've picked the All-Star Game via the captain format. Team LeBron is widely considered the better, deeper squad. History will tell you that Team LeBron was a 3-point winner in 2018 in Los Angeles and a 14-point winner last year in Charlotte.
Due to the special fourth-quarter scoring format to honor Kobe Bryant, sportsbooks haven't released a total. But if you end up seeing one, probably best to take the over. 
Who will win MVP of the All-Star Game? 
Giannis Antetokounmpo: +450
LeBron James: +500
Anthony Davis: +550
Russell Westbrook: +1000
Pascal Siakam: +1100
Joel Embiid: +1100
Kawhi Leonard: +1500
Kemba Walker: +1500
James Harden: +1600
Luka Doncic: +2000
Trae Young: +2000
Khris Middleton: +2200
Kyle Lowry: +2500
Donovan Mitchell: +2500
Devin Booker: +3000
Ben Simmons: +3300
Jimmy Butler: +4000
Nikola Jokic: +5000
Chris Paul: +5000
Jayson Tatum: +6000
Brandon Ingram: +6000
Bam Adebayo: +8000
Rudy Gobert: +8000
Domantas Sabonis: +10000
And finally, ¯\_(ツ)_/¯. You can eliminate half the names here since they won't be playing in crunch time when the All-Star Game, featuring a new scoring and timing format in the fourth quarter this year, is supposed to actually resemble a game. Generally superstars take this one home and LeBron and AD will be sentimental picks with their Lakers/Kobe ties and we all know Davis is playing in his hometown. Jimmy Butler at 40-1 looks kind of enticing. He was snubbed as a starter, he's back in Chicago where he began his career, and few players use slights like the Heat star. But I also remember Butler not playing a minute in the All-Star Game two years ago in Los Angeles when he was perfectly healthy. Honestly, write the name of each superstar on a piece of paper, crumple 'em up, throw 'em in a bowl, mix 'em up, and pick one because handicapping this award is an exercise in futility.