Zion Williamson on Leaving Duke: 'I Probably Would Stay for Another Year. But I Can't.'
"Being at Duke was a dream come true for me. Everything about it," he said.
Getty
Image via Getty/Hannah Foslien/Stringer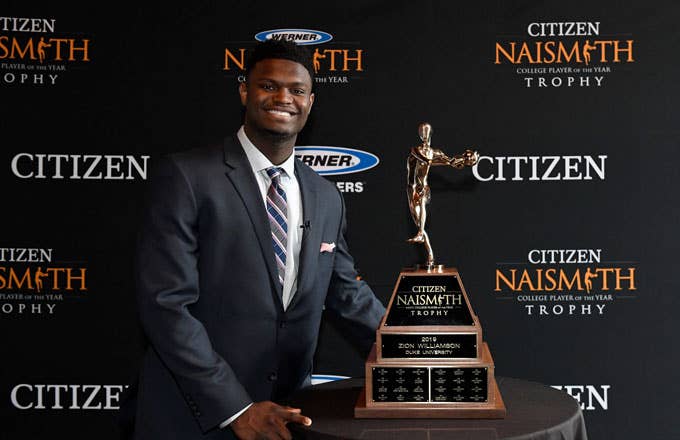 Williamson, who finished out the spring semester on campus, explained his mindset when it came to playing out the rest of the season regardless of the freak-out over the risk of injury.
"At the end of the day, no matter who the person is, everybody is entitled to their own opinion. I appreciate the input. I really do. It gives me a heads up of where I'm at. But I made a commitment to my brothers. So if I was to sit out, that'd be very selfish on my part," he said. "And I couldn't do that. Sitting on the sideline and watching your brothers battle without you, knowing you can be affecting the game, it hurts. I made a commitment so I wasn't going back on my word. So I knew I was coming back the whole time.
Also, as mentioned in the opening paragraph, he explained that he considered coming back to school for his sophomore season, but that he had to put his feelings on the issue aside to look out for his best interests...meaning that it's not worth sacrificing a year of prime earning potential for another season in the amateur ranks.
"You get this college experience once," Williamson said. "If you're in a situation like mine, where you're one and done, I'm just trying to make the most of what I got. I love Duke, and honestly, I don't want to leave. If I didn't have as much at stake, I probably would stay for another year. But I can't.
"(...) This was the best year of my life. So if I could come back for a second year I would, but unfortunately that's just not the reality we live in. The reality we live in is [that] my ultimate dream is the NBA. It's what I've been dreaming about as a kid so I have to pursue that. And I have to take care of my family."
Williamson eventually announced, on April 15, that he was entering the NBA Draft. The announcement was entirely unsurprising, though he made it less than a week before the NBA early entry deadline expired. Slam adds that it took some convincing on the part of his stepdad, Lee Anderson, to finally get him to make it official.
"He waited until the last minute to do it. He really, really didn't want to say goodbye," Anderson said. "But he knew that the time had come for him to do that. He was a little bit remorseful about doing it. He was just kind of sad. We kept calling him and saying, 'Hey Zion, you have a deadline to meet. You need to make sure you get it done by this time.' He'd say, 'Don't worry. I'll get it. I'll do it.' He wasn't in no hurry to get it done. So I just told my wife to let him be. Give him time." 
Williamson elaborated on that, saying that he did briefly entertain the idea of returning to Durham. "When I was by myself, I was like, You know what? Maybe. What would be the worst if I came back for a second year?" he said. "And my teammates [would] look at me and go, 'We know you love this place but you gotta do what's best for you and your family. Nobody is going to hate you for this.'
"I remember I was doing my video announcing I was declaring for the draft. And I didn't want to do the video. I don't want to leave. I love everything about Duke. If people think I'm BS-ing or not telling the truth—that's them."
On Tuesday we'll see what organization and fan base will reap benefits from that decision.
Oh, and also go read the whole thing over at Slam.