Magic Johnson Reportedly Quit After Rob Pelinka and Jeanie Buss Exchanged Emails Criticizing Him
The surprise departure of Magic Johnson might have been sparked by some in-house criticism.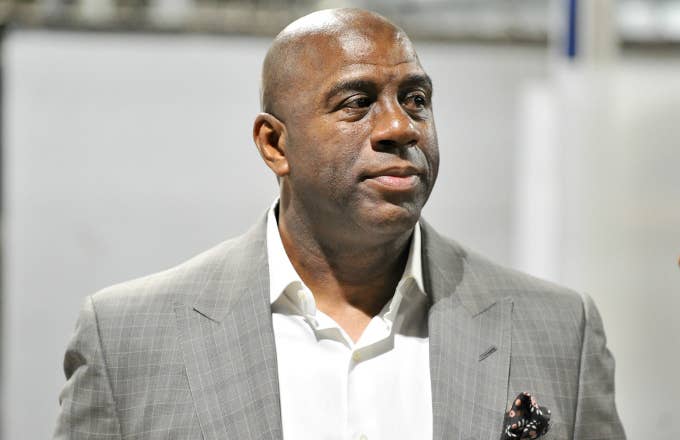 Getty
Image via Getty/Allen Berezovsky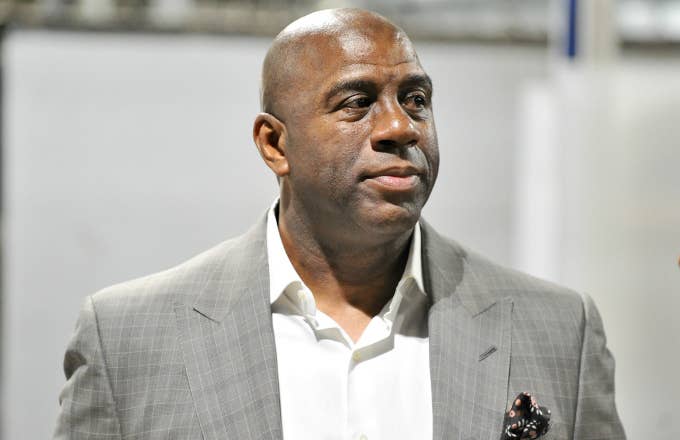 It is no secret that the Los Angeles Lakers' front office is in a state of disarray. But, according to reports, the surprise departure of Magic Johnson might have been sparked by some in-house criticism. 
Since his impromptu resignation as the Lakers' President of Basketball Operations, critics have been wondering why Magic would relinquish one of the most coveted jobs in sports. On Wednesday, NBA insider Ric Bucher disclosed to Collin Cowherd that Magic caught wind of owner Jeanie Buss and team executive Rob Pelinka criticizing his decisions behind his back.
"My understanding is that there were some emails that were exchanged between Rob and Jeanie…about Magic and about what Magic was and wasn't doing," Bucher told Cowherd.
If this betrayal from someone he describes as "his sister" wasn't enough, the way Johnson found out about their gossip only put salt in the wound. 
"Somehow, someway, Jeanie, from what I understand, was CC'ing or blind CC'ing Magic on everything. That was sort of protocol. Standard issue," Bucher explained. "Somehow, the exchange between Rob and Jeanie ended up on that string of the blind CC's that were going to Magic. So, Magic now is seeing emails from Rob to Jeanie that were critical of what he was doing... so when he talked about the backstabbing, to me, my understanding that's what started it."
Assuming Bucher's account is true, the Lakers have seemed to turn from the shining staple of the NBA's Western Conference to just another Los Angeles reality show. Also, since Johnson's resignation, the Lakers have yet to hire someone to fill his vacancy. Currently, Pelinka has been taking a more aggressive role in the organization sitting in on team decision like the Lakers' search for a new head coach. 
On Thursday, Magic weighed in: