Kyrie Irving Says He Feels 'Very Empathetic' Towards LeBron James and His Lakers Situation
Kyrie Irving opens up about his feelings towards LeBron James and his current situation with the Los Angeles Lakers this season.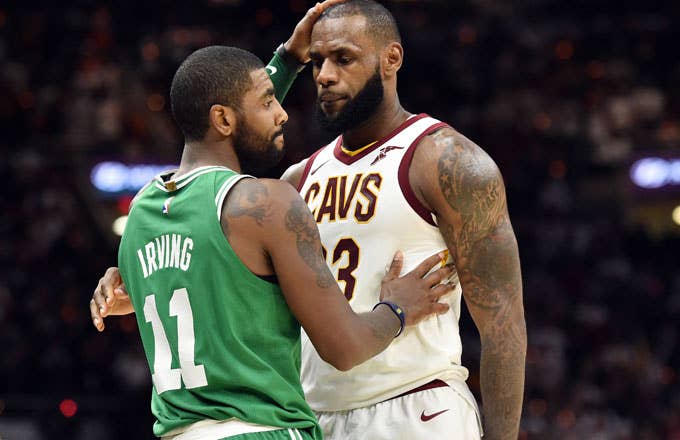 USA Today Sports
Image via USA Today Sports/Ken Blaze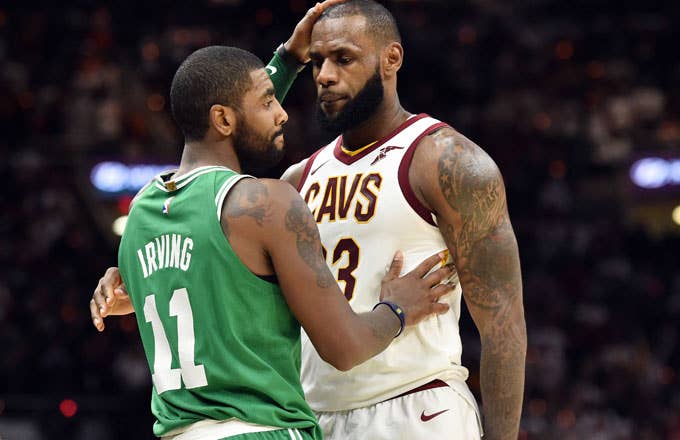 On Saturday, the Boston Celtics easily defeated the Los Angeles Lakers, 120-107, in a game that was quite indicative of where both franchises and their respective superstars are headed this season. The Lakers have accepted their fate, limitingLeBron James' playing time once they realized that their chances of making a last-minute push to secure a playoff spot were slim to none. James, who recorded a triple-double with 30 points, 12 assists, and 10 rebounds against Boston in 28 minutes, is simply amassing empty stats that will only help bolster his own resume but have no bearing on improving the team's overall record. 
Meanwhile, the Celtics continue to hover around the middle-of-the-pack in the Eastern Conference, despite a much more well-rounded 2018-19 campaign from Kyrie Irving. While Irving has finally gotten his wish to become the top dog on a team, the experience has come with plenty of growing pains, including a situation where Kyrie reached out to James to apologize for the way that he acted when he was younger.  
Through their own personal experiences, the former Cleveland Cavaliers teammates have gained a greater understanding and respect for each other's situation. While speaking with Joe Varden of The Athletic, Kyrie admitted to feeling "empathetic" towards James and his current situation with the Lakers, especially around the time when The King was dealing with a groin injury that put Los Angeles in a deeper hole once he came back. "I feel for him. I really do. I feel for him," he said. "I'm very empathetic towards it because how much he wanted to play during that time when he messed up his groin."
Whether it's the time when he suffered a fractured left kneecap which forced him to miss the 2015 NBA Finals as a member of the Cavs, or when he couldn't play with his Celtics teammates throughout the playoffs last year because two screws needed to be removed from his patella, Irving probably knows what was exactly going through LeBron's mind as he dealt with his groin issue.
All it took was some time away from one another for James and Kyrie to understand on a deeper level and even empathize with what they have had to go through. But will this newfound perception eventually lead him back to James this summer?