When the Warriors announced over the summer they'd signed DeMarcus Cousins to a one-year deal, Twitter lost its collective shit. True, it does this on a daily basis, but this was still somehow beyond the pale. The dreaded dynasty in the Bay Area, the team that once won 73 games and features two former MVPs in their prime, signed an All-NBA center at the one position where they were thin. This Warriors team would rock Takeoff's intergalactic chain at the same time as Quavo's Ratatouille piece; They're pure NBA gluttony. Except we've witnessed microscopic fissures in Golden State's once-flawless lineup that has us re-thinking Cousins' importance later this season.  
Boogie's slated return from a torn Achilles tendon could conceivably happen any week now, and his addition won't be the icing on the Warriors' championship cake, so much as the flour. Let's hope the Bay Area denizens who can still afford tickets these days aren't allergic to gluten. Draymond Green certainly isn't abstaining from dough. As Golden State's roly-poly defensive fulcrum in the middle, he's the biggest reason they've fallen to 15th in defensive rating so far this season.
Golden State's small-ball center has looked tight even when Golden State started the year 10-1. A nagging toe injury has kept him out and likely off the treadmill, too. He's second-guessing himself, and the difference for him on the defensive end measures in milliseconds. His recovering body can't quite match his legendary prescience. However, any perceived defensive shortcomings need context. He allows fewer points per possession than anyone on the team, while ranking 3rd in ESPN's defensive real plus-minus. Despite what we just laid out, he remains an elite defender.
He's not the unnecessary bauble, but a key cog in the machine. That's the surest sign yet the championship favorites are anything but.
But on offense, Draymond's stunted the Warriors' flow. It's not so much that he's shooting badly from three (the worst since his rookie season), it's that other teams—notably the Lakers on Christmas—are leaving him alone along the arc to focus on the historical Ghidorah of Kevin Durant, Steph Curry, and Klay Thompson. Green's offense has never been integral to Golden State's success, but defenses didn't Ben Simmons him into halfcourt irrelevance like they have over the last couple of weeks. It's an acute embarrassment for a prideful player.
Green's reluctance to shoot or attack the rim has rippled out and affected the rest of the team. KD sees less room when he surveys the floor; Klay's not getting layups off split cuts anymore; Steph's cramped all the way to 30 feet, and his old pick and roll routine with Draymond isn't producing points after Steph's pocket pass allows Green to spearhead the ensuing 4-on-3. It's just unwieldy, like when you're running on a janky toe, which Green's doing; The other muscles strain themselves overcompensating, and no one is hurting more than Klay right now—even after a breakout game in Portland.  
Thompson's shooting almost 10 percentage points less from deep than last season, and on more attempts. But he's also taking more mid-rangers, despite having a hand in his face nearly every time. It sometimes looks like he's forcing up long twos because he's worried it's not gonna find him again on that possession. There's no more ill in Klay's chill. He's got the lowest assist percentage of his career, and the highest turnover percentage; He's near the 100th percentile for the most inefficient shot attempt on the court, long 2-pointers, per CleaningTheGlass.com. Almost half of his overall shot attempts are from the mid-range, by far the highest of his career. We're halfway convinced he's trying to entice a max offer from the Spurs this summer when he hits free agency.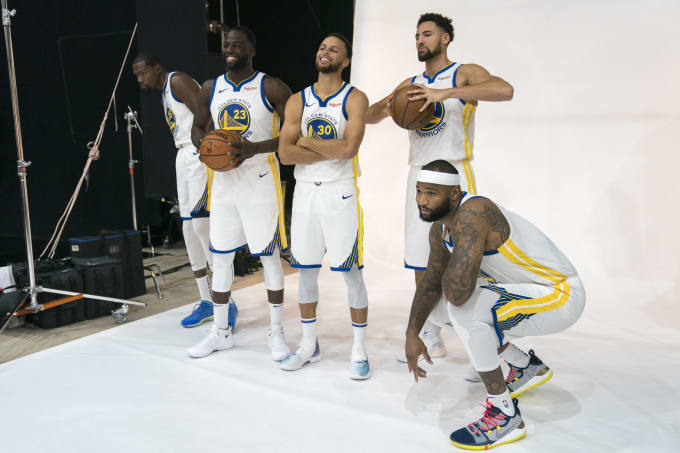 Combine Thompson's shooting struggles with Green's offensive ineptitude and the vaunted Hampton Five (aka the Death Lineup) gives up over 4.5 points per 100 possessions. Except, they aren't even playing the Hamptons Five. KD, Steph, Klay, Draymond and Andre Iguodala have played just 48 minutes together so far this season as Iguodala continues to exhibit Robert Horry's laissez-faire attitude towards the regular season. It's not like they're doing much better with the four All-Stars playing among the trio of centers. Kevon Looney, Damian Jones, and Jordan Bell have performed at a level that's got Warriors insiders openly wondering if the team made a mistake letting JaVale McGee sign with the Lakers. The center spot's been due an upgrade since Andrew Bogut left. Enter, Boogie.
Cousins, once a superficial addendum meant mainly to troll rivals, might be sine qua non for this Golden State team. With him back at full strength, the Warriors trot out a fifth All-NBA level player, one who can act as the focal point for their dizzying offense on the high or low block. Bogut used to act as that lever, and so has Draymond. Neither are the offensive force of Cousins, who could pump fake a pass or a shot and lumber his way to a layup against a team scattered along the arc defending Golden State's shooters.
Defensively, Cousins is a negative who can be attacked in switch-heavy matchups during the playoffs. A torn Achilles at his age and size doesn't ameliorate that issue. But that's when the Hampton Five thrives. Iggy gives a shit in the playoffs, Draymond takes every open three-pointer and uses timing and his tree-trunk torso to waylay every rim run. Until then, Cousins brings an actual utility. He's not the unnecessary bauble, but a key cog in the machine. That's the surest sign yet the championship favorites are anything but.