Don't get it twisted. It's not like Gordon Hayward was openly rooting for the Celtics to blow games when all he could do was sit on his ass and watch his squad on TV last season. But during some of the darkest moments of his rehab process following the devastating ankle dislocation and fractured tibia suffered last October—when he had a serious case of FOMO—Hayward admits he wasn't mad seeing Boston lose.
"That was one of my low points, watching them and I was laid up with my cast and I couldn't do anything and it's something that's human nature," says Hayward. "It would be like a thought I would have by myself, and the next day I was cheering for my teammates."
Nearly a year removed from the gruesome episode and grueling process to get his ankle right, Hayward is almost back to 100 percent and expecting another deep run through the Eastern Conference with the Celtics. But before Boston tips off against Philadelphia next Tuesday, Hayward is offering fans a unique glimpse into what it was like battling back from an injury many NBA fans won't soon forget.
This moment changed my life, but what comes after is what matters the most. Subscribe to watch Chapter 1 of #TheReturn: https://t.co/ZcxV3amQkN @PlayersTribune @TheAthletic pic.twitter.com/bn5Sd0HwAB

— Gordon Hayward (@gordonhayward) October 8, 2018
Debuting on The Athletic, Hayward teamed up with The Players' Tribune on a new docu-series called Gordon Hayward: The Return that followed him across the country for seven months, recording the many ups and downs on his path back to the basketball court. We exclusively caught up with the Celtics forward on his way home from practice earlier this week to talk about why he allowed a peak behind the scenes, his darkest thoughts during the dog days of rehab, and what athletes away from basketball reached out to him to offer support.
(This interview has been edited and condensed for clarity.)
Why did you feel it was a good idea to allow unprecedented access during your rehab?
It was something that a lot of people wanted to see. A lot of people wanted to know what was going on with me while I was getting through the injury and what it takes to get through an injury like that. I think working with The Players' Tribune gives everybody kind of a glimpse of what it's like. It doesn't capture every single day and every moment of it, but I think it does a good job of telling a story of what it's like when you have something happen to you like that and some of the things you have to go through and the people that you're with and how you cope with an injury and battling back. So that's why I felt like it would be something that a lot of people would want to see and that's why I did it.
What were the major reservations, if any?
Naturally, I'm pretty protected. I'm not the most out-going and loud person. Usually I like to stick to myself. I think initially when they started filming I was a lot more guarded, then you start to trust the people you're around and it just kind of becomes like they're there but not really there. You just go about doing your thing. It was fun for me to experience something like that. I've never done anything like this before where the cameras came with us the whole day. But I think it was important to do.​
"My ankle is fine. It's safe. It's strong. But I would say I just started playing basketball again in September so it's going to take a little while."
If someone isn't all that familiar with you, what are we going to learn about you watching these episodes?
I don't know. I don't exactly know what people know about me or think about me. I think you just get a glimpse of what it was like to go through it. You get to see some time of me with my family at home, which I think those parts are really special and I'll for sure one day look back and wonder what happened and how my girls got so old so fast. It's just a good chance to see what it's like to be in that position.
You mentioned in there that everyone asked you what kind of player you were going to be when you returned. What question did you want people to ask instead?
When you have an injury like that, like I don't think there's a question you want people to ask you. I think the only question [you'd want asked] is how are your kids doing, something besides…I got asked so many times just about the injury, "How's the injury?" "How's your ankle?" "How are you doing?" "How are you going to comeback?" That whole thing is consuming. Everything is about your ankle and your health and your injury so I don't know if there is a question that I would want people to ask other than how are your daughters doing, how's your family doing, I guess.
Give us an idea of how bad the injury really was? How worried were you about your future in basketball?
Initially, I was definitely worried. When I looked down at my ankle it was in the completely wrong direction. That's not something you want to look down at when you look down at your feet. I've never had a significant injury, so I didn't know what to expect. I didn't know how my body would handle it. At the time [I was] 27 years old, so it's not like I was 21 and certainly not feeling like I'm nowhere near close to being done. But I'm definitely eight or nine years into the league and didn't know how my body would respond, so I was definitely a little bit concerned. And when you don't even start your rehab yet, that's when you have the dark thoughts that I might not be the same, I might not be the same player, I might not be explosive. But then once after talking to the doctors and the surgery is done and everybody's saying you're going to have a full recovery, you're going to be fine, it's going to take a lot of work, but you're going to be good. But like I said, once you start doing the rehab, you're focusing on that. You're not worried about anything else. You're just focused on trying to get better every day.
Are you able to watch the replays of the injury or do you just not want to see it?
It's not like I go and watch it. In this day and age it's hard not to see something that happens with social media. This docu-series has it on there. But I don't go out of my way to watch it.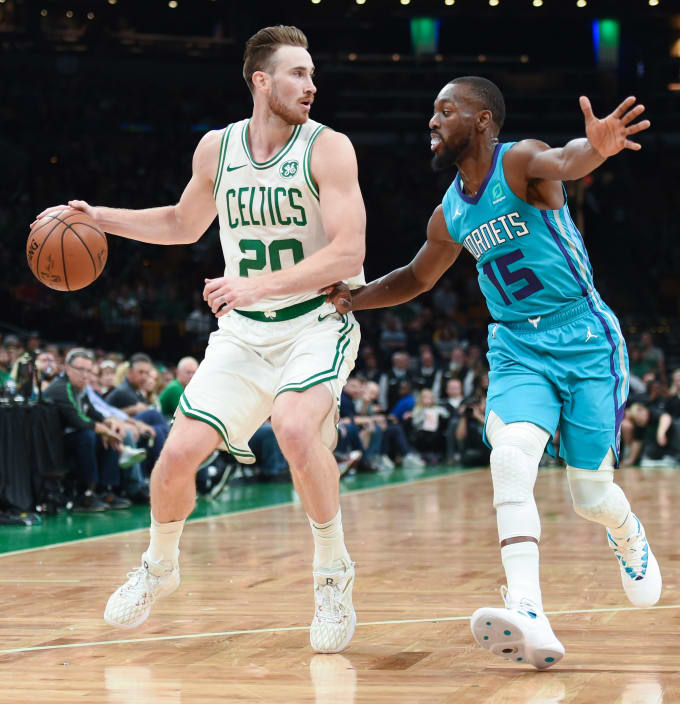 I know you commiserated with Jeremy Lin while you were rehabbing. Any other guys, any other players make a huge difference in helping you get back?
A lot of people were reaching out. Teammates. I think initially it was just a bunch of people who reached out. And not just basketball. Athletes in general. That's really cool. That definitely gave me a boost. Then a month or two goes by and people are kind of forgetting and at that point in time it was teammates, coaches, and staff and my family.
Did anyone from a different sport reach out that surprised you?
I would say Odell Beckham Jr. He broke his ankle, too. And Kevin de Bruyne [from Manchester City]. I wouldn't have expected him to say anything.
Do you feel like you're officially back? Or will there be a moment when you know you're the player you were before the injury?
My ankle is fine. It's safe. It's strong. But I would say I just started playing basketball again in September so it's going to take a little while. Which is something that I have to accept and have some patience. Which is a hard thing to do when you wait all year to play you kind of expect yourself to get right back to the player you were, but that takes a little patience and something that I'm working through as we speak. I think with each day, each practice, each game it'll get better and better and hopefully I'll be playing my best basketball and at least make a run in the playoffs.
Did you expect to stick it to Bradley Beal in those one-on-one games this summer?
Absolutely not. I didn't know what to expect. It was the first time I played one-on-one against a player of his caliber. He's unbelievably good and such a tough guy to defend. I was just playing hard. Really just having fun and glad that I was able to play against somebody like that in the summer. Definitely gave me a confidence boost just in the sense that I could compete at somebody at that level again.
You admitted you were kind of rooting for the Celtics to lose while you were on the mend. Did you keep that to yourself or was that an open secret amongst friends and family?
It was something where I was just talking about the dark thoughts that you have and, like I said, that was one of my low points, watching them and I was laid up with my cast and I couldn't' do anything, and it's something that's human nature. It would be a thought I would have by myself and the next day I was cheering for my teammates.
Is the role you're going to play on this squad the same role you expected to play on last year's team?
I think because of what happened, I think guys got extra experience and had extra responsibilities and played great and made a great run to the Eastern Conference Finals. It's a different team than it was last year and so for me, I'm just focusing on doing my job, doing what coach [Brad] Stevens is asking me to do to help us win games and no matter what that is I'm willing and able to try and do that.
Kyrie Irving finally said the earth isn't flat, are there are any other crazy conspiracies he's tried to get you guys to buy in on?
No. I haven't heard any other conspiracies. You would hear about them before me.
How much are the Celtics going to miss facing LeBron James potentially nine or 10 times a season?
For me, it's going to be just like it was when I was with the Jazz, only seeing him a couple times a year. I didn't really get a chance to have those battles last year. As a competitor, you want to go up against the best players, the best teams, and there's still some really, really good teams in the East and players that are tremendous players that we're going to have to deal with, so they'll still be a bunch of tough matchups for us to deal with.